Introduction
If you follow this blog you probably won't be SHOCKED that I'm following up Metabolic Rates in American Women Plunged Between 1919 and 1986 with this post. The same group that did the 1986 paper about metabolic rates in women followed it up with a paper about men in 1987.​1​ They conclude, "The classic prediction equations and tables overestimate RMR of men." (RMR: resting metabolic rate).
The most classic equation is the Harris – Benedict equation.​2​ It was published in 1919 based on measuring the metabolic rates of 136 men as measured at Wellseley college. The equation gives a predicted RMR based on a person's gender, height, weight and age. By 1987 it systematically overestimated the metabolic rates of American men, which means that the equation was wrong or that metabolic rates dropped. My money is on the latter and I will have follow-up posts to that effect. My argument is that the Harris-Benedict equation continued to accurately predict metabolic rates in much of the world well after 1987, including (for instance) in Italy in 2001.​3​
The Harris-Benedict equation, developed in the US Northeast, accurately predicted Italian metabolic rates in 2001 but overestimated American metabolic rates in 1987. So is the equation wrong or did American metabolic rates drop?
Charts and Graphs!
I plotted all 60 men in the 1987 study and all 136 from the 1919 study. Attached at the end of the article is the CSV file with all of the data and my Jupyter Notebook if you want to see the raw data.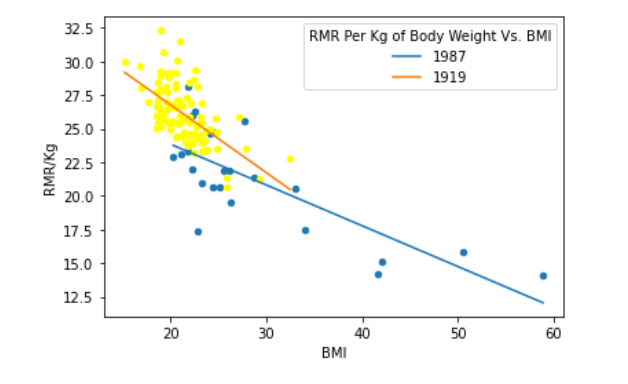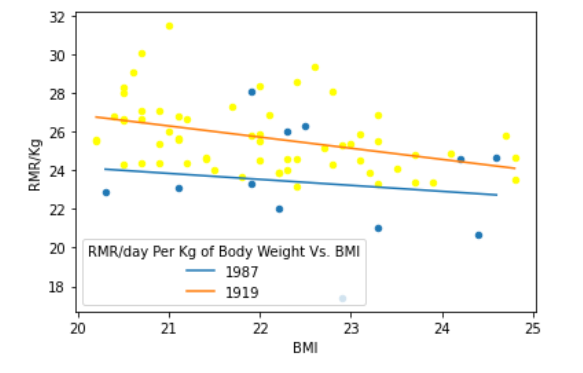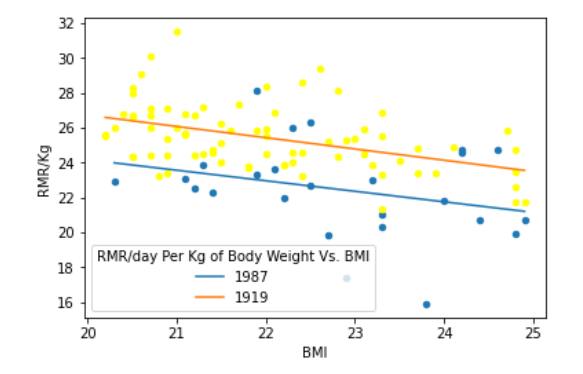 | | | |
| --- | --- | --- |
| | RMR/Kg 1919 | RMR/Kg 1987 |
| Men Below 30, BMI 20-25 | 25.7 | 23.3 |
Conclusion
Men of the same age and weight had a lower metabolic rate in 1987 than they did in 1919. The difference was around 2.4 calories per kg per day – that's around 175 calories for a 150 lb male, an equivalent drop to what was seen in women over the same time period.
Check back in next week, we're going to do a world tour of metabolic rates!
---
---
1.

Owen OE, Holup JL, D'Alessio DA, et al. A reappraisal of the caloric requirements of men.

The American Journal of Clinical Nutrition

. Published online December 1, 1987:875-885. doi:

10.1093/ajcn/46.6.875

2.

Harris J, Benedict F. A Biometric Study of Basal Metabolism in Man. Carnegie Institution of Washington; 1919.

3.

De Lorenzo A, Tagliabue A, Andreoli A, Testolin G, Comelli M, Deurenberg P. Measured and predicted resting metabolic rate in Italian males and females, aged 18–59 y.

Eur J Clin Nutr

. Published online March 2001:208-214. doi:

10.1038/sj.ejcn.1601149