This post comes out a recent conversation I had with Tucker Goodrich and David Gornoski (not live yet, I'll post it when its out). Tucker was arguing that obesity was caused by endogenous cannabinoids that are made from linoleic acid. I was arguing that obesity is caused by reductive stress. As I pointed out on the show, these are not mutually exclusive ideas. They are in fact self-reinforcing. Reductive stress drives endocannabinoid production.
Anandamide
Anandamide (AEA) is an endogenous cannabinoid (it triggers a cannabis receptor). In lean humans it rises before a meal and then falls after the meal is taken.​1​ Obese humans have higher fasting levels of AEA and a lesser drop in AEA after a meal.

Of course cannabis (weed, marijuana, pot, reefer) is known for giving people the munchies. Elevated AEA is likely to increase one's appetite, especially if it remains elevated after a meal.
Furthermore, mice who lack the cannabinoid receptor CB1 – the one that is activated by AEA – eat less and are resistant to obesity.
EAE is made from linoleic acid
EAE is made from linoleic acid PUFA. Linoleic acid is converted to arachidonic acid, which is then converted to AEA. If eat a lot of linoleic acid, it can increase AEA.
Mice who are fed 8% of calories as linoleic acid have more AEA than mice fed 1% and they get fat.​2​ We'll come back to the ones that were fed fish oil (EPA and DHA).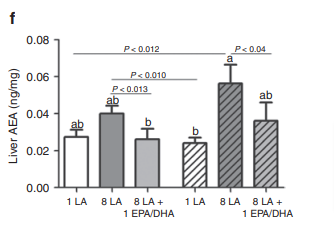 D6D and D5D control Arachidonic Acid production
Before linoleic acid can be made into EAE, it has to first be made into Arachindonic acid, which has two more double bonds than linoleic acid. The rate-limiting enzymes that control the conversion from linoleic to arachidonic acid are called delta 6 desaturase (D6D) and delta 5 desaturase (D5D). Arachidonic acid can then be used to make AEA.
D6D adds a double bond to linoleic acid, transforming it to gamma linolenic acid. If we look at the ratio of linoleic acid to gamma linolenic acid, it gives us an indirect indication of the activity level of the enzyme D6D.
The ratio of linoleic acid to gamma linolenic acid is called the D6D desaturase ratio and it is associated with obesity in actual, walking around humans.​3​ If you make a lot of D6D, you will convert a lot of linoleic acid to not only AEA, but also oxidized linoleic acid metabolites such as 12-HETE​4​, etc.
Having high D6D activity seems quite bad. High D6D activity is a VERY strong predictor of diabetes risk.​5​ In the Potsdam study, in the group with the lowest D6D activity 47 people developed diabetes. In the group with the highest D6D activity, 264 people developed diabetes. Additionally, having a more active genetic variant of the D6D enzyme is causally linked to diabetes risk.​6​
NADH Controls D6D (and D5D and SCD1) Activity
As I've already mentioned, your genetics and dietary linoleic acid affect D6D activity. But you can't change your genes. And if you are a longtime reader of this blog, I hope you're already avoiding linoleic acid. But it's impossible to avoid it entirely. Even Firebrand Meats low-PUFA pork still has 6% linoleic acid.
A recent paper​7​ showed the third major thing that drives D6D and D5D (and presumably SCD1) activity: high cytoplasmic NADH levels (reductive stress). To help understand this, let's look at how all desaturase reactions work.

This is the reaction for all three desaturases – SCD1, D6D and D5D. The -CH2-CH2- represents a saturated bond and -CH=CH- represents an unsaturated bond. NADH is a cofactor of desaturase reactions. When levels of cofactors and substrates (the thing being acted on by the enzyme, in D6D's case linoleic acid) are high, the reaction proceeds at a faster rate. When linoleic acid and NADH are both high, D6D will work very quickly.
Conversely, enzymes are slowed down by their end products to avoid them running out of control. So SCD1 is slowed down by high NAD+ and it's end-product palmitoleic acid. D6D and D5D are slowed down by their end products EPA and DHA. When the ratio of NADH/NAD+ is high (reductive stress), the desaturases will work at a fast pace.
Interestingly, if you remove any of the three desaturase enzymes from a mouse, they become resistant to obesity.​8–10​ Desaturase activity is necessary for obesity. Reductive stress drives desaturase activity.
Obese Humans are in Reductive Stress
Thinking back to the obese humans who produce high levels of AEA both before and after a meal, it is logical to ask if they are in redductive stress. They are.​11​
This is a graph of lean vs. obese people eating a high carb meal. Lower numbers means a higher NADH/NAD+ ratio (lower is bad). The lean people are the open circles and the obese are the filled circles. The obese group has higher NADH/NAD+ levels at baseline. They are in reductive stress. They will have high D6D activity and make a lot of AEA. When the lean people eat they have a brief spike in NAD+ levels that is blunted in the obese. By around 2 hours after the meal, the NADH/NAD+ ratio rises in both groups (the line descends), but the lean group never gets as high as the obese group at any point.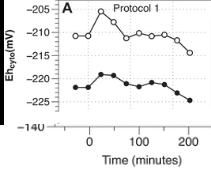 The obese group fails to get out of reductive stress and has consistently elevated AEA.
Why are the obese in reductive stress? It is likely to be a combination of elevated SCD1​12​ activity and elevated PARP as you will soon see in the twin study. This is a positive feedback loop. High NADH/NAD+ levels drive the desaturase enzymes, which push the NADH/NAD+ ratio higher (over time, in the short term they do supply a little NAD+).
High Linoleic Acid Protects from Diabetes
The Potsdam study​5​ also showed that high levels of linoleic acid and arachidonic acid are both very protective in predicting diabetes risk. Furthermore, low levels of linoleic acid in cholesterol esters are associated with obesity​3​. How do we explain these paradoxes?
Understanding the role of D6D and D5D helps us understand the paradox. The levels of linoleic acid in the body is only mildly associated with dietary intake​5​: its levels are mostly controlled by D6D, D5D and downstream enzymes in a population where everyone eats a very similar diet.​13​ If you have a lot of linoleic acid and arachidonic acid, that means you're not converting them to AEA and 12-HETE.
If you convert them to AEA, you'll have the munchies. If you convert them to 12-HETE, you'll activate the Aryl Hydrocarbon Receptor​14​, which will upregulate PARP​15​, an enzyme which lowers levels of NAD+, contributing to the reductive stress and driving the desaturase enzymes. In fact, in a study of identical twins where one was obese and the other was lean, a major finding was upregulated PARP and high NADH/NAD+ levels in the obese twin.​16​ This wasn't caused by genetics or epigenetics.
Conclusion
Endogenous cannabinoid production contributes to dysregulated appetite. D6D is the limiting enzyme in the production of cannabinoids and oxylipins, both of which are associated with obesity and diabetes. D6D activity level is driven by a high NADH/NAD+ ratio (reductive stress).
Genetics, dietary linoleic acid (and EPA and DHA) and NADH/NAD+ levels all contribute to D6D activity. You can't change your genetics, but you can change your diet. Avoid linoleic acid and consider increasing EPA and DHA. Use stearic acid with meals to slow down fat absorption and flow.
Alpha-lipoic acid fights reductive stress directly. Sterculia Oil fights the runaway feedback loop of reductive stress driving SCD1 activity which drives reductive stress.
I've got more ideas to fight reductive stress in the works, check back soon.
---
1.

Gatta-Cherifi B, Matias I, Vallée M, et al. Simultaneous postprandial deregulation of the orexigenic endocannabinoid anandamide and the anorexigenic peptide YY in obesity.

Int J Obes

. Published online August 16, 2011:880-885. doi:

10.1038/ijo.2011.165

2.

Alvheim AR, Malde MK, Osei-Hyiaman D, et al. Dietary Linoleic Acid Elevates Endogenous 2-AG and Anandamide and Induces Obesity.

Obesity

. Published online October 2012:1984-1994. doi:

10.1038/oby.2012.38

3.

Warensjö E, Öhrvall M, Vessby B. Fatty acid composition and estimated desaturase activities are associated with obesity and lifestyle variables in men and women.

Nutrition, Metabolism and Cardiovascular Diseases

. Published online March 2006:128-136. doi:

10.1016/j.numecd.2005.06.001

4.

Deol P, Fahrmann J, Yang J, et al. Omega-6 and omega-3 oxylipins are implicated in soybean oil-induced obesity in mice.

Sci Rep

. Published online October 2, 2017. doi:

10.1038/s41598-017-12624-9

5.

Kröger J, Zietemann V, Enzenbach C, et al. Erythrocyte membrane phospholipid fatty acids, desaturase activity, and dietary fatty acids in relation to risk of type 2 diabetes in the European Prospective Investigation into Cancer and Nutrition (EPIC)–Potsdam Study.

The American Journal of Clinical Nutrition

. Published online October 27, 2010:127-142. doi:

10.3945/ajcn.110.005447

6.

Jäger S, Cuadrat R, Hoffmann P, Wittenbecher C, Schulze MB. Desaturase Activity and the Risk of Type 2 Diabetes and Coronary Artery Disease: A Mendelian Randomization Study.

Nutrients

. Published online July 28, 2020:2261. doi:

10.3390/nu12082261

7.

Kim W, Deik A, Gonzalez C, et al. Polyunsaturated Fatty Acid Desaturation Is a Mechanism for Glycolytic NAD+ Recycling.

Cell Metabolism

. Published online April 2019:856-870.e7. doi:

10.1016/j.cmet.2018.12.023

8.

Powell D, Gay J, Smith M, et al. Fatty acid desaturase 1 knockout mice are lean with improved glycemic control and decreased development of atheromatous plaque.

DMSO

. Published online June 2016:185. doi:

10.2147/dmso.s106653

9.

Stoffel W, Hammels I, Jenke B, et al. Obesity resistance and deregulation of lipogenesis in Δ6‐fatty acid desaturase ( <scp>FADS</scp> 2) deficiency.

EMBO Rep

. Published online December 30, 2013:110-120. doi:

10.1002/embr.201338041

10.

Miyazaki M, Sampath H, Liu X, et al. Stearoyl-CoA desaturase-1 deficiency attenuates obesity and insulin resistance in leptin-resistant obese mice.

Biochemical and Biophysical Research Communications

. Published online March 2009:818-822. doi:

10.1016/j.bbrc.2009.01.183

11.

Istfan N, Hasson B, Apovian C, et al. Acute carbohydrate overfeeding: a redox model of insulin action and its impact on metabolic dysfunction in humans.

American Journal of Physiology-Endocrinology and Metabolism

. Published online November 1, 2021:E636-E651. doi:

10.1152/ajpendo.00094.2021

12.

Dziewulska A, Dobosz AM, Dobrzyn A, et al. SCD1 regulates the AMPK/SIRT1 pathway and histone acetylation through changes in adenine nucleotide metabolism in skeletal muscle.

Journal Cellular Physiology

. Published online June 26, 2019:1129-1140. doi:

10.1002/jcp.29026

13.

Chen X, Scholl TO, Leskiw M, Savaille J, Stein TP. Differences in Maternal Circulating Fatty Acid Composition and Dietary Fat Intake in Women With Gestational Diabetes Mellitus or Mild Gestational Hyperglycemia.

Diabetes Care

. Published online September 1, 2010:2049-2054. doi:

10.2337/dc10-0693

14.

Chiaro ChristopherR, Patel RD, Perdew GaryH. 12(

R

)-Hydroxy-5(

Z

),8(

Z

),10(

E

),14(

Z

)-eicosatetraenoic Acid [12(R)-HETE], an Arachidonic Acid Derivative, Is an Activator of the Aryl Hydrocarbon Receptor.

Mol Pharmacol

. Published online September 8, 2008:1649-1656. doi:

10.1124/mol.108.049379

15.

Diani-Moore S, Shoots J, Singh R, Zuk JB, Rifkind AB. NAD+ loss, a new player in AhR biology: prevention of thymus atrophy and hepatosteatosis by NAD+ repletion.

Sci Rep

. Published online May 23, 2017. doi:

10.1038/s41598-017-02332-9

16.

Jukarainen S, Heinonen S, Rämö JT, et al. Obesity Is Associated With Low NAD

+

/SIRT Pathway Expression in Adipose Tissue of BMI-Discordant Monozygotic Twins.

The Journal of Clinical Endocrinology &amp; Metabolism

. Published online January 2016:275-283. doi:

10.1210/jc.2015-3095