At the end of my series on how seed oils cause reductive stress, I said I would be back soon with ideas for what to do about it. This is the first article and I'm going to look at two cheap supplements that have been around a long time and look at how they work together.
You can save 12% if you buy these supplements at bulksupplements.com and use the promo code "FIRE". The funds of these sales help me to run the blog. Thank you!
Watch the video version of this post!
If you'd like to catch up on how seed oils cause reductive stress, here's the index:
If that's too much reading, I'll summarize. Vegetable oils don't burn cleanly and end in a state of mitochondrial energy overload. This overload is defined by having too much acetyl-CoA – the fuel that carbohydrates and fat are both converted to before entering the Krebs cycle – and too much NADH – the electron carrier that allows us to burn acetyl-CoA. The buildup of acetyl-CoA and NADH blocks key mitochondrial enzymes. Pyruvate Dehydrogenase (PDH) is the key enzyme that allows glucose to enter the krebs cycle. It is directly inhibited by acetyl-CoA and NADH. Obese humans have high acetyl-CoA, high NADH and low PDH activity.
Other mitochondrial enzymes become deactivated by acetylation when NADH and acetyl-CoA are high. These include mitochondrial complexes I and IV, which are naturally acetylated when acetyl-CoA builds up. If complex I is acetylated, NADH cannot be oxidized, adding to the NADH buildup. When NADH and acetyl-CoA are both high, metabolism slows down and calories are shunted into De Novo Lipogenesis (making fat) rather than being burned.
Conversely, when NADH is low, sirtuin enzymes are activated, which deacetylate the mitochondrial enzymes.
Obese and diabetics humans have several characteristics that distinguish them from lean humans: low PDH activity, low activities of mitcohondrial enzymes (especially Complex II, succinate dehydrogenase), high levels of circulating acylcarnitines – unburnt fats – and high levels of circulating lactate​1​.
L-Carnitine gets rid of acetyl-CoA
This figure from my favorite paper grabbed my attention.​2​ This shows the metabolic rate of isolated mouse muscle mitochondria given palmitate (saturated fat) with increasing amounts of l-carnitine.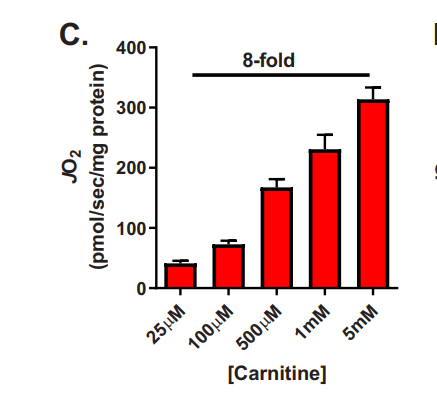 When mitochondria are incubated with increasing amounts of l-carnitine, their metabolic rate increases 8-fold. This is due to an enzyme called Carnitine O-acetyltransferase (CrAT). CrAT actually takes the acetyl groups from acetyl-CoA and transfers them to l-carnitine, which escorts them out of the mitochondria.
Mitochondrial acetyl-CoA directly inhibits metabolic rate and l-carnitine lowers mitochondrial acetyl-CoA.
Fat metabolism is inhibited by acetyl-CoA due to inhibition of beta-oxidation (the process that breaks fat into acetyl-CoA) by the enzyme b-ketoacyl-CoA thiolase.​2​ This is classic end-product enzyme inhibition. The enzyme produces acetyl-CoA until there is enough acetyl-CoA. When acetyl-CoA levels get high, the enzyme stops making more. If fat metabolism stalls out long enough, some of the unburned fats will wind up back in the bloodstream as acylcarnitines.
As I mentioned, pyruvate dehydrogenase is a key mediator of glucose metabolism and it is ALSO inhibited by acetyl-CoA.​​3​ In how seed oils cause reductive stress part V I used an example that young men who pre-loaded before exercise with sunflower oil had inhibited pyruvate dehydrogenase activity compared to those who pre-loaded with cream.​4​ Sunflower oil led to decreased metabolic flexibilty. You see this same metabolic trait in obesity: the inability to switch back and forth between glucose and fat burning.
Remember that pyruvate dehydrogenase is a thermogenic enzyme, cranking out ROS as it does its job​5​.
When l-carnitine was used by a group of athletes, pyruvate dehydrogenase activity INCREASED by 80%.​6​ L-carnitine has precisely the opposite effect of sunflower oil. L-carnitine decreases mitochondrial acetyl-CoA, unleashing pyruvate dehydrogenase, allowing people to burn glucose when it is available.
Furthermore, a 2019 paper looked at metabolic flexibilty in overweight adults with normal glucose tolerance and impaired glucose tolerance. The authors conclude that "metabolic flexibility in response to a high-energy meal was decreased in impaired glucose tolerance and could be completely restored with carnitine supplementation."​7​ 2000mg per day of l-carnitine was enough to restore metabolic flexibilty.
The authors also add "Furthermore, carnitine supplementation reduced long-chain acylcarnitine species in impaired glucose tolerant-subjects, suggesting the stimulation of a more complete fat oxidation in muscle." The carnitine helped to burn fat completely.
Carnitine is available in the diet. The best sources are lean meats. Beef has 81mg/3Oz, pork has 24 and chicken has 3.
Pyruvate, Lactate and NADH
L-carnitine is very popular in fat burning supplemental mixtures. It can help deal with the acetyl-CoA buildup, but by itself it hasn't caused huge weight loss in most studies. If we want weight loss, we also have to deal with excess NADH. Enter pyruvate.
When glucose is consumed in glycolysis, it makes two molecules of pyruvate. The pyruvate can then be burned in the Krebs cycle if pyruvate dehydrogenase is active, exported from the cell if not or converted to lactate by lactate dehydrogenase. Cells can use pyruvate to rid themselves of extra electrons held by NADH. They take in circulating pyruvate, convert it to lactate with the enzyme lactate dehydrogenase, and then export the lactate. Converting pyruvate to lactate converts an NADH to NAD+. Cells that need energy can take in lactate, send the electrons into the electron transport chain and export pyruvate. In this way, the tissues of the body can equilabrate the NADH/NAD+ ratio across tissues.​8​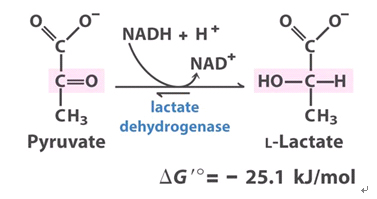 By the activity of lactate dehydrogenase, external lactate and pyruvate can drive the NADH/NAD+ ratio of cells. Consider this table​9​: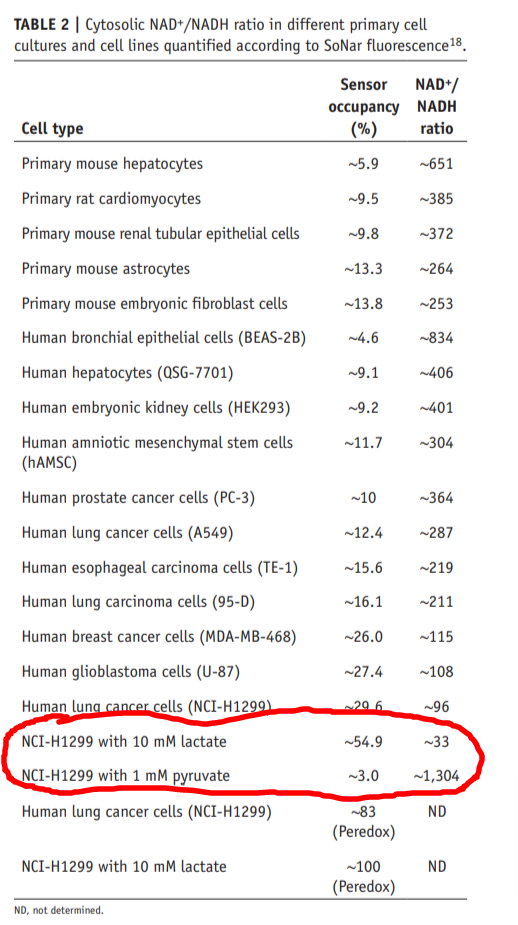 Healthy cells have around 400 times as much NAD+ as NADH (highly oxidized NAD pool). Cancer cells tend to have less than 300 times as much NAD+. This is reductive stress. The part that I've circled in red: this is the same cell line cultured with either pyruvate or lactate. The action of lactate pushes cells into DEEP reductive stress (33:1). Conversely, pyruvate pushes the cells to a much more oxidized state (1300:1)
When you eat pyruvate, it is rapidly absorbed and cells use it to convert NADH to NAD+. Obese and diabetic humans have higher levels of lactate in their bloodstream and higher ratios of lactate/pyruvate​1​.
Dietary pyruvate is a huge buffer, allowing cells to offload surplus NADH. This allows them to activate sirt1, leading to activated AMPK, PGC-1a, upregulated mitochondrial biogensis and increased metabolic rate. It also leads to activated sirt3, allowing your cells to activate their mitochondrial enzymes.
A Fascinating Study
L-carnitine and pyruvate both have long histories of being used for weight loss. Pyruvate was heavily pushed as weight loss aid in the late 1990s. Interestingly research on pyruvate suddenly stopped around the year 2000. This may have been due to it's patenting as a weight loss supplement.
Logically, l-carnitine and pyruvate should act synergistically, so I wondered if anyone had combined them. I found this: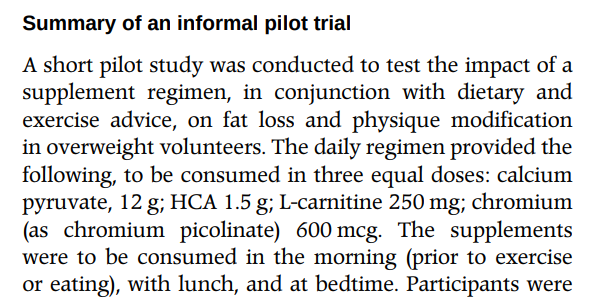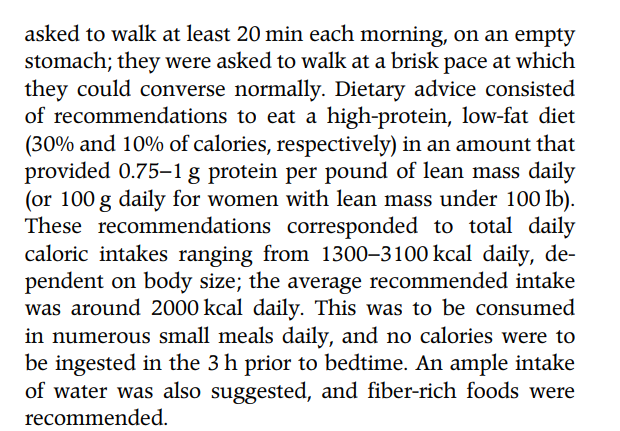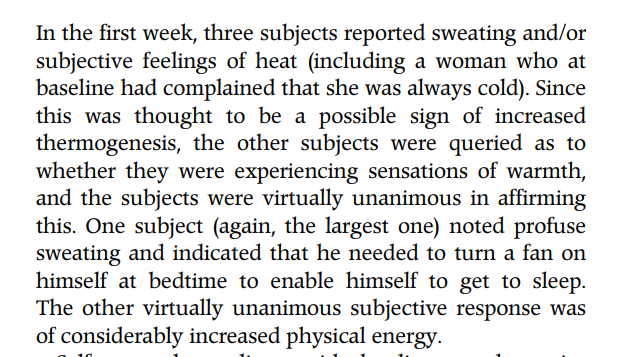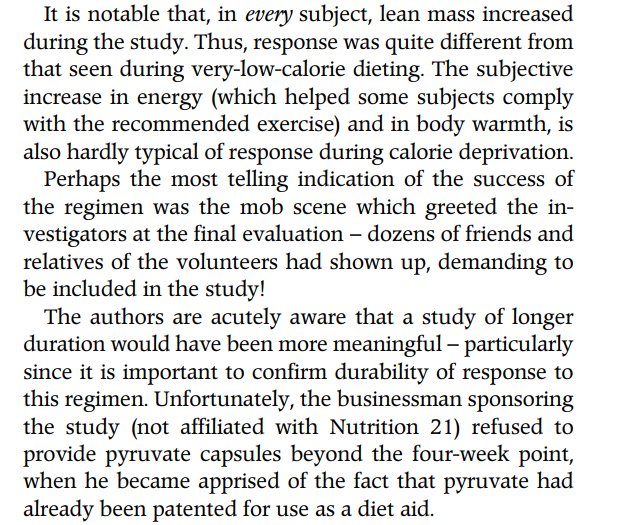 As the authors point out, this is too small of a trial and too short of a duration to draw any long term conclusions. But it's enticing and the anecdote at the end perhaps gives a clue as to why pyruvate research stopped in 2000.
HCA is a compound from a tropical fruit that blocks an enzyme that allows formation of acetyl-CoA in the cytoplasm. It should uninhibit the enzyme CPT1, which will increase fat flow to the mitochondria. It should also block De Novo Lipogenesis. I haven't tried it. Chromium is another fat burning aid. I haven't tried it.
I HAVE tried l-carnitine and pyruvate together. The thermogenesis from pyruvate is real. Within minutes after drinking 10-15 grams of pyruvate I can feel my body temperature rise. If I'm fasted, my body temperature usually stays in the 98.6-99.0 range. If I then eat a bowl of white rice, my body temp will often shoot to over 100. It's been a week. My weight this morning dropped below a plateau I've been stuck on for a few weeks, so I'm feeling very optimistic about this.
How To Try This
bulksupplements.com is easily the best place to get calcium pyruvate in the quantity you'll want. If you use the discount code FIRE you'll save 12% off of your entire order. This helps me run the blog. You can also get calcium pyruvate in capsules, but the study I quoted used a dosage of 12g of pyruvate per day. That would be 20 600mg capsules.
The pyruvate tastes a bit like bitter caramel and is not very soluble in cold water. One level tablespoon is about 17g of calcium pyruvate. I've been adding three level tbsp of sugar and one level tbsp of calcium pyruvate into a glass mug and pouring just enough hot water to dissolve the pyruvate from the tea kettle over it. I stir it well, then add enough ice until it's cold. Then I add as much plain seltzer as will fit. Tastes a bit like cream soda.
Of course, you can add the l-carnitine right to this along with the pyruvate and sweetener. You can also add HCA if you want! If you don't want to use sugar, they have a whole bunch of sugar free sweeteners. l-carnitine benefit seems to max out at 2g per day and HCA should be kept at 1.5g.
Or you could just add it all to yogurt or a smoothie.
I've also noticed very real appetite suppression from l-carnitine and pyruvate. Leptin signals satiety through an NAD+ dependent pathway, after all​10​. Yesterday I did an umplanned semi-fasting day just because I wasn't hungry.
IMPORTANT UPDATE: As pointed out in the comments by Natalie, if you take 12g of calcium pyruvate, this is a lot of calcium (3g). This is probably a reasonable maximum for the day. You might want to split the 12g into two-three servings. A level measuring teaspoon is 5g of calcium pyruvate. Pyruvate on its own is unstable, the calcium is there to stabilize it. You should also make sure you're getting adequate vitamin K2 (this doubles as a teaser for my next post) and D3 to make sure the calcium goes where it's supposed to and discontinue any other calcium supplements.
Since pyruvate and l-carnitine are both natural substances that our body deals with all of the time, there shouldn't be a lot of safety concerns. I have noticed two side effects with pyruvate. The first is that it can cause digestive upset. The second is that if you overdo it, you can get a kind of spaced out feeling. Almost a headachy kind of feeling. People have reported a similar reaction to alpha lipoic acid, which also reduces lactate levels. Sometimes I get this after my SECOND 15-20g serving of pyruvate, never after the first. This is far more pyruvate than what was used in the study.
Other Supplements?
Can pyruvate and l-carnitine be combined with other supplements that have been discussed here? Certainly!
A difference between pyruvate and alpha lipoic acid (ALA) is that pyruvate doesn't actually eliminate the extra electrons from the NADH. Any pyruvate that is reduced to lactate winds up circling to be used later. ALA gets rid of the electrons for good. The difference is that pyruvate can be safely used in much larger quantities. Personally I haven't experienced the same thermogenic aspect with ALA. Perhaps there is a benefit to combining them. Additionally, half of the ALA is r-ALA, which targets mitochondrial NADH directly. Pyruvate reduces cytoplasmic NADH, which I believe helps to bring down mitochondrial NADH via mitochondrial shuttles, but perhaps there is additional benefit to r-ALA.
As I discussed in the last post, NADH drives forward the SCD1 reaction, converting saturated fat into MUFA, which keeps you in reductive stress. Lowering NADH should slow down SCD1, but if you're struggling with weight loss it still might help to take a little sterculia oil t keep that enzyme at bay.
Lastly, pyruvate and l-carnitine should help activate metabolic enzymes, including Complex II, which is particularly inhibited in obesity. Opening up complex II should increase the effectiveness of supplemental succinate. At the moment my succinade product is sold out but it should be back in stock by months end.
1.

Konrad T, Vicini P, Kusterer K, et al. alpha-Lipoic acid treatment decreases serum lactate and pyruvate concentrations and improves glucose effectiveness in lean and obese patients with type 2 diabetes.

Diabetes Care

. Published online February 1, 1999:280-287. doi:

10.2337/diacare.22.2.280

2.

Smith CD, Schmidt CA, Lin CT, Fisher-Wellman KH, Neufer PD. Flux through mitochondrial redox circuits linked to nicotinamide nucleotide transhydrogenase generates counterbalance changes in energy expenditure.

Journal of Biological Chemistry

. Published online November 2020:16207-16216. doi:

10.1074/jbc.ra120.013899

3.

Pettit FH, Pelley JW, Reed LJ. Regulation of pyruvate dehydrogenase kinase and phosphatase by acetyl-CoA/CoA and NADH/NAD ratios.

Biochemical and Biophysical Research Communications

. Published online July 1975:575-582. doi:

10.1016/s0006-291x(75)80185-9

4.

Bradley NS, Heigenhauser GJF, Roy BD, et al. The acute effects of differential dietary fatty acids on human skeletal muscle pyruvate dehydrogenase activity.

Journal of Applied Physiology

. Published online January 2008:1-9. doi:

10.1152/japplphysiol.00636.2007

5.

Fisher-Wellman KH, Lin CT, Ryan TE, et al. Pyruvate dehydrogenase complex and nicotinamide nucleotide transhydrogenase constitute an energy-consuming redox circuit.

Biochemical Journal

. Published online April 2, 2015:271-280. doi:

10.1042/bj20141447

6.

Arenas J, Huertas R, Campos Y, Díaz AE, Villalón JM, Vilas E. Effects of<scp>l</scp>-carnitine on the pyruvate dehydrogenase complex and carnitine palmitoyl transferase activities in muscle of endurance athletes.

FEBS Letters

. Published online March 14, 1994:91-93. doi:

10.1016/0014-5793(94)80246-7

7.

Bruls YM, de Ligt M, Lindeboom L, et al. Carnitine supplementation improves metabolic flexibility and skeletal muscle acetylcarnitine formation in volunteers with impaired glucose tolerance: A randomised controlled trial.

EBioMedicine

. Published online November 2019:318-330. doi:

10.1016/j.ebiom.2019.10.017

8.

Rabinowitz JD, Enerbäck S. Lactate: the ugly duckling of energy metabolism.

Nat Metab

. Published online July 2020:566-571. doi:

10.1038/s42255-020-0243-4

9.

Zhao Y, Wang A, Zou Y, Su N, Loscalzo J, Yang Y. In vivo monitoring of cellular energy metabolism using SoNar, a highly responsive sensor for NAD+/NADH redox state.

Nat Protoc

. Published online June 30, 2016:1345-1359. doi:

10.1038/nprot.2016.074

10.

Sasaki T. Age-Associated Weight Gain, Leptin, and SIRT1: A Possible Role for Hypothalamic SIRT1 in the Prevention of Weight Gain and Aging through Modulation of Leptin Sensitivity.

Front Endocrinol

. Published online July 16, 2015. doi:

10.3389/fendo.2015.00109