The human body has multiple ways of eliminating the hydrogen peroxide that is generated during metabolism. Glutathione and Thioredoxin rely on a steady stream of NADPH to eliminate the peroxide. This causes the NAD+/NADH pool to become more oxidized due to NADPH being regenerated from NADH by the mitochondrial enzyme NNT.
In short, peroxide removal by glutathione decreases the amount of NADH and the NADH/NAD+ ratio. Another way to say that is that ROS removal by glutathione eliminates reductive stress.
On the other hand, catalase is a magical enzyme that can eliminate ROS without needing to rely on any co-factors such as NADPH. The end result is that using catalase, you can eliminate ROS without affecting the NADH/NAD+ redox balance.
Interestingly, evolution decided not to use catalase in the mitochondira, relying instead on glutathione and thioredoxin, both of which oxidize NADPH.
I wondered what would happen if catalase was overexpressed in the mitochondria. Would it have real world consequences? Would it push up mitochondrial NADH?
The answer to both questions is yes.
Video Supplement
Watch my video version of this post on YouTube!
Catalase Causes Inflammation
In the paper "Enhanced Expression of Catalase in Mitochondria Modulates NF-κB–Dependent Lung Inflammation through Alteration of Metabolic Activity in Macrophages", the authors did exactly what I've suggested. They overexpressed catalase in mouse mitochondria, meaning that hydrogen peroxide was being eliminated by a combination of catalase and glutathione, rather than purely by glutathione. They stimulated the mice lungs with LPS (lipopolysaccharide) from e. coli. LPS stimulates an inflammatory response. The body uses ROS to fight bacterial infection.
The catalase eliminated a lot of peroxide: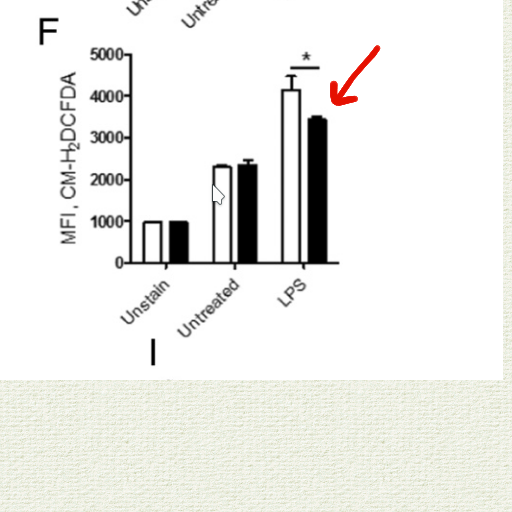 Using catalase rather than glutathione/thioredoxin resulted in a more reduced NAD pool: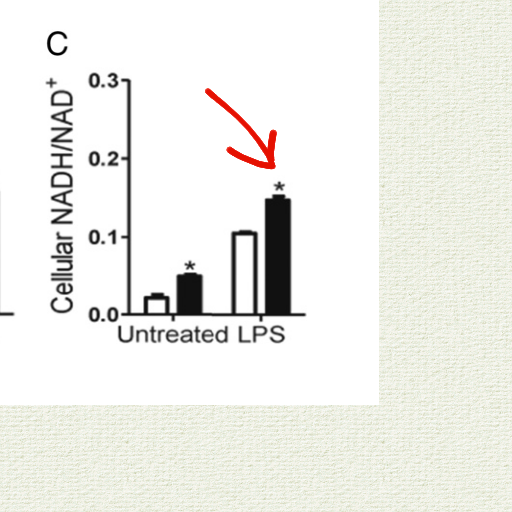 The animals who overexpressed catalase experienced increased inflammation. Mice with catalase "had exaggerated NF-κB activation in the lungs, increased neutrophilic alveolitis, and greater lung inflammation/injury" despite the fact that they had reduced oxidative stress. This is noteworthy because NF-KB has long been known to be activated by oxidative stress.
On the other hand, NF-KB is known to be activated by acetylation. Acetylation is caused by reductive stress: a buildup of acetyl-CoA (which does the acetylating) and NADH (which inhibits Sirt1 DEacetylase).
This paper nicely demonstrates which process is truly driving inflammation. Overexpressed mitochondrial catalase lowers oxidative stress and increases reductive stress in response to LPS challenge. The catalase causes increased inflammation.
Reductive stress causes inflammation.
Just Double Checking!
To ensure that reductive stress was truly the thing driving inflammation, the authors took cells from the mice and cultured them with lactate – which increases the NADH/NAD+ ratio. The lactate increased markers of inflammation.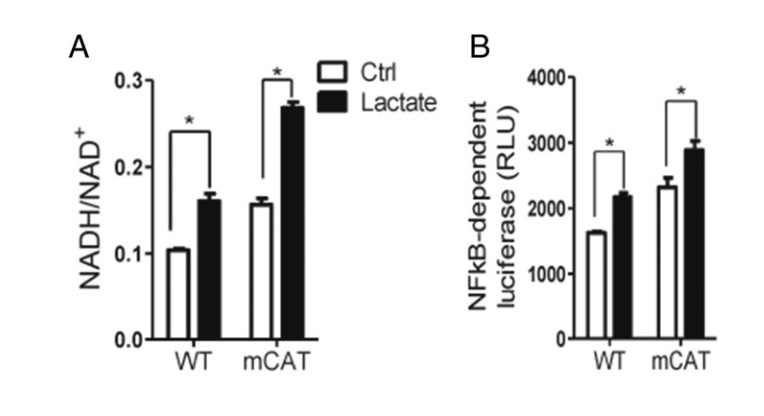 Conversely, they incubated cells with a pharmaceutical that reduced the NADH/NAD+ ratio and NFkB activity and inflammation were decreased: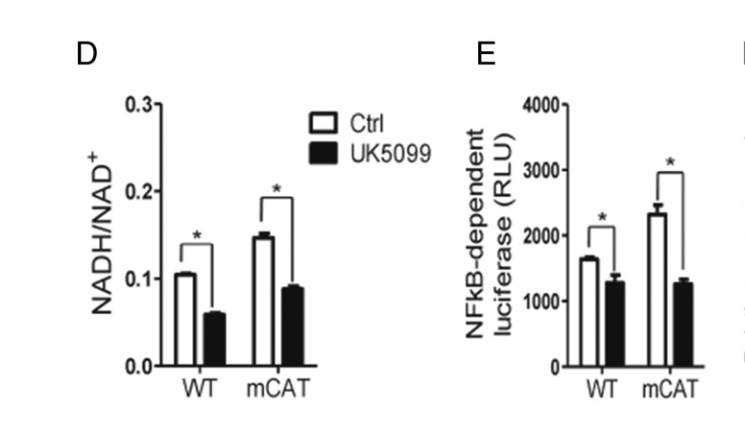 Conclusions
Inflammation is increased by high NADH/NAD+ levels: reductive stress. This is presumably due to acetylation of NFkB. A good way to give yourself reductive stress is to use antioxidants that don't oxidize the NAD pool.
In case you're wondering: Vitamin C and Vitamin E DO reduce the NADH pool.
---
Han, W., Fessel, J. P., Sherrill, T., Kocurek, E. G., Yull, F. E., & Blackwell, T. S. (2020). Enhanced Expression of Catalase in Mitochondria Modulates NF-κB–Dependent Lung Inflammation through Alteration of Metabolic Activity in Macrophages. In The Journal of Immunology (Vol. 205, Issue 4, pp. 1125–1134). The American Association of Immunologists. https://doi.org/10.4049/jimmunol.1900820
Greene, W. C., & Chen, L.-F. (2008). Regulation of NF-κB Action by Reversible Acetylation. In Reversible Protein Acetylation (pp. 208–222). John Wiley & Sons, Ltd. https://doi.org/10.1002/0470862637.ch15
Schreck, R., Albermann, K., & Baeuerle, P. A. (1992). Nuclear Factor Kb: An Oxidative Stress-Responsive Transcription Factor of Eukaryotic Cells (A Review). In Free Radical Research Communications (Vol. 17, Issue 4, pp. 221–237). Informa UK Limited. https://doi.org/10.3109/10715769209079515