In the last article we saw that a deficiency in AMPK and SIRT1 activity leads to the inactivation of the mitochondrial SIRT3 deacetylase, acetylated (turned off) mitochondrial enzymes and low metabolic rate. I suggested at the end that to escape this pattern, you have to activate AMPK and SIRT1 at the same time. In this article I'll give you a little more background on PGC-1a and SIRT1 and look at a dietary trial to see the effects of hi-fat or lo-fat overfeeding and underfeeding on SIRT1-AMPK-PGC-1a.
PCG-1a is the master regulator of mitochondrial biogenesis
PGC-1a plays an outsized role in metabolic rate.  It is said to be the master regulator of mitochondrial biosynthesis and energy expenditure.​1​  It is crucial in the differentiation of brown adipose tissue, a major thermogenic organ.​2​ Brown adipose tissue is brown due to it's high levels of mitochondria!  PCG-1a is also involved in the browning and therefore thermogenic and oxidative role of white fat cells.​3​ The white fat tissue of obese humans has a lower thermogenic rate than white adipose tissue from lean humans.
Additionally, PGC-1a plays a major role in determining muscle fiber composition.​4​ The major muscle fibers are type I, IIa and IIb. Obese humans have proportionally more Type IIb fibers and less type I and type IIa fibers.​5​ Type I fibers are "slow twitch", have a high mitochondrial content and are dark red. Type IIa fibers are fast twitch but with high oxidative capacity and high levels of mitochondria. Type IIb fiber are "white muscle" – think of the light colored pork loin in a pork chop. White muscle fibers are called "glycolytic" – they derive their energy from glycolysis and produce lactic acid. They have low oxidative potential and tire more quickly. Overexpressing PGC-1a in the muscle of pigs or mice leads the muscle fiber to be much more oxidative.​4​
SIRT1 and AMPK co-activate PGC-1a and SIRT3
To be activated, PGC-1a has to be both phosphorylated by AMPK and deacetylated by SIRT1. When PGC-1a is activated, it increases expression of SIRT3 and SIRT3 is activated by being deacetylated by SIRT1. Activated SIRT3 deacetylates your mitochondrial enzymes and takes the breaks off of your metabolic rate.
Hibernating animals go through a cycle of states every two weeks or so. Entrance into torpor, early torpor, then late torpor followed by two stages of arousal. In late torpor – in anticipation of arousal and the coming burst of thermogenesis it will take to raise their body temperature from almost freezing to warm blooded – hibernating squirrels massively increase SIRT3 expression in skeletal muscle.​6​

Lean humans can turn on AMPK and SIRT1 by feasting on fatty food
This paper​​7​ did a trial on overfeeding lean humans (average BMI 21.8) on a lo-fat (20% calories from fat, 60% carb) or hi-fat (50% fat, 30% carb) diet. Baseline caloric consumption was determined for each person and they were fed that number of calories for five days as 30% fat calories and 50% carbohydrate. Then they were fed 140% of that amount for 5 days on either the high-fat or lo-fat diet. Muscle tissue biopsies were taken to determine relative pAMPK and deacetylated PGC-1a levels, the activated forms of both. This was a "crossover" trial where you measure baseline values of each person and then again after the different treatments. There was a 30 day "washout" between the different diets where the participants just ate their normal diet. It's a good design because each person serves as their own internal control.
Here are the results.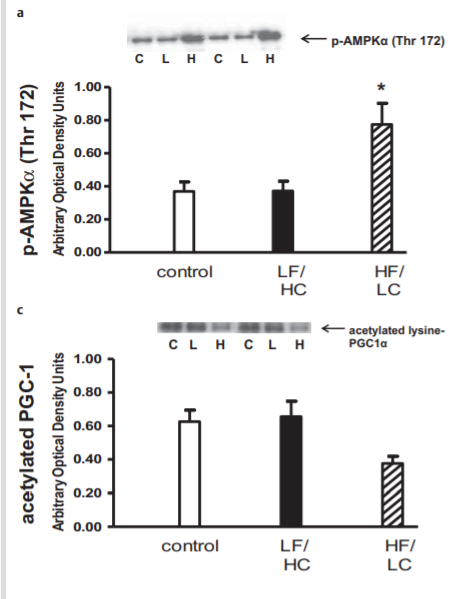 I think of this experiment as "The French Christmas Experiment". Very lean volunteers responded to short term, hi-fat overfeeding by upping their rates of fat oxidation by activating both AMPK and SIRT1. Think of Buche de Noel and the fatty traditional Christmas boudin blanc sausages in France. People who are metabolically healthy make it through holiday feasting without becoming obese.
I am amused by this result since the language around AMPK and SIRT1 is typically the puritanical language of the calories-in, calories-out school of obesity thought. "SIRT1 in turn is best known historically for producing genetic changes that mediate the increase in longevity caused by calorie restriction."​7​ Apparently feasting on fat also works.
Obese humans can turn off AMPK and SIRT1 with a low-cal, low-fat diet
The research group repeated the experiment with obese adults and calorie restriction. They put obese humans on a 30% calorie reduced diet on the same macro ratios. I would love to have seen lean humans on calorie reduction and obese humans on overfeeding as well but no such luck. Here are the results of that trial.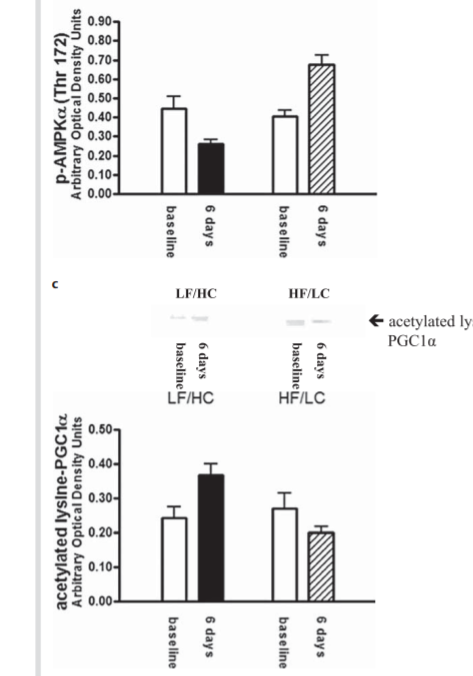 The reduced calorie hi-fat diet increased AMPK and SIRT1 activation. The lo-fat diet did the opposite. If you're going to restrict calories, do it with a fatty diet!
Let's look at how the macros actually changed in these two experiments. I'm using 2400 calories per day as a starting point and I'm particularly interested in the overfed hi fat diet (the most effective one) and the low calorie, lo-fat diet (the worst one).
| | | | |
| --- | --- | --- | --- |
| | Isocaloric | Overfed Hi Fat | Calorie Restricted Hi Carb |
| Calories | 2400 | 3360 | 1680 |
| Protein | 120g | 168g | 84g |
| Carbohydrate | 300g | 252g | 252g |
| Fat | 80g | 224g | 38g |
| Effect On AMPK/SIRT1 | Control | UP | DOWN |
The authors amazingly conclude, "Our data indicate that a relative deficiency in carbohydrate intake or, albeit less likely, a relative excess of fat intake even in the absence of caloric deprivation is sufficient to activate the AMPK-SIRT1-PGC1α energy-sensing cellular network in human skeletal muscle." This is despite the fact that the overfed hi-fat group and the calorie restricted hi-carb group had the EXACT same amount of carbohydrate reduction and OPPOSITE effects on AMPK-SIRT1-PGC-1a.
The authors didn't have the heart to write the actual conclusion: the standard advice given to the obese – restrict calories and avoid fat – had the worst effect on the AMPK-SIRT1-PCG1a axis. Feasting on fat did the opposite.
---
1.

Fernandez-Marcos PJ, Auwerx J. Regulation of PGC-1α, a nodal regulator of mitochondrial biogenesis.

The American Journal of Clinical Nutrition

. Published online February 2, 2011:884S-890S. doi:

10.3945/ajcn.110.001917

2.

Kang S, Bajnok L, Longo KA, et al. Effects of Wnt Signaling on Brown Adipocyte Differentiation and Metabolism Mediated by PGC-1α.

Mol Cell Biol

. Published online February 15, 2005:1272-1282. doi:

10.1128/mcb.25.4.1272-1282.2005

3.

Fisher f. M, Kleiner S, Douris N, et al. FGF21 regulates PGC-1 and browning of white adipose tissues in adaptive thermogenesis.

Genes & Development

. Published online February 1, 2012:271-281. doi:

10.1101/gad.177857.111

4.

Zhang L, Zhou Y, Wu W, et al. Skeletal Muscle-Specific Overexpression of PGC-1α Induces Fiber-Type Conversion through Enhanced Mitochondrial Respiration and Fatty Acid Oxidation in Mice and Pigs.

Int J Biol Sci

. Published online 2017:1152-1162. doi:

10.7150/ijbs.20132

5.

MArin P, Andersson B, Krotkiewski M, Bjorntorp P. Muscle Fiber Composition and Capillary Density in Women and Men With NIDDM.

Diabetes Care

. Published online May 1, 1994:382-386. doi:

10.2337/diacare.17.5.382

6.

Rouble AN, Storey KB. Characterization of the SIRT family of NAD+-dependent protein deacetylases in the context of a mammalian model of hibernation, the thirteen-lined ground squirrel.

Cryobiology

. Published online October 2015:334-343. doi:

10.1016/j.cryobiol.2015.08.009

7.

Draznin B, Wang C, Adochio R, Leitner J, Cornier M-A. Effect of Dietary Macronutrient Composition on AMPK and SIRT1 Expression and Activity in Human Skeletal Muscle.

Horm Metab Res

. Published online June 6, 2012:650-655. doi:

10.1055/s-0032-1312656