AKA The ROS Theory of Obesity Part 2, Part 1
Introduction
In The ROS Theory Of Obesity, I argued that the key determinant of body fatness was the saturation level of fat as it enters the mitochondria. In The Croissant Diet I addressed the dietary half of this equation, arguing that to lose weight you should avoid dietary polyunsaturated fat (PUFA) as strictly as possible, limit dietary monounsaturated fat (MUFA) and focus on consuming long chain saturated fat. I especially argued in favor of an 18 carbon length saturated fat called stearic acid which had been shown to stimulate mitochondrial fusion in humans and to eliminate abdominal fat in mice.
This article takes on the other half of the equation – your stored body fat. The fat that enters the mitochondria is a blend of recently consumed dietary fat and stored body fat. Insulin and a hormone called leptin, released by fat cells, control long term fat storage levels by manipulating the level of saturation of body fat via their effects on an enzyme called stearoyl-CoA desaturase (SCD1). SCD1 only has one function. It turns long chain saturated fats into long chain monounsaturated fats. Insulin is an up-regulator of SCD1 and leptin down-regulates it. Insulin pushes your body fat towards unsaturation which causes you to store fat. Leptin pushes your body fat towards saturation which causes you to burn fat.
In part 1 of this series I will talk about the science behind how insulin and leptin control SCD1 and how leptin prevents obesity by stimulating thermogenesis – burning off extra calories as heat. I argue that when body fat becomes too unsaturated an organism loses the ability to do leptin-stimulated thermogenesis, body temperature drops, metabolic rate drops and the organism becomes fat.
In part 2 I will argue that the difference between a lean metabolism and a post-obese metabolism is permanently up-regulated SCD1 in the post-obese state. I will present a mechanism by which dietary PUFA could lead to permanently up-regulated SCD1. I will look at dietary and supplemental factors that control SCD1 expression, how you can test to see what your levels of SCD1 are and introduce a natural inhibitor of the enzyme.
I have argued that a theory of obesity should explain a variety of diets across the human spectrum of existence and their effects on body fatness.  In part 2 of this series I will additionally show that the SCD1 Theory of Obesity explains a great number of these scenarios. 
Part 3 looks at how dietary monounsaturated fat (MUFA) fits in.
Basics of SCD1
One of the things I love about this system is how simple SCD1 itself is. Here is the only thing that it does: convert long chain saturated fats into long chain monounsaturated fats. It converts stearic acid – a long chain (18 carbon) saturated fat found in this such as beef suet, chocolate and my stearic acid enhanced butteroil – into oleic acid – a monounsaturated fat found in olive oil and fatty pork such as that from the Mangalitsa breed. It also converts the 16 carbon saturated fat palmitic acid into the 16 carbon monounsaturated palmitoleic acid, but at a much lower rate.
The SCD1 enzyme is also simple in its regulation. It doesn't need to be phosphorylated to work, it's not redox controlled. When it's present, it just makes a double bond in long chain saturated fats. It is present whenever the RNA that codes for the gene is being made. The RNA and the protein both have short half lives – so soon after insulin stops signalling the enzyme fades away.
So all of the action is whether or not the RNA that encodes the protein is being produced (transcribed) or not. In a way this is a simple system to understand but the dynamics of SCD1 production can be quite dramatic. Just as a for instance, here is the SCD1 response in the liver to putting a fasted mouse on a fat free diet. A 14 fold increase in 24 hours!​1,2​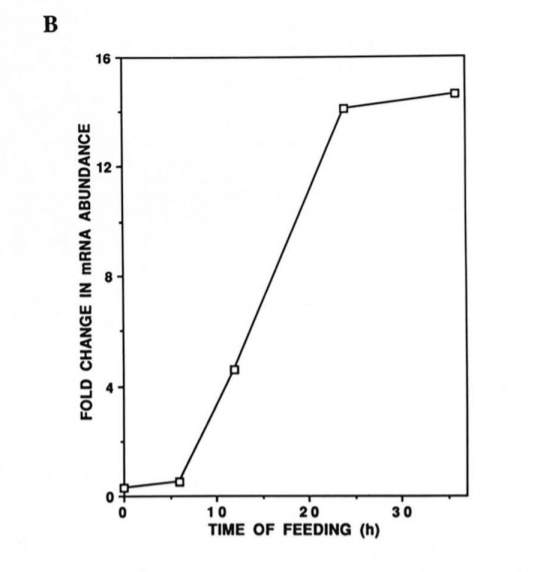 SCD1 Controls Fatness
I mentioned in my series The ROS Theory Of Obesity that obese humans produce a lot of SCD1. In fact, all kinds of things that accumulate fat have high levels of SCD1 when you look. Things that lack SCD1 typically don't accumulate fat and simply forcing something to make SCD1 is sufficient for it to accumulate fat.
When You Look at Fat Things They Make a Lot Of SCD1
I've often mentioned that the Mangalitsa Breed of pig is very fatty and renowned for the fact that lard from pigs of this breed is high in monounsaturated fat. I haven't been able to find SCD expression data for Mangalitsa but a 2008 study showed that the fatty Chinese Xiang breed of pig makes twice as much SCD1 as the much leaner large white breed.​3​
Another place we see fat accumulate is in the muscle tissue of obese humans. Guess what? Muscle tissues of obese humans make a lot more SCD1 than in lean humans.​4​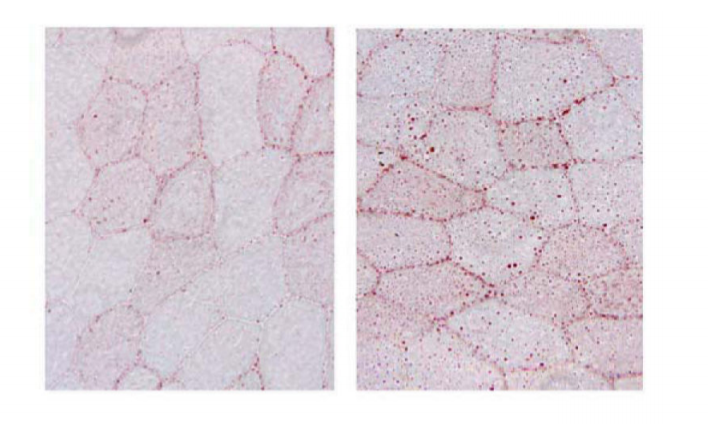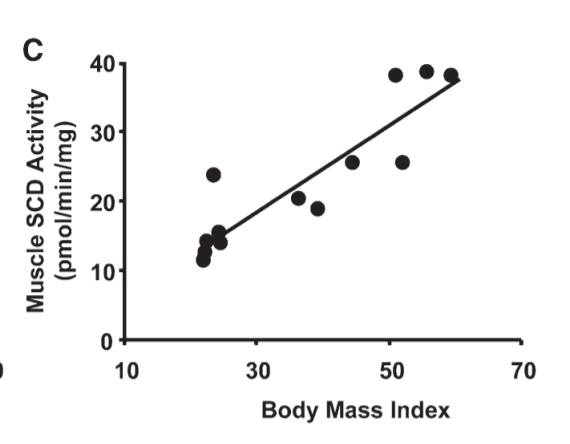 Things That Lack SCD1 Don't Store Much Fat
I tend to think evolutionarily and I like things that have been conserved for long periods of time. Things that are conserved over time are important.
I'm going to go back to my favorite worm, the nematode C. elegans. C elegans with mutations (fat-6;fat-7) in their SCD1 gene are not able to create full lipid droplets – upper right photo. Feeding them monounsaturated fat ("oleate", which is oleic acid such as that predominate in olive oil) restores their ability to store fat – bottom right photo.​5​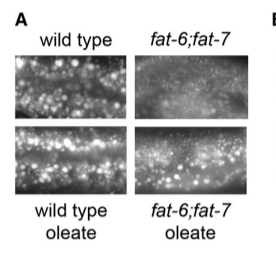 SCD1 Overexpression is Sufficient To Induce Fat Storage
Overexpressing SCD1 in cardiac myocytes – heart muscle – is sufficient for them to accumulate fat in the presence of palmitic acid: a saturated fat analogous to the Free Fatty Acids that your heart cells would be exposed to.​6​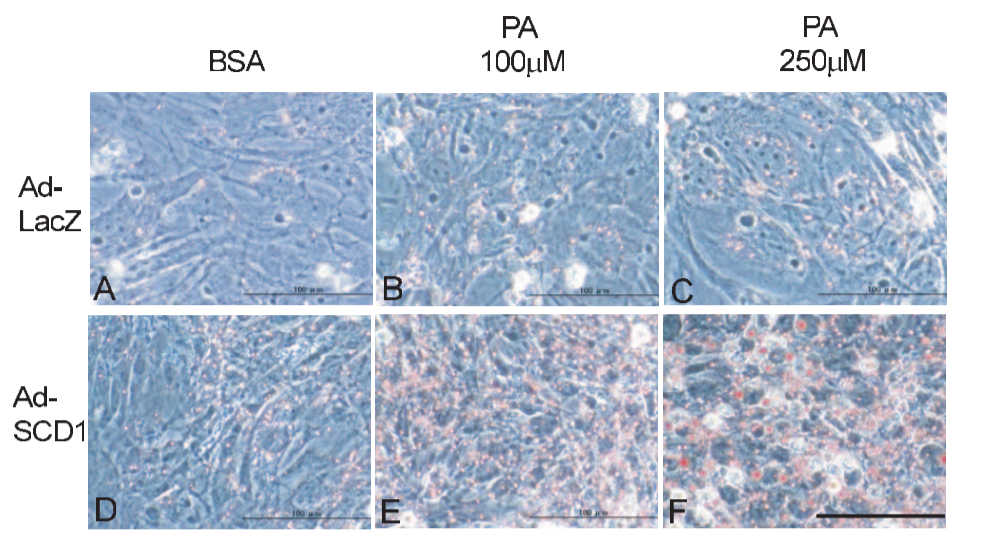 Those are heart cells. The top row makes a normal amount of SCD1 and does not accumulate fat. The bottom row makes a LOT of SCD1 and when fat is available – the amount of fat goes from 0 in the left column and increases as you move right – the cells accumulate fat. You can see the accumulated fat in E and F.
Insulin, Leptin and SCD1
It has been known since the mid-nineties that mice who are lacking the leptin gene – a hormone released by fat cells – become obese, diabetic, have a low metabolic rate and a low body temperature​7​. They also overeat. Leptin is a molecule that signals satiety in the hypothalamus and quickly it was shown that injecting leptin into leptin-deficient mice reduced their food intake dramatically.​1​ It also was shown to reduce food intake in normal mice.​8​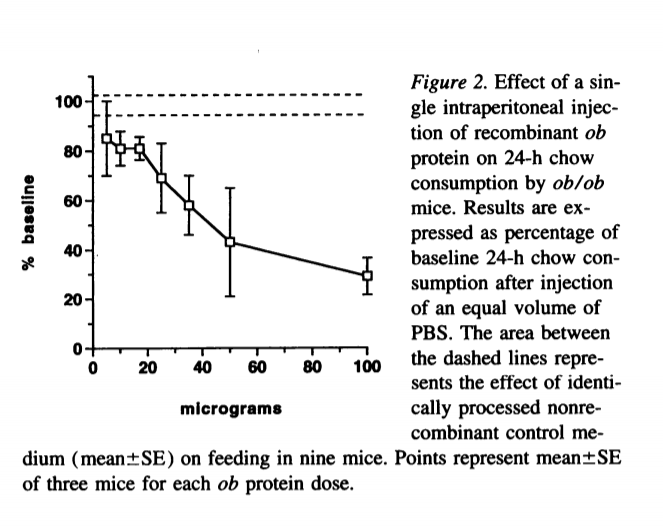 By 1998, it was shown that humans with a mutation in the leptin receptor had early onset obesity, reduced energy expenditure and low thyroid function.​9​ This became an incredibly hot area of obesity research, human weight-loss trials testing the effects of injected leptin were rapidly set up. And failed.​10​
By 2009 or so, it seems that most interest in leptin as a therapeutic tool had waned.
Most of What Leptin Does is Downregulate SCD1
When most people think of leptin, they think of apetite signalling in the hypothalamus. This dovetails well with the "calories in, calories out" school of thought about obesity. Fat people are fat because we overeat, the thinking goes. Perhaps we overeat because we are leptin resistant, perhaps because modern food is simply too palatable, perhaps it is simply because we are gluttonous. We're probably also lazy.
Appetite regulation is only half of the equation and it seems to be the less important half. In 2002, this paper​11​ showed that the negative effects of leptin on body weight and metabolic rate could be mostly reversed as long as a gene called SCD1 wasn't functional.
Look at the charts from that paper. IMPORTANT POINT: The first column is not the control mice. I find this confusing, but there you have it. The "pink" bars anre normal mice. The yellow bars (on the right) are mice lacking a functional SCD1 gene. The green bars are mice lacking both leptin AND SCD1. The blue bars have a functional SCD1 gene but lack leptin.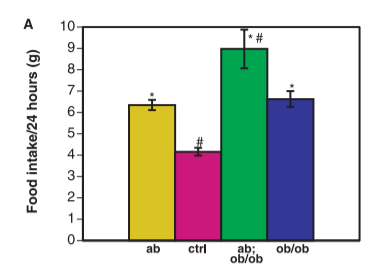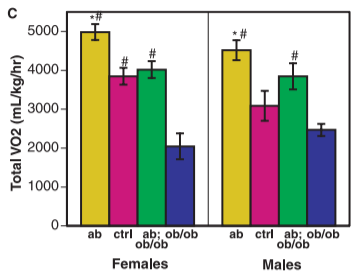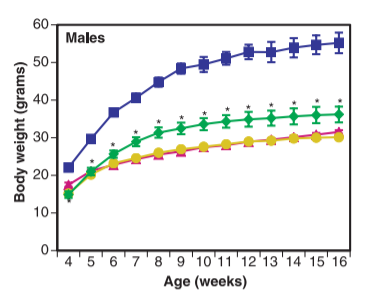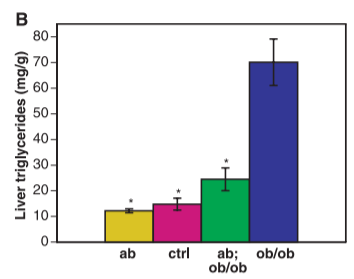 Looking at the food intake and body weight graphs, you can see – going from the pink to the blue bars – that mice lacking leptin do eat much more than normal mice and become very obese. The graph of "Total VO2" is measuring metabolic rate. You can see – going from the pink to the blue bars – that mice lacking leptin have a significantly lowered metabolic rate from normal mice. The "liver triglycerides" graph shows – going from pink to blue again – that mice lacking leptin have tremendously fatty livers compared to normal mice.
Now lets look at the yellow bars – the mice lacking SCD1 with functional leptin. They have significantly elevated metabolic rate and food intake, are as lean as control mice and have less liver fat.
Finally, let's consider the mice lacking both SCD1 and leptin – the green bars. They indeed have little appetite control, consuming more than double the food of normal mice!! This does cause them to be a little fatter than control mice and have elevated liver fat, but not NEARLY so much as the blue bars. Their metabolism is jacked! Despite the fact that they are eating an insane amount of food, most of the extra calories are simply burned off.
Still, though, their metabolic rate isn't as high as mice with leptin who lack SCD1.
Insulin and Leptin are in a Battle Over SCD1 Levels
Leptin directly down-regulates SCD1 in humans. It works in opposition to insulin, which up-regulates SCD1. This paper is very good.​12​ The authors incubated human HepG2 cells – a line of liver carcinoma cells commonly used to test metabolic effects – with either insulin, leptin or both for 24 hours. In this graph the control is on the left.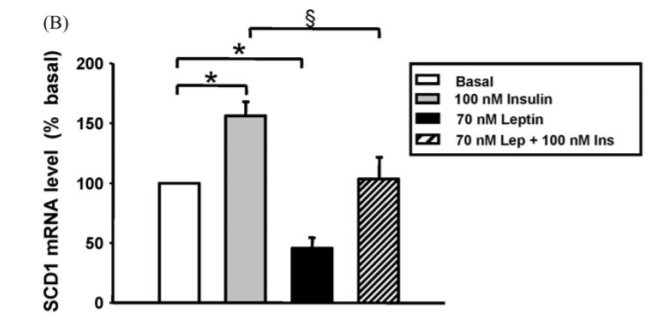 Insulin caused SCD1 to rise by 50%, leptin caused SCD1 to fall by 50% and in the presence of both the level was unchanged.
In addition to this, the authors do some very elegant biology to show that it is the ERK/MAP Kinase (MAPK) signalling pathway that is responsible for down-regulating SCD1 in response to leptin.
The Mechanism by Which Leptin Decreases SCD1 is ROS Generation in the Mitochondria
The Randle cycle controls whether mitochondria are burning fat of carbohydrates. I don't want to go into the whole thing here, but the short version is that byproducts of glucose metabolism inhibit fat oxidation and vice versa. It seems that leptin exerts it's effects in fat tissues by tilting the Randle cycle in favor of fat burning.​13​
If you've read The ROS Theory of Obesity you'll know that the physiologically appropriate effect of increasing fat oxidation is mitochondrial production of ROS, and in particular hydrogen peroxide. You will also know that the more saturated the fat being burned in the mitochondria is, the more ROS it will produce. And indeed, leptin causes the production of ROS in the mitochondria.​14​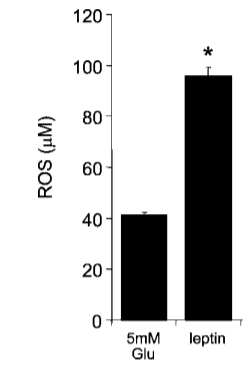 I've already mentioned that SCD1 levels are down-regulated by the ERK/MAPK pathway, but this seems to be an indirect type of regulation. This review about how the MAPK pathway is upregulated by ROS states quite clearly, "Oxidative stress is well known to induce the activation of ERK." Oxidative stress is really just another term that means increased levels of ROS.
But there is a separate transcription factor that does the same thing in response to ROS production. As I talked in my post about Oxidative Balance, Nrf2 is activated in response to ROS generation. This paper built a system to study the effects of gene expression as the dose of Nrf2 steadily increased.​15​ It found that Nrf2 activation decreases SCD1 expression.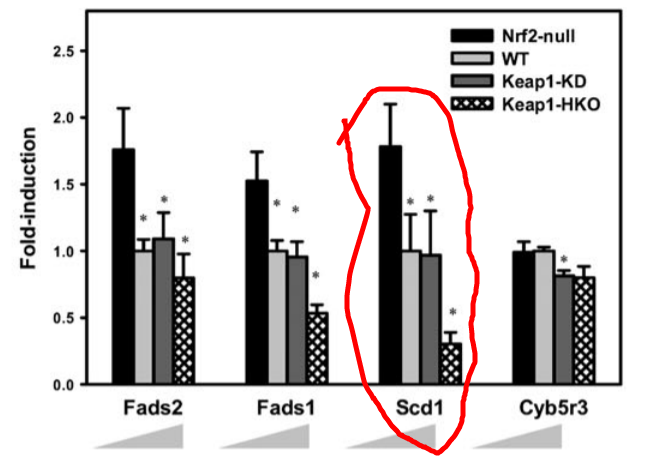 So there are two separate mechanisms in place to reduce SCD1 expression in response to a leptin induced increase in fat oxidation and the increase in ROS production it will cause.
This is A Positive Feedback Loop of ROS production
As you become fatter your body makes more leptin. The increased leptin signals to you fat cells to burn more fat. When they burn fat, it creates ROS, which stimulates the MAPK signalling pathway and Nrf2, both of which inhibit the production of SCD1. This makes your fat more saturated, which creates more ROS in the mitochondria, which stimulates the MAPK signalling pathway and Nrf2, both of which inhibit the production of SCD1. This makes your fat more saturated….
ROS Production Up-regulates UCP, Which Allows You to Burn Your Fat as Heat
I stole this diagram from here because I really like the drawing.​16​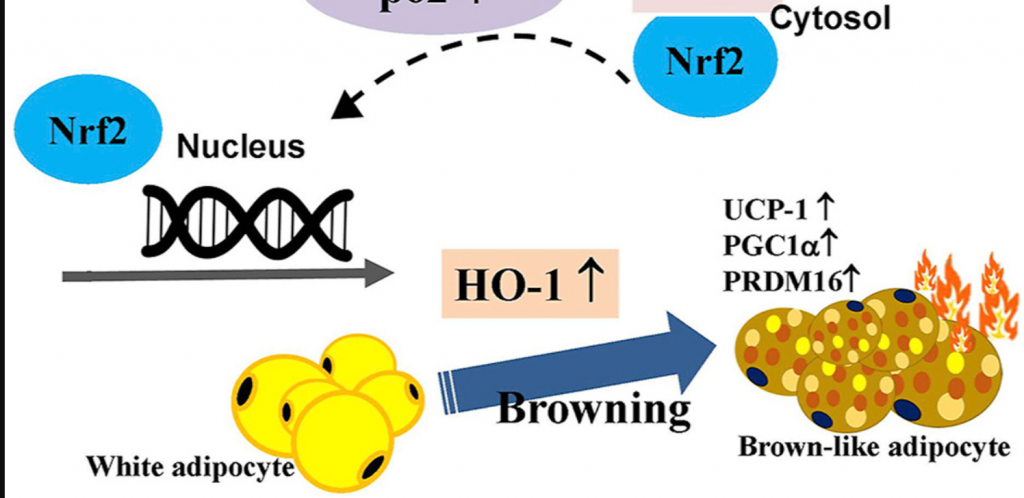 Humans have two types of adipocytes (fat cells), white and brown.​17​ White adipose tissue is mostly an energy storage organ. Brown adipose tissue (BAT) produces a special protein called uncoupling protein 1 (UCP-1). UCP-1 uncouples mitochondrial fat oxidation from ATP generation by allowing protons to flow back through the mitochondrial membrane.
Nrf2, which is activated in response to the positive feedback loop of ROS production, increases the expression of UCP-1 in adipose tissues, leading to the "browning" of fat.
This allows you to turn your stored fat into heat rather than stored chemical energy! You can just burn off your stored calories!
THIS is presumably the reason that SCD1 deficient mice have such higher metabolic rates than even normal mice. Their fat is highly saturated, leading to maximal ROS production, leading to Nrf2 activation, leading to UCP-1 upregulation. Then they just burn off the MASSIVE amount of calories they consume.
Sugar and SCD1
This paper has a really elegant display of this whole cycle in action.​18​ The authors made mice who have a liver specific deletion of the SCD1 gene. These mice are resistant to becoming obese fed a very low fat, very high sugar diet (HSVLF). (The second experiment in the paper, we'll get to the "Western Diet" later in the series.) Fructose from the sugar is processed by the liver.
In normal mice (white bars – LKO stands for Liver KnockOut), the response to all of that sugar is to massively increase SCD1 and upregulate genes involved in de novo lipogenesis, turning that fructose into tons of oleic acid – monounsaturated fat – which is exported from the liver. They become fat on this diet.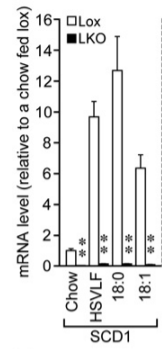 The mice lacking SCD1 (black bars) still up-regulate de novo lipogenesis in response to a high sugar diet but not nearly as much and the fat being made in and exported from the liver is of course highly saturated. These mice become very lean – leaner than the control mice. They have upregulated uncoupling proteins. They are doing thermogensis to stay lean! If you supplement their diet with the saturated fat stearic acid (18:0), they get even leaner.
But if you supplement their diet with oleic acid (18:1) – the monounsaturated product of SCD1 – they fail to upregulate uncoupling proteins and become very fat indeed!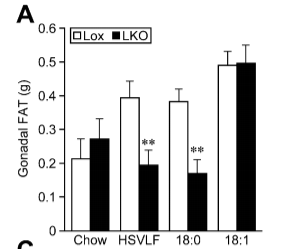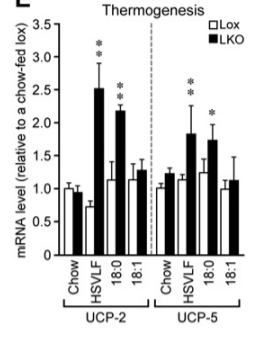 Fat Native Americans
I'm going to end this post with an anecdote.

Native Americans, living an ancestral lifestyle of hunting, fishing and maple sugar making – hard work involving cutting and hauling huge quantities of firewood and buckets of sap throughout the frigid Northern winters – got fat if they ate only maple syrup.​19​ I think we can say this was not due to laziness. I think they become fat for the same reason the mice fed a high sugar very low fat diet did: Massive up-regulation of SCD1 and lipogenesis in their livers, which then exported huge quantities of MUFA. These native Americans would have been pathologically unable to trigger sufficient ROS production in their mitochondria when burning fat to induce UCP mediated thermogenesis.
1.

Weigle DS, Bukowski TR, Foster DC, et al. Recombinant ob protein reduces feeding and body weight in the ob/ob mouse.

J Clin Invest

. Published online October 1, 1995:2065-2070. doi:

10.1172/jci118254

3.

Guo W, Wang SH, Cao HJ, et al. Gene Microarray Analysis for Porcine Adipose Tissue: Comparison of Gene Expression between Chinese Xiang Pig and Large White.

Asian Australas J Anim Sci

. Published online January 4, 2008:11-18. doi:

10.5713/ajas.2008.60256

4.

Hulver MW, Berggren JR, Carper MJ, et al. Elevated stearoyl-CoA desaturase-1 expression in skeletal muscle contributes to abnormal fatty acid partitioning in obese humans.

Cell Metabolism

. Published online October 2005:251-261. doi:

10.1016/j.cmet.2005.09.002

5.

Shi X, Li J, Zou X, et al. Regulation of lipid droplet size and phospholipid composition by stearoyl-CoA desaturase.

J Lipid Res

. Published online June 20, 2013:2504-2514. doi:

10.1194/jlr.m039669

6.

Matsui H, Yokoyama T, Sekiguchi K, et al. Stearoyl-CoA desaturase-1 (SCD1) augments saturated fatty acid-induced lipid accumulation and inhibits apoptosis in cardiac myocytes.

PLoS One

. 2012;7(3):e33283. doi:

10.1371/journal.pone.0033283

7.

Pelleymounter M, Cullen M, Baker M, et al. Effects of the obese gene product on body weight regulation in ob/ob mice.

Science

. Published online July 28, 1995:540-543. doi:

10.1126/science.7624776

8.

Schwartz MW, Seeley RJ, Campfield LA, Burn P, Baskin DG. Identification of targets of leptin action in rat hypothalamus.

J Clin Invest

. Published online September 1, 1996:1101-1106. doi:

10.1172/jci118891

9.

Clément K, Vaisse C, Lahlou N, et al. A mutation in the human leptin receptor gene causes obesity and pituitary dysfunction.

Nature

. Published online March 1998:398-401. doi:

10.1038/32911

10.

Zelissen PMJ, Stenlof K, Lean MEJ, et al. Effect of three treatment schedules of recombinant methionyl human leptin on body weight in obese adults: a randomized, placebo-controlled trial.

Diabetes Obes Metab

. Published online November 2005:755-761. doi:

10.1111/j.1463-1326.2005.00468.x

11.

Cohen P. Role for Stearoyl-CoA Desaturase-1 in Leptin-Mediated Weight Loss.

Science

. Published online July 12, 2002:240-243. doi:

10.1126/science.1071527

12.

Mauvoisin D, Prévost M, Ducheix S, Arnaud M-P, Mounier C. Key role of the ERK1/2 MAPK pathway in the transcriptional regulation of the Stearoyl-CoA Desaturase (SCD1) gene expression in response to leptin.

Molecular and Cellular Endocrinology

. Published online May 5, 2010:116-128. doi:

10.1016/j.mce.2010.01.027

13.

Wein S, Ukropec J, Gašperíková D, Klimeš I, Šeböková E. Concerted Action of Leptin in Regulation of Fatty Acid Oxidation in Skeletal Muscle and Liver.

Exp Clin Endocrinol Diabetes

. Published online May 3, 2007:244-251. doi:

10.1055/s-2007-956166

14.

Yamagishi S, Edelstein D, Du X, Kaneda Y, Guzmán M, Brownlee M. Leptin Induces Mitochondrial Superoxide Production and Monocyte Chemoattractant Protein-1 Expression in Aortic Endothelial Cells by Increasing Fatty Acid Oxidation via Protein Kinase A.

J Biol Chem

. Published online May 7, 2001:25096-25100. doi:

10.1074/jbc.m007383200

15.

Wu KC, Cui JY, Klaassen CD. Beneficial Role of Nrf2 in Regulating NADPH Generation and Consumption.

Toxicological Sciences

. Published online July 20, 2011:590-600. doi:

10.1093/toxsci/kfr183

16.

Tsai Y-C, Wang C-W, Wen B-Y, et al. Involvement of the p62/Nrf2/HO-1 pathway in the browning effect of irisin in 3T3-L1 adipocytes.

Molecular and Cellular Endocrinology

. Published online August 2020:110915. doi:

10.1016/j.mce.2020.110915

17.

Nedergaard J, Bengtsson T, Cannon B. Unexpected evidence for active brown adipose tissue in adult humans.

American Journal of Physiology-Endocrinology and Metabolism

. Published online August 2007:E444-E452. doi:

10.1152/ajpendo.00691.2006

18.

Miyazaki M, Flowers MT, Sampath H, et al. Hepatic Stearoyl-CoA Desaturase-1 Deficiency Protects Mice from Carbohydrate-Induced Adiposity and Hepatic Steatosis.

Cell Metabolism

. Published online December 2007:484-496. doi:

10.1016/j.cmet.2007.10.014