The way that insulin decreases blood glucose is by causing the translocation of a glucose transporter called GLUT4 (GLUcose Transporter 4) from vesicles (little pockets) inside the cell to the cell membrane where it transports glucose into the cell. GLUT4 is said to be "insulin dependent". When glucose levels inside of cells are high, glycogen synthase is activated and the glucose is stored as glycogen. Skeletal muscle is the largest tissue in the human body and is considered the primary target for insulin-stimulated glucose disposal.​1​ Muscle contains the largest reservoir of glycogen in the body.​2​ Muscle glycogen is closely regulated and influences insulin sensitivity.​2​
Insulin resistance of obesity is characterized by impaired skeletal muscle glucose uptake and, more specifically, by reduced glycogen storage.​3​
GLUT4 translocation and AMPK
A paper I referenced in the post about vitamin D activating AMPK has this intriguing graph. Notice how vitamin D regulates GLUT4 levels ("Insulin Dependent" glucose transporter in my diagram) and glucose uptake independently of insulin and that the effects of Vitamin D and insulin on glucose uptake are additive.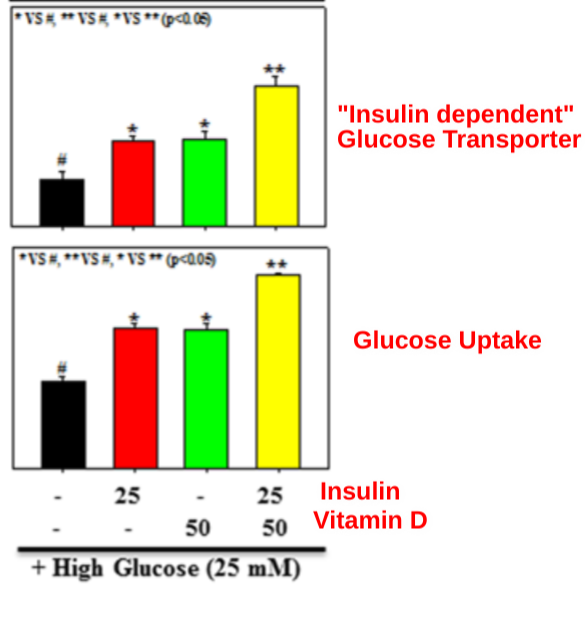 The fact that vitamin D activates AMPK and increases GLUT4 translocation independently of glucose is intriguing for a number of reasons. We've already seen that low SCD1 levels lead to activated AMPK. Mice lacking SCD1 have increased activation of AMPK​4​ and are protected from high blood glucose caused by a high fat diet​5​. Hampshire pigs have an overactive version of AMPK and have high levels of muscle glycogen.​6​ Humans with an analogous AMPK mutation to Hampshire hogs have high skeletal muscle glycogen content and low intramuscular fat.​7​
Obese humans have high levels of skeletal muscle SCD1, which is associated with high intramuscular fat levels and low levels of actiavted AMPK. High intermuscular fat levels show up as low attenuation on a CT scan. Humans with higher intramuscular fat store less glycogen.​3​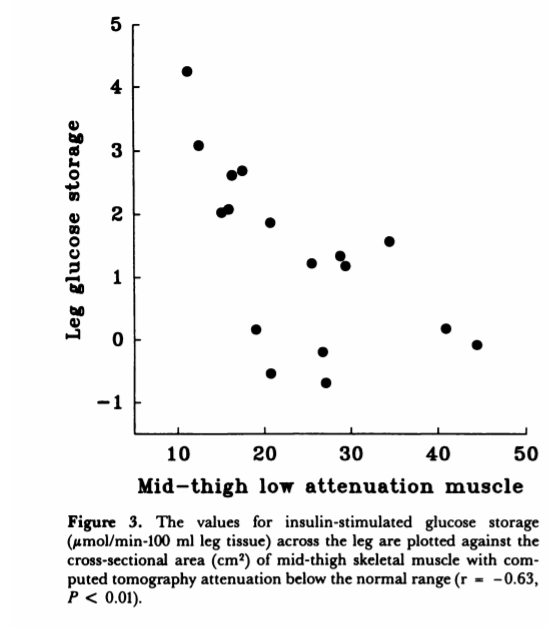 AMPK increases GLUT4 translocation without insulin
All of this is reason to believe that AMPK plays a large role in muscle glycogen content and blood glucose control but definitive evidence had been lacking.
Two different 2020 papers, one by an Italian group​8​ and one by a Korean group​9​, demonstrate that pAMPK increases glucose uptake, glycogen formation, and improves glucose tolerance independently of the effects of insulin. The paper from the Italian group is published in a more prestigious journal (Nature), but the Korean group looks at ROS!
Both studies use an AMPK activator – abscisic acid (ABA) in the Italian paper and Acacetin in the Korean paper – in tissue culture and show increased phosphorylation of AMPK and increased glucose uptake due to insulin-independent GLUT4 translocation.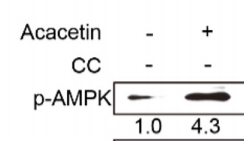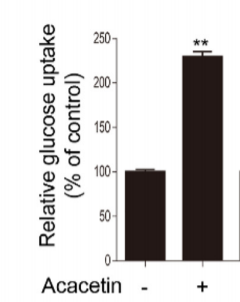 The Italian paper shows that rats given ABA have lower fasting blood glucose levels, faster whole body glucose uptake and that the rate of whole body glucose uptake is tightly  correlated with muscle uptake. Muscle tissue is indeed the main sink of glucose.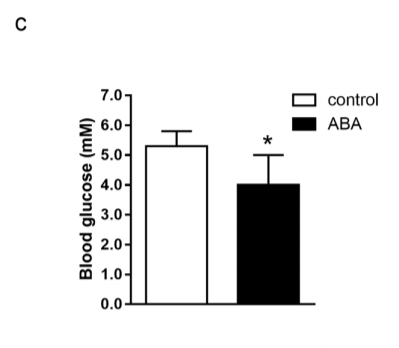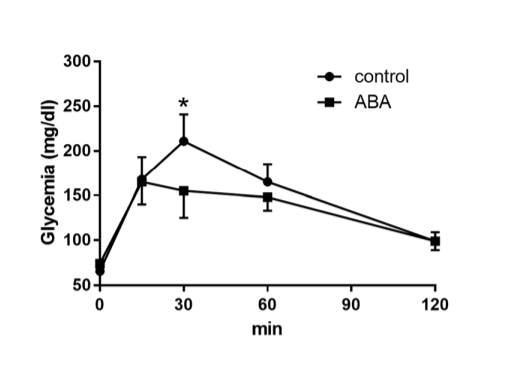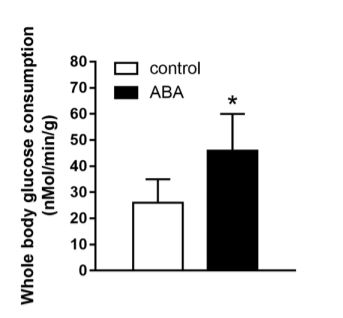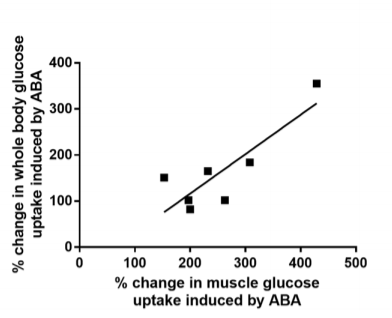 They also show that mice given ABA spontaneously spend more time running on the wheel – they are exercising BECAUSE they have pAMPK and not the other way around – and that they have a lower glycemic response to a glucose load and higher muscle glycogen content.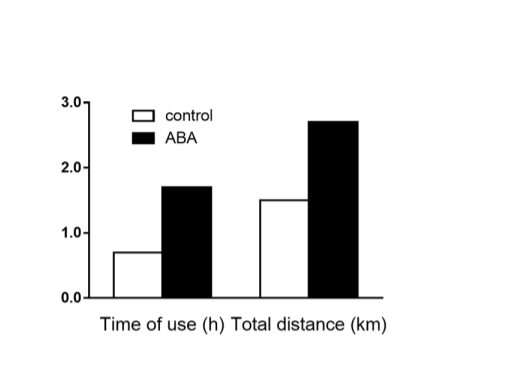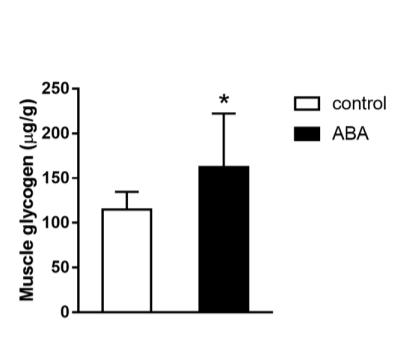 That's all pretty nice, but the Korean paper actually looks at the role of ROS in all of this!!  They show that by using NAC – an antioxidant very similar to glutathione – the amount of hydrogen peroxide and superoxide generated in the cells is reduced and so is glucose uptake.  So AMPK induced GLUT4 translocation is driven (at least partially) by ROS!  I wish they would have spent more time on the role of ROS, but at least they gave us something.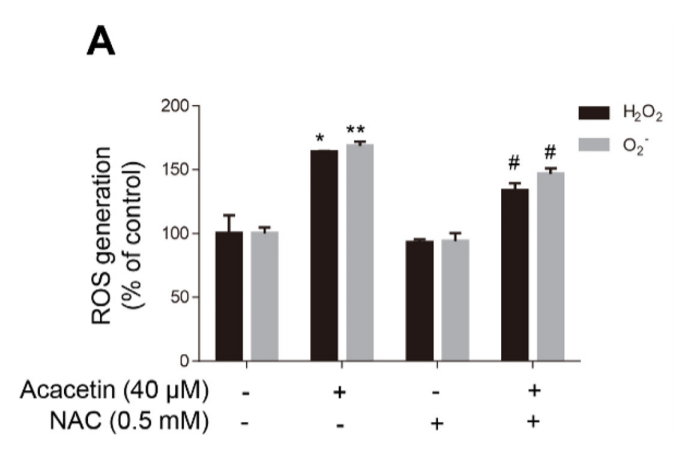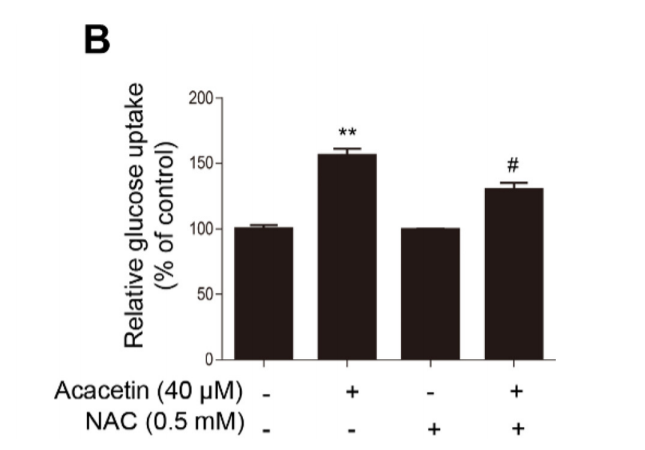 Conclusions
These two papers show quite clearly that phosphorylated AMPK drives GLUT4 translocation, glucose uptake into muscle tissue and glycogen formation independently of insulin signalling. Furthermore, activating AMPK in rodents leads to lower fasting blood glucose, faster clearance of glucose when given an oral glucose load and more spontaneous activity. The whole body clearance of blood glucose is driven by skeletal muscle uptake.
This increased glucose uptake is at least partially dependent on ROS production. The skeletal muscles of obese humans have high levels of SCD1 and are therefore inneficient at driving ROS. As intramuscular fat increases in obese humans, indicating higher SCD1 levels, they have lower muscle glycogen.
When you take an oral glucose tolerance test, you consume 75g of glucose and test your blood glucose 2 hours later.  A value under 140 indicates normal and a value of over 200 indicates type 2 diabetes.  A value between 140 and 200 is considered "insulin resistant".  But is it really insulin resistance or is it inability to generate ROS to activate AMPK to store muscle glycogen?
---
1.

Deshmukh AS. Insulin-stimulated glucose uptake in healthy and insulin-resistant skeletal muscle.

Hormone Molecular Biology and Clinical Investigation

. Published online January 1, 2016. doi:

10.1515/hmbci-2015-0041

2.

He J, Kelley DE. Muscle glycogen content in type 2 diabetes mellitus.

American Journal of Physiology-Endocrinology and Metabolism

. Published online November 2004:E1002-E1007. doi:

10.1152/ajpendo.00015.2004

3.

Simoneau J, Colberg SR, Thaete FL, Kelley DE. Skeletal muscle glycolytic and oxidative enzyme capacities are determinants of insulin sensitivity and muscle composition in obese women.

FASEB j

. Published online February 1995:273-278. doi:

10.1096/fasebj.9.2.7781930

4.

Dziewulska A, Dobosz AM, Dobrzyn A, et al. SCD1 regulates the AMPK/SIRT1 pathway and histone acetylation through changes in adenine nucleotide metabolism in skeletal muscle.

J Cell Physiol

. Published online June 26, 2019:1129-1140. doi:

10.1002/jcp.29026

5.

Miyazaki M, Sampath H, Liu X, et al. Stearoyl-CoA desaturase-1 deficiency attenuates obesity and insulin resistance in leptin-resistant obese mice.

Biochemical and Biophysical Research Communications

. Published online March 2009:818-822. doi:

10.1016/j.bbrc.2009.01.183

6.

Scheffler TL, Park S, Gerrard DE. Lessons to learn about postmortem metabolism using the AMPKγ3R200Q mutation in the pig.

Meat Science

. Published online November 2011:244-250. doi:

10.1016/j.meatsci.2011.04.030

7.

Costford SR, Kavaslar N, Ahituv N, et al. Gain-of-Function R225W Mutation in Human AMPKγ3 Causing Increased Glycogen and Decreased Triglyceride in Skeletal Muscle. Groop L, ed.

PLoS ONE

. Published online September 19, 2007:e903. doi:

10.1371/journal.pone.0000903

8.

Magnone M, Emionite L, Guida L, et al. Insulin-independent stimulation of skeletal muscle glucose uptake by low-dose abscisic acid via AMPK activation.

Sci Rep

. Published online January 29, 2020. doi:

10.1038/s41598-020-58206-0

9.

Kwon E-B, Kang M-J, Ryu HW, et al. Acacetin enhances glucose uptake through insulin-independent GLUT4 translocation in L6 myotubes.

Phytomedicine

. Published online March 2020:153178. doi:

10.1016/j.phymed.2020.153178