Oxidants are electron takers. Anti-oxidants are the opposite: electron donors. OILRIG: Oxidation Is Losing, Reduction Is Gaining.
Oxidative stress can be defined as having too high of a percentage of intracellular "redox couples" in the oxidized state. Glutathione, for instance, is the body's "master antioxidant". It can live as either the reduced version (GSH) or the oxidized version (GSSG). When the percentage of GSSG is too high we say the cell has oxidative stress.
Reductive stress is the opposite of oxidative stress and is often characterized by the redox couple NAD+/NADH. The NAD+ is the oxidized form and is lacking an electron (Oxidation Is Losing and hence the positive charge). The NADH form has gained an electron and is the reduced form (Reduction Is Gaining).
If a problem in obesity is reductive stress as defined by a low NAD+/NADH ratio, we can rephrase that as "there are too many electrons". Much of popular thinking around obesity has been that we could help it with antioxidants, which are electron donors. This is akin to saying, "The baby is drowning, add more bathwater."
The Antioxidant NAC Acutely Lowers NAD+/NADH Ratio and Metabolic Rate
I've argued that a crucial mitochondrial pathway that regenerates NAD+, allowing for an efficient metabolism, is Glutathione-NNT.  Glutathione converts Hydrogen Peroxide (ROS) back to water, becoming oxidized in the process.  Glutathione reductase uses a molecule of NADPH to reduce the glutathione, creating a molecule of NADP+, which is used to regenerate NAD+ by the enzyme NNT.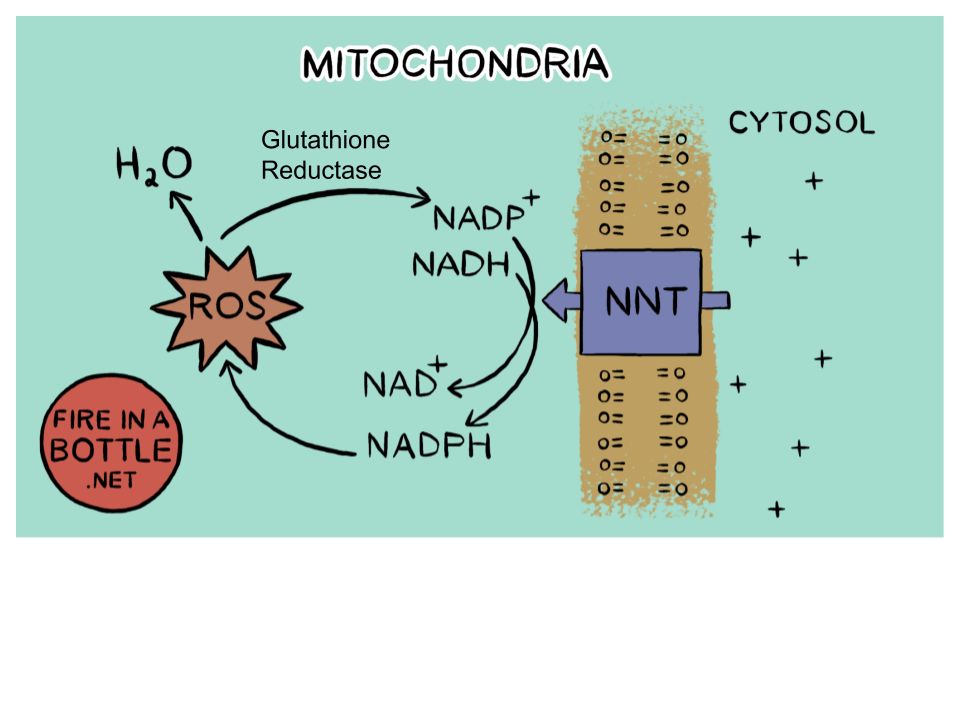 If an exogenous antioxidant is applied, this pathway is short circuited and metabolism slows. The more antioxidant you add, the slower will be the metabolic rate.​1​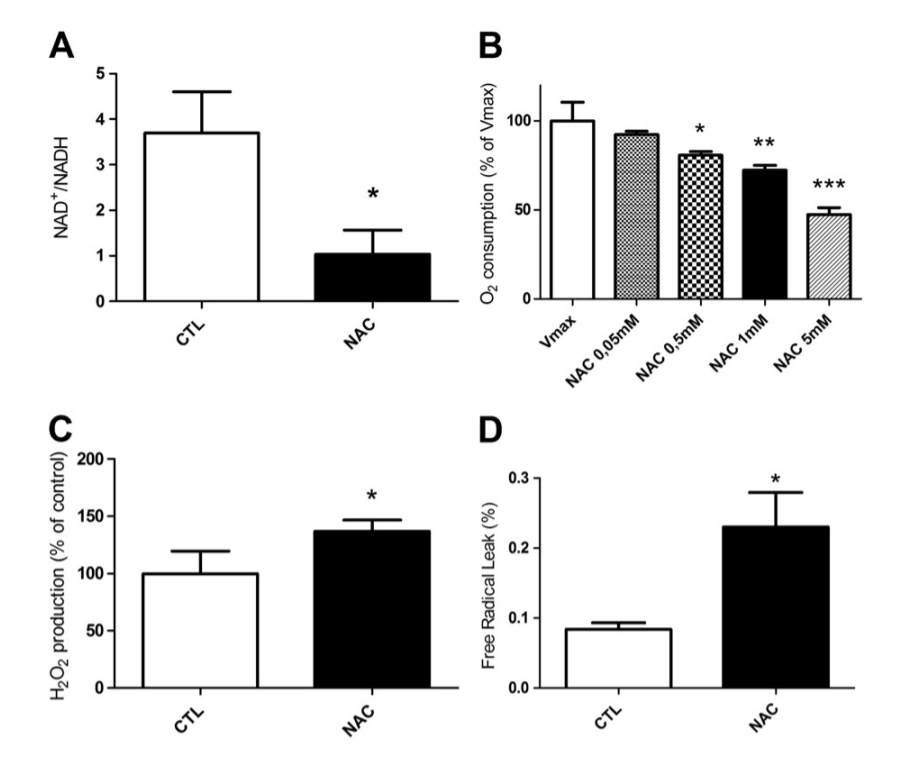 In addition to the acute depressive effect on NAD+ level and metabolic rate, the NAC also increases ROS production. The exact mechanism of the increase in ROS is unclear, but a couple possibilities are a) increased Nox4 (the mitochondrial NADPH oxidase) activity due to high levels of NADPH, b) reduced levels of glutathione reductase due to high levels of its end product glutathione or c) reduced NNT activity due to low levels of NAD+ and acetylation by inactivation of SIRT3. Whatever the mechanism is, reductive stress causes elevated levels of ROS.
Readers of the blog might be thinking, "I thought ROS was a good thing." And it is when it is being efficiently removed by the glutathione-NNT pathway. Cellular levels of ROS are determined by their rate of production minus their rate of removal. Reductive stress creates a removal problem.
This is, in fact, why I recommend supplementing with lipoic acid in addition to Succinade. The lipoic acid is to convert some NADH to NAD+ to get things deacetylated and electron flow moving. The Succinade is to generate some more ROS to help balance out your mostly unsaturated body fat which is probably what gave you the reductive stress in the first place. I've been taking lipoic acid first thing in the morning then following with Succinade two hours later.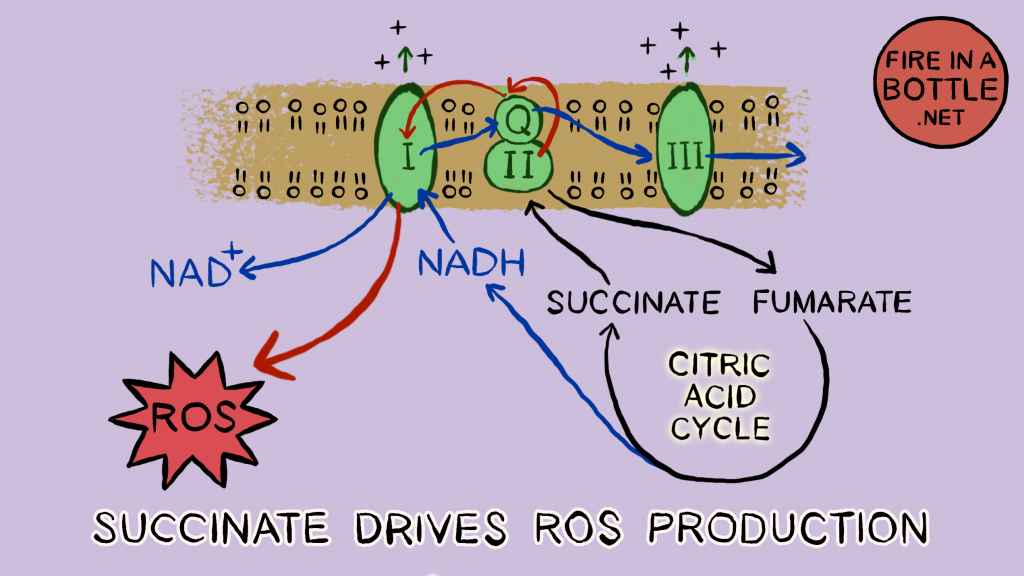 Antioxidants Prevent Adrenal Driven Thermogensis
In the second paper​2​, mice were given an adrenal hormone mimic (CL316,246) for ten days. One group was given normal water and the other was given NAC in their drinking water for three days before and the ten days during adrenal stimulation. The mice given water only had massively increased mitochondrial content and lowered fat content in their white adipose tissue compared to the mice given NAC.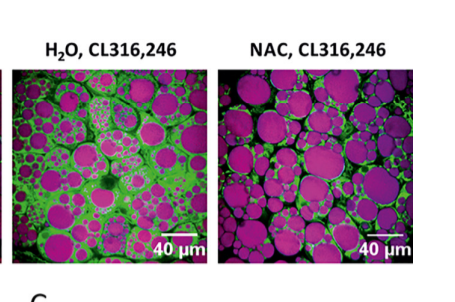 Again the antioxidant leads to a buildup of ROS.  In tissue culture there is increased lactate export – a marker of reductive stress – at the same time as increased markers of oxidative stress.  Antioxidants cause reductive stress which causes oxidative stress.  
This pro-oxidant effect of antioxidants was, even in the absence of 3-AR stimulation (adrenal mimic), associated with decreased oxygen consumption and increased lactate production in adipocytes. We observed similar antioxidant effects in WT mice: NAC blunted 3-AR stimulation–induced browning of white adipose tissue and reduced mitochondrial activity in brown adipose tissue even in the absence of 3-AR stimulation. NAC … increased mitochondrial oxidative stress. … chronic antioxidant supplementation can produce a paradoxical increase in oxidative stress associated with mitochondrial dysfunction in adipocytes.

Peris & Asterholm, "Antioxidant treatment induces reductive stress associated with mitochondrial dysfunction in adipocytes"
Vitamin E And Soybean Oil
The second paper​2​ showed a similar effect to NAC on metabolic rate using Vitamin E – an antioxidant.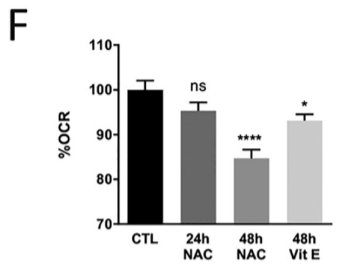 Did you know that the single most potent dietary source of gamma-tocopherol – a form of vitamin E – is soybean oil? If you wanted to give yourself reductive stress, consuming a food which contains a lot of PUFA to minimize ROS generation combined with a potent antioxidant to reduce glutathione reductase and/or SIRT3 activity would presumably be an excellent way to get there.
---
1.

Singh F, Charles AL, Schlagowski AI, et al. Reductive stress impairs myoblasts mitochondrial function and triggers mitochondrial hormesis.

Biochimica et Biophysica Acta (BBA) – Molecular Cell Research

. Published online July 2015:1574-1585. doi:

10.1016/j.bbamcr.2015.03.006

2.

Peris E, Micallef P, Paul A, et al. Antioxidant treatment induces reductive stress associated with mitochondrial dysfunction in adipocytes.

Journal of Biological Chemistry

. Published online February 2019:2340-2352. doi:

10.1074/jbc.ra118.004253