This is the next in a series of posts I am writing about reductive stress as defined by the NAD+/NADH. This post looks at the uniqueness of superoxide as a reduced electron carrier. Superoxide is not like the other electron carriers. Most electron carriers, such as NADH, need to give their electron to something else before they can accept another. When oxygen gets an electron to become superoxide, it takes two more!! This is the key to escaping reductive stress.
For background, check out Meet your Antioxidant System, Superoxide: An Unlikely Hero, ROS as a NAD+ Regenerating Thermogenic Cycle, and Obesity as a Global Succinate Dehydrogenase Activity Deficit.
Reductive Stress
Redox biology describes the flow of electrons. Electrons flow from the carbon and hydrogen in fats and carbohydrates to molecular Oxygen – O2. O2 is the "terminal electron acceptor". The electrons don't flow along wires, they flow through electron carriers, such as NAD+. When NAD+ absorbs an electron (and a proton, H+, which are readily available in solution), it becomes NADH.
Things that gain electrons are reduced and things that lose electrons are oxidized. You can remember this with the mnemonic OILRIG, which means Oxidation Is Losing, Reduction Is Gaining with respect to electrons.
NADH is the reduced form of NAD and NAD+ is the oxidized form. Fat, glucose and ethanol are all converted to acetyl-CoA before entering the citric acid cycle. Each turn of the citric acid cycle requires three oxidized NAD molecules – NAD+. The less NAD+ is within the mitochondria, the slower the citric acid cycle can proceed and the slower your metabolism can run.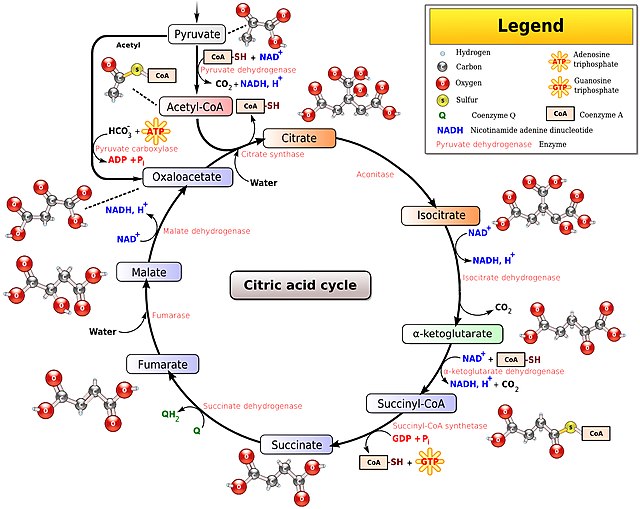 Mitochondria with a relatively high ratio of the reduced NADH to the oxidized NAD+ are said to have "reductive stress". Metabolism cannot proceed efficiently because there are not enough available electron carriers.
The classic way that NADH becomes oxidized back to NAD+ is by handing it's electrons to Complex 1 of the mitochondrial electron transport chain. Whenever a redox reaction happens between two molecules, one is reduced and the other is oxidized. So in this reaction Complex 1 is reduced. Remember that Reduction Is Gaining and it gained the electron that NADH lost. Oxidation Is Losing.
Biology has a bunch of "redox couples", which is what NAD+ and NADH are collectively called. Others include FAD and FADH2; glutathione, which cycles between oxidized (GSSH) and reduced (GSH); and lipoic acid, which cycles back and forth between lipoic acid (oxidized) and dihydrolipoic acid (reduced). The only way for one of these that is reduced to become oxidized is for it to reduce something else. You have to have someone to hand the electron to.
Why do cells get reductive stress?
The electron transport chain works by pumping protons across the inner membrane to create a voltage gradient. The protons flow back through Complex V, releasing energy that is used to convert ADP to ATP. When energy levels are high – which can be from high blood glucose after a meal or high levels of free fatty acids while fasting; when energy demand is low – perusing Facebook or reading this blog; the ADP becomes converted to ATP, slowing the flow of protons through Complex V. The voltage gradient across the membrane becomes higher. It becomes harder for NADH to hand it's electrons to Complex I, which has to push harder to pump protons. NADH levels build up and NAD+ levels drop.
At this point acetyl-CoA levels begin to climb, starting a feedback loop that slows down fat oxidation by inhibiting CPT1, the rate limiting enzyme in beta-oxidation.
This is reductive stress and the outcome is fat buildup.
Superoxide
Let's say that you're from a starch eating culture. You have very saturated body fat. It's morning time and you are starting to make breakfast. It's harvest season, food is plentiful, you've been feasting and packed on a few lbs. Your leptin levels have increased and so AMPK is phosphorylated and your body fat is being rapidly oxidized. Energy demands are low since you're only casually getting breakfast together. Do you rapidly hit a state of reductive stress since free fatty acids are plentiful, AMPK is activated (fat is being burned quickly) and activity levels are low? Where will the electrons flow to? What is the source of NAD+?
The reduced electron carriers – NADH and FADH2 – have to push electrons onto the electron transport chain. If ATP levels are high and the proton gradient is high this process will proceed slowly. This is the very situation in which superoxide will be maximally generated – low insulin (you're fasted), high proton gradient, activated AMPK, saturated fat.
When the proton gradient is high and saturated fat is being oxidized quickly, succinate dehydrogenase activity is maximal. Succinate dehydrogenase is the prime driver of mitochondrial ROS production. The electrons entering the chain through succinate dehydrogenase move backwards through Complex I and "ping" out through a process called reverse electron transport (RET). These electrons form superoxide.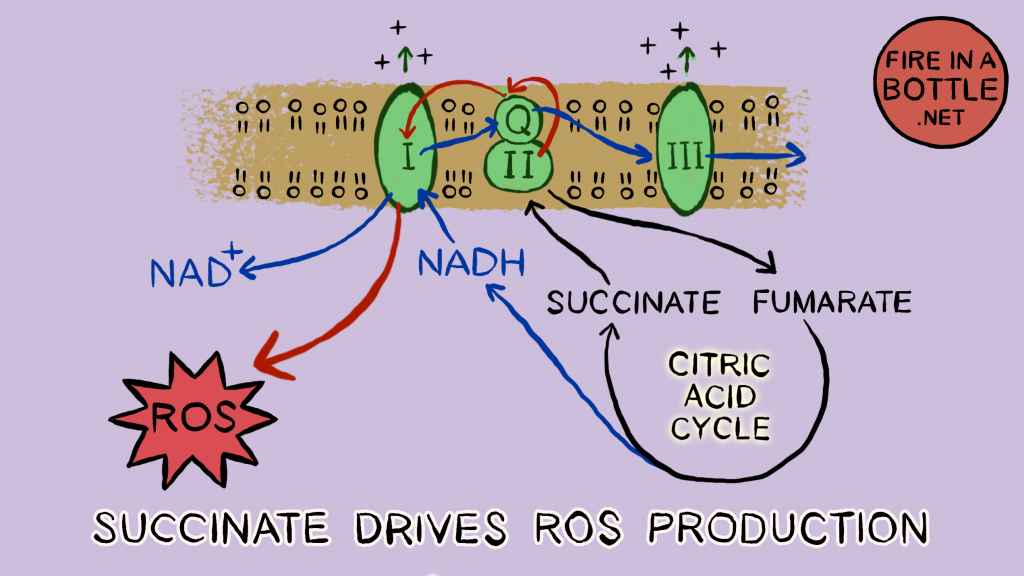 Superoxide is a reduced electron carrier. It is O2–, an oxygen that has absorbed an extra electron. Reduction Is Gaining (electrons). Who does it hand its electron to?
Superoxide Oxidizes Things
When I was a kid, in the early 80s, my parents surprised us one Christmas with a cable TV subscription and a Betamax recorder. I recorded Superman II off of HBO. In Superman II, Superman decides to marry Lois Lane. A holographic image of his mother tells him that he has to relinquish his super powers to marry a human woman. He goes to the far North and enters the Crystal Chamber, which takes his powers away. Later bad guys come from his birth planet and he ventures North to retrieve his powers to fight them, but there are three of them and only one of him. They hear of the Crystal Chamber, imprison Lois Lane and the whole party moves to the frozen North where Superman is forced into the Crystal Chamber and….. TAKES AWAY THE POWER OF THE OTHER THREE SUPERPEOPLE WHO ARE OUTSIDE OF THE CRYSTAL CHAMBER!!!
It was the ultimate switcheroo.
The enzyme superoxide dismutase (SOD2) rapidly converts two molecules of superoxide into hydrogen peroxide (H2O2) and O2.  It's worth taking a look for a second at how this happens.  Superoxide Dismutase has a manganese ion at its core.  Manganese is a metal and metals are very flexible from a redox perspective.  This is why electrons flow through a copper wire.  When SOD2 makes contact with a superoxide it transfers the extra electron onto its manganese, oxidizing the superoxide back to oxygen.
When the now-reduced SOD2 (Reduction Is Gaining) makes contact with a second superoxide, it transfers the extra electron from its manganese to the superoxide, reducing it again! This would make an oxygen with a charge of 2-, having 2 extra electrons except that a couple of protons are grabbed out of solution to make H2O2 instead.
THE SUPEROXIDE IS REDUCED A SECOND TIME! Reduction Is Gaining. This is the magic. SOD gives the extra electron to no one. Oxygen is an electron taker and the formation of superoxide starts the process.​1​

In the next reaction, glutathione diffuses the hydrogen peroxide. Glutathione reduces one of the oxygen atoms in the H2O2 all the way to water. Oxygen is taking electrons for the third time. The glutathione becomes oxidized in the process. When glutathione is recycled back to reduced glutathione – ready to reduce another H2O2 – a molecule of NADPH is converted to NADP+ (oxidized). The enzyme NNT then uses the oxidized NADP+ to convert an NADH to NAD+, supplying the necessary cofactor to continue running the citric acid cycle.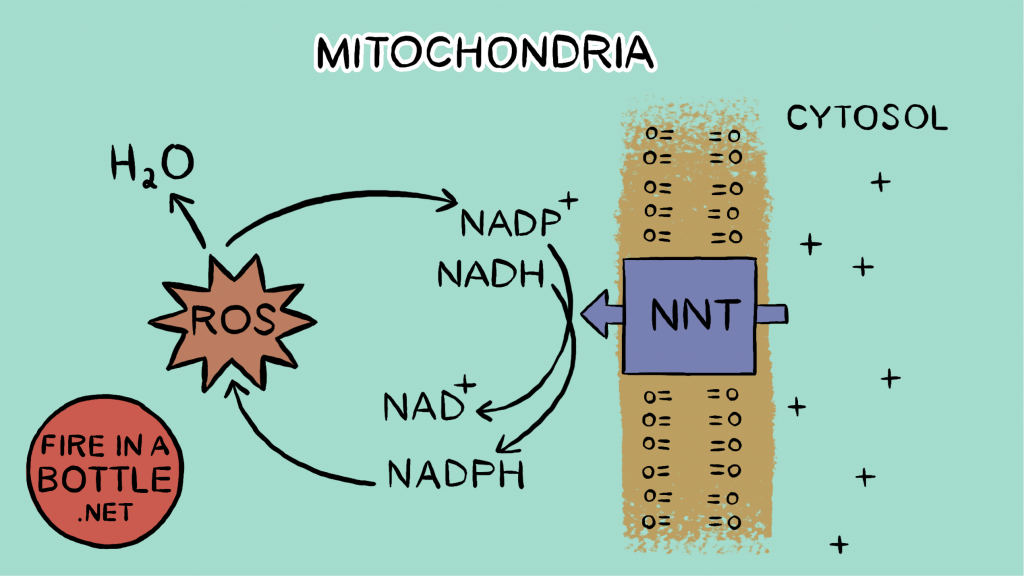 So the initial reduction of oxygen to superoxide sets off a chain of reactions, all of which reduce oxygen. The electron that formed superoxide, which "should have" been used to pump protons and increase reductive stress instead winds up oxidizing NADPH and reducing reductive stress.
The ultimate switcheroo.
Oxygen is Electronegative
The specialness of Oxygen is due to its high electronegativity, which is a measure of how strongly an element wants electrons. Oxygen (3.5 – upper right hand corner in red) has the second highest electronegativity of any element.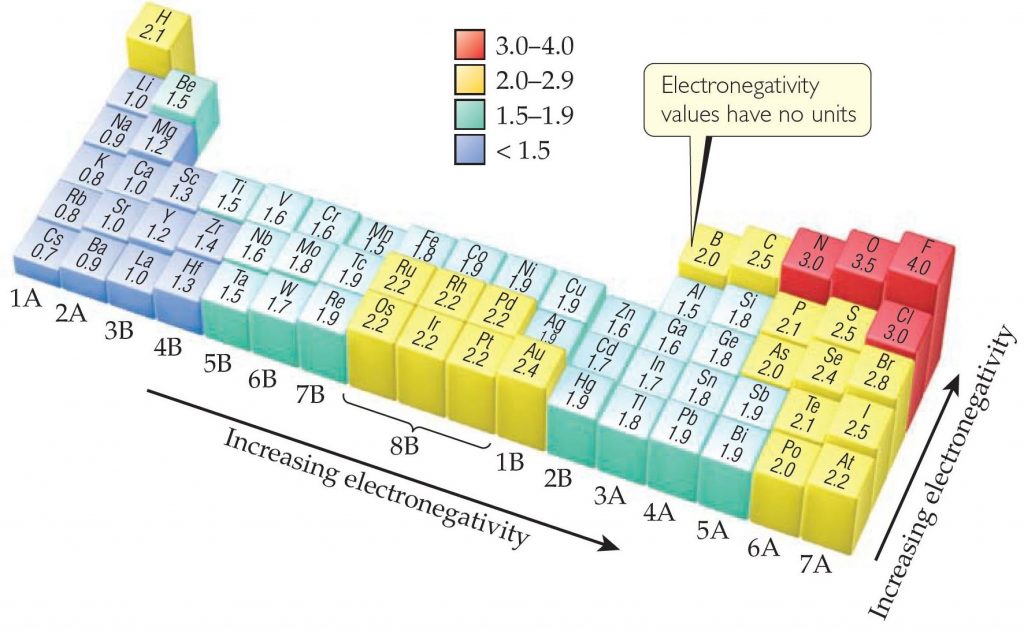 The only element more electronegative than Oxygen is fluorine, and fluorine is so reactive that a tiny poof of flourine gas will eat a hole through steel wool.
Oxygen is oddly stable given its high electronegativity and the fact that molecular oxygen (O2) is a triplet diradical.​2​ It seems that picking up that first extra electron to become superoxide is the key to it reaching its destiny.
Unsaturated fat causes reductive stress
The starch eating human will have a relatively high metabolic rate due to mitochondrial superoxide generation. The superoxide will regenerate NAD+ and keep things humming. The Tsimane farmer-foragers, who live on manioc and sorghum, are an example of this.​3​
Unsaturated fats reduce mitochondrial superoxide production by reducing succinate dehydrogenase activity. In the lab we can cause obesity in mice by giving them a high fat diet composed mostly of high-PUFA, corn fed lard spiked with a little soybean oil. Look what happens to the NAD+/NADH ratio in these mice.​4​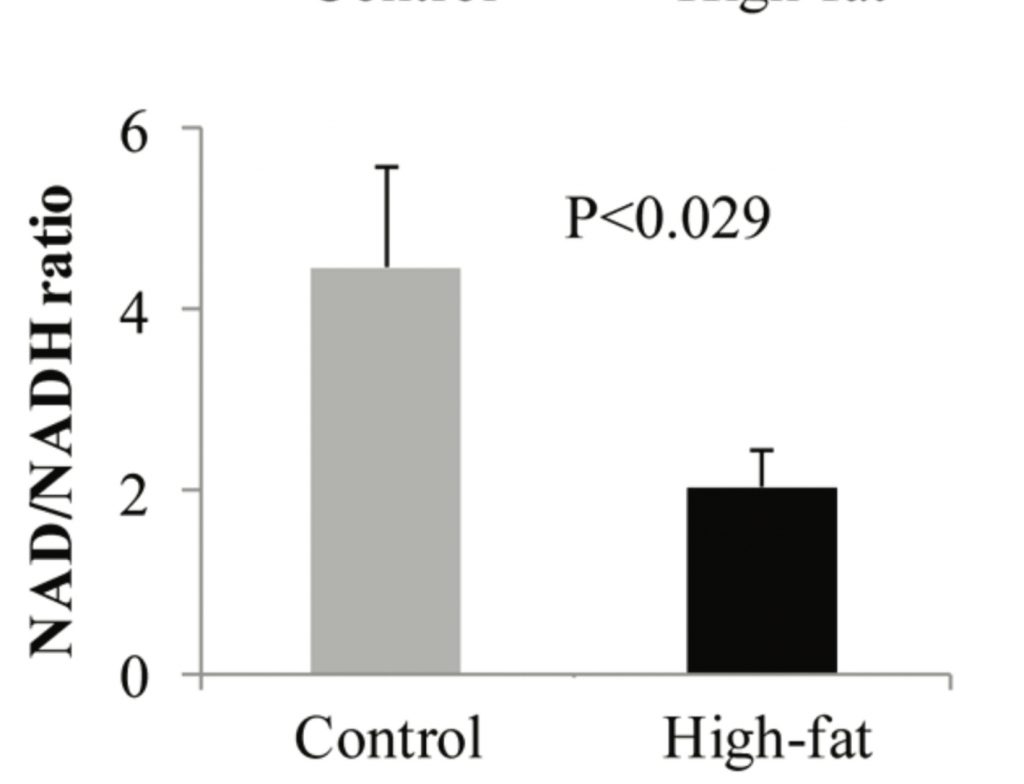 Mice fed unsaturated fat also become hypometabolic.​5​ (Ignore the solid black shapes.)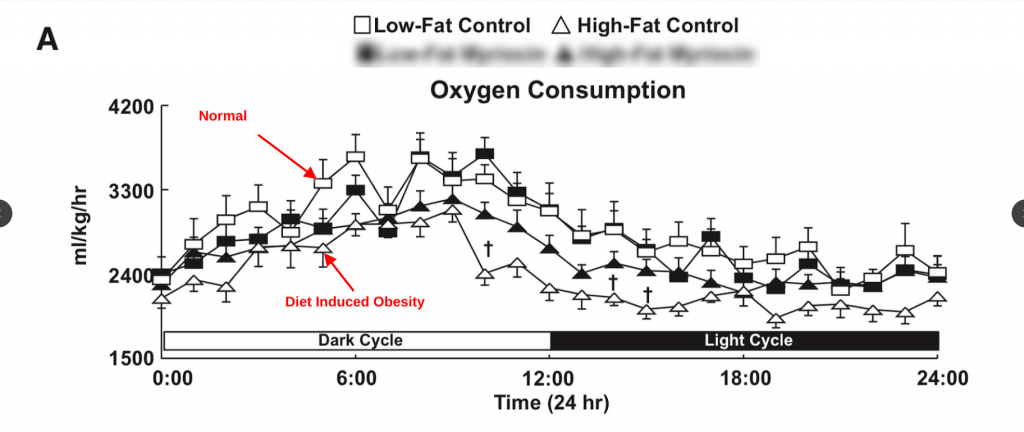 Conversely, in mice who lack the enzyme SCD1 and who cannot unsaturate their own fat, they have a massive spike in NAD+/NADH ratio that can be reversed by feeding unsaturated fat. SCD1 deficient mice have very saturated bodyfat, high NAD+ ratios and are hypermetabolic.​6​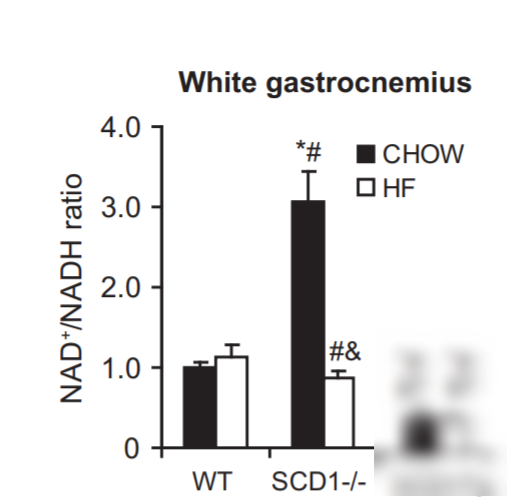 How unsaturated is most lard? I recently sent a sample of my Firebrand Meats low-PUFA Pork fat and a sample from Smithfield. The difference is quite astounding! It is currently shipping to the lower 48 states.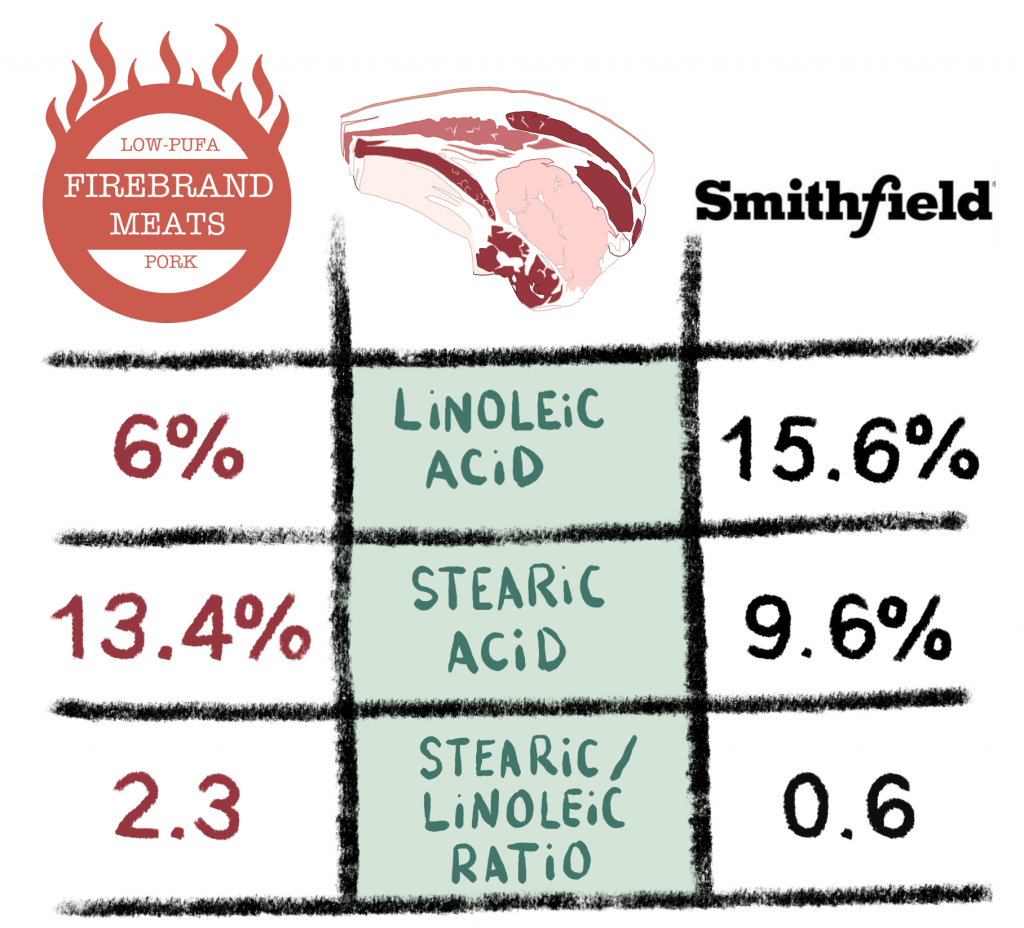 Conclusion
The unique properties of oxygen allow for a reductive stress pressure relief valve. When oxygen picks up an electron through Reverse Electron Transport, it will take two more on the way to becoming water. This behavior is very different than that of other redox couples. Regeneration of NAD+ is the key to a brisk metabolic rate. Unsaturated fat prevents Reverse Electron Transport, leading to low levels of NAD+ and reductive stress.
NEXT UP: Antioxidants cause reductive stress!
1.

Azadmanesh J, Borgstahl G. A Review of the Catalytic Mechanism of Human Manganese Superoxide Dismutase.

Antioxidants

. Published online January 30, 2018:25. doi:

10.3390/antiox7020025

2.

Borden WT, Hoffmann R, Stuyver T, Chen B. Dioxygen: What Makes This Triplet Diradical Kinetically Persistent?

J Am Chem Soc

. Published online June 14, 2017:9010-9018. doi:

10.1021/jacs.7b04232

3.

Gurven MD, Trumble BC, Stieglitz J, et al. High resting metabolic rate among Amazonian forager-horticulturalists experiencing high pathogen burden.

Am J Phys Anthropol

. Published online July 4, 2016:414-425. doi:

10.1002/ajpa.23040

4.

Kim HJ, Kim JH, Noh S, et al. Metabolomic Analysis of Livers and Serum from High-Fat Diet Induced Obese Mice.

J Proteome Res

. Published online November 24, 2010:722-731. doi:

10.1021/pr100892r

5.

Ussher JR, Koves TR, Cadete VJJ, et al. Inhibition of De Novo Ceramide Synthesis Reverses Diet-Induced Insulin Resistance and Enhances Whole-Body Oxygen Consumption.

Diabetes

. Published online June 3, 2010:2453-2464. doi:

10.2337/db09-1293

6.

Dziewulska A, Dobosz AM, Dobrzyn A, et al. SCD1 regulates the AMPK/SIRT1 pathway and histone acetylation through changes in adenine nucleotide metabolism in skeletal muscle.

J Cell Physiol

. Published online June 26, 2019:1129-1140. doi:

10.1002/jcp.29026