Happy New Year! Fire In A Bottle (FIAB) is back!
I'm excited for the new year, I've got a great slate of upcoming posts, I'm planning a new "overview of FIAB concepts intended for newcomers and those who are less scientifically oriented. I'm going to continue working on the podcast and launch a TikTok channel!
The second half or 2021 got pretty nerdy on the molecular biology, so I have a series of articles about FIAB concepts having effects in the real world. There is going to be great stuff this year! But first, a little more molecular biology. This one isn't that hard. These two papers really help build the support base around that idea that obesity is caused by mitochondrial reductive stress which is in turn caused by lack of mitochondrial ROS production.
Lack of mitochondrial ROS causes obesity
The paper "Deficiency in the NADPH oxidase 4 predisposes towards diet-induced obesity" buries the lead.​1​ The title should simply be "Deficiency in the NADPH oxidase 4 predisposes towards obesity". It is known that certain high fat diet formulations will cause obesity in mice and this is what the phrase "diet-induced obesity" means. But mice lacking NADPH oxidase 4 (Nox4) get fat on a regular, lo-fat "chow" mouse diet. This is much more interesting than the fact that lack of Nox4 makes diet-induced obesity worse.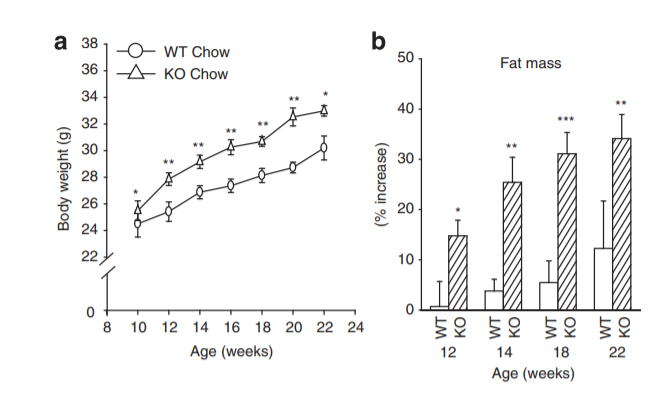 Nox4 is a mitochondrial enzyme that makes superoxide (ROS) from NADPH, the reduced form of NADP+. If you've been reading the blog, you'll know that mitochondrial ROS production initiates a thermogenic cycle that regenerates NAD+, alleviating reductive stress and increasing metabolic rate. This is all thanks to the magic of superoxide.
Much of the blog focuses around the saturation level of fats and how they affect succinate dehydrogenase activity levels, which ultimately control the amount of mitochondrial superoxide production.
But another way to generate mitochondrial ROS (mitoROS?) is the enzyme Nox4, which simply takes the electron being carried by NADPH and creates a superoxide molecule. If you can't generate mitoROS, you get fat. Even if you're a mouse on a lo-fat chow diet.
More Proof That ROS Alleviates Reductive Stress
This paper​2​ didn't look at reductive stress due to Nox4, but this one does. They actually create a mouse line which overexpresses NOX4 and a mouse line with a dominant negative version of Nox4. The first line has LOTS of Nox4 activity and the second live has very little. Predictably, the first line of mice have a very HIGH NAD+/NADH ratio and the second line has a very LOW NAD+/NADH ratio – reductive stress. Because lack of mitoROS creates reductive stress and makes you fat.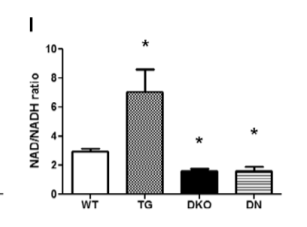 The cells lacking Nox4 activity showed clear reductive stress.
How can I generate more mitochondiral ROS?
One way to do it is with Succinade. Succinade is primarily made of succinate, which targets the activity level of succinate dehydrogenase. Succinate dehydrogenase is the main producer of mitochondrial ROS and therefore the main recycler of NAD+. I have argued that a primary cause of obesity is the lack of succinate dehydrogenase activity,.
Succinade tastes like lemonade for astronauts and will increase your overall succinate dehydrogenase actvivity level.
1.

Li Y, Mouche S, Sajic T, et al. Deficiency in the NADPH oxidase 4 predisposes towards diet-induced obesity.

Int J Obes

. Published online March 20, 2012:1503-1513. doi:

10.1038/ijo.2011.279

2.

Yu Q, Lee CF, Wang W, et al. Elimination of NADPH Oxidase Activity Promotes Reductive Stress and Sensitizes the Heart to Ischemic Injury.

JAHA

. Published online January 27, 2014. doi:

10.1161/jaha.113.000555