This is a pretty great testimonial to the potential of The Croissant Diet. David really took this principle seriously, eating croissants with butter and cheese, cheseburgers and Haagen-Das. He did a great job of collecting data during his journey, including before and after photos. Some days he consumed close to 5000 calories! Detailed reports of exact foods, fat and calories eaten and even a graphing scale of his weight loss journey (Since Christmas) plus blood pressure readings. We exchanged several emails and I'm including his responses.
This is part of his response, I wanted to highlight it so it doesn't get buried:
So he is maximizing saturated fat while keeping PUFA to less than ten grams a day. The fish oil supplements, which help to suppress SCD1, are counted as PART OF the 10 grams. David is also now using Pu'erh Tea to help keep SCD1 in check.
---
Brad,
I want to offer you a sincere thank you for the Coissant Diet (TCD) and the mechanisms behind it that you've explained so well. My name is David and I'm a 53 years old fitness and nutrition enthusiast. I stumbled onto your site almost 6 months ago while I was researching something diet related, can't remember what. Brad I can't begin to tell you how really glad I am that I found fireinabottle.net. First I read TCD and this got me really intrigued by the concept and the mechanisms, I was so interested at this point that I then basically read all your other articles and posts over the next couple weeks. I even watched probably all of your YouTube interviews as well. The research you've done is really thorough and impressive, and the way you explain it all makes so much sense.
My journey with TCD began about 5 months ago, when I was at point in my life where I had slowly crept up in weight and I was really ready to make a change. After finding TCD I decided to dive in head first and give it a shot. I started initially by eliminating all (as much as possible) Polyunsaturated Fatty acids (PUFA) from my diet and purposely eating a lot more saturated fat.
This way of eating was a great change, I mean what's wrong with croissants with butter, and cheese, or cheese burgers? I began researching and seeking out foods that had more saturated fat, particularly stearic acid, and paying close attention to labels looking out for PUFA. I started recording everything I ate in the Cronometer app which I saw that you use, great app btw. For me the first 3 weeks It was crazy how fast my waist was shrinking and fat was melting off. I was eating considerably more calories than usual. I was loving the food I was eating, and was loosing roughly a pound a day for the first couple weeks. This was a fantastic start and eventually led to me having to buy new pants because all the pants I've worn for the past many years are just to big in the waist!
Just to give you a brief background, I'm an engineer in the computer field. I'm married and have 3 children. I have always been involved in fitness. Over 20+ years ago I was a personal trainer. Now though with a desk job, even going to the gym 3x a week, wasn't keeping the weight off. I had just basically slowly climbed up in weight over the years. I feel like I know how to eat to get in shape, or at least I used too. Unfortunately the strategies I've used with success in the past even when I applied them in recent years gave me minimal and disappointing results. I suspect I had slowly become metabolically compromised by years of PUFA consumption.
Enter TCD!!! This has been a game changer for me. I was doing so well the first couple weeks I had to tell a buddy about it, as he was wanting to lose some weight and asked me what I was doing. I turned him on to TCD, and he has lost even more weight than I have. Since then I have a couple more friends I've been helping with getting started.
Something to note, when I first started I was concerned about eating so much saturated fat. I started checking my blood pressure regularly only to see my numbers which were good get better. My blood pressure this morning was 119/68 not bad for 53. I also started checking blood glucose and my fasted blood sugar is almost always in the low 70's, now and 2 hours post meal rarely above 100 usually in the high 80's. So I can say that after many months on a high saturated fat diet, my BP and blood glucose are at a very healthy state.
I will say it's worth noting that I lost the most weight in the first 5-6 weeks. It was almost as if a fat burning switch had been flipped (haha, yes I know, one was). I can say that on many occasions that first month I ate well above maintenance calories, many times near double, yet I continued to drop weight and inches. I know some people will roll their eyes at this, law of thermodynamics or something. There really is something to this metabolic switch that is triggered by saturated fat.
While I don't know this for sure, my guess is at some point I became adapted to my new way of eating and had to reign in the calories a bit. No big deal, a high saturated fat diet really is satiating. I am continuing to loose weight now but at a more modest pace after 5 months on TCD. My body fat percentage has dropped considerably since I started as well. Currently I am at just under 16%. My goal is to get it down to 12-13%.
I'm including a before and after picture, just so people can see this is for real. I don't have a 6 pack yet, but I don't think I'm too far from it.
Anyway I've probably said too much at this point. Just wanted to thank you again for this incredible diet, and the great articles. I particularly enjoy the food history posts, I find them really interesting.
Wishing you all the best!
David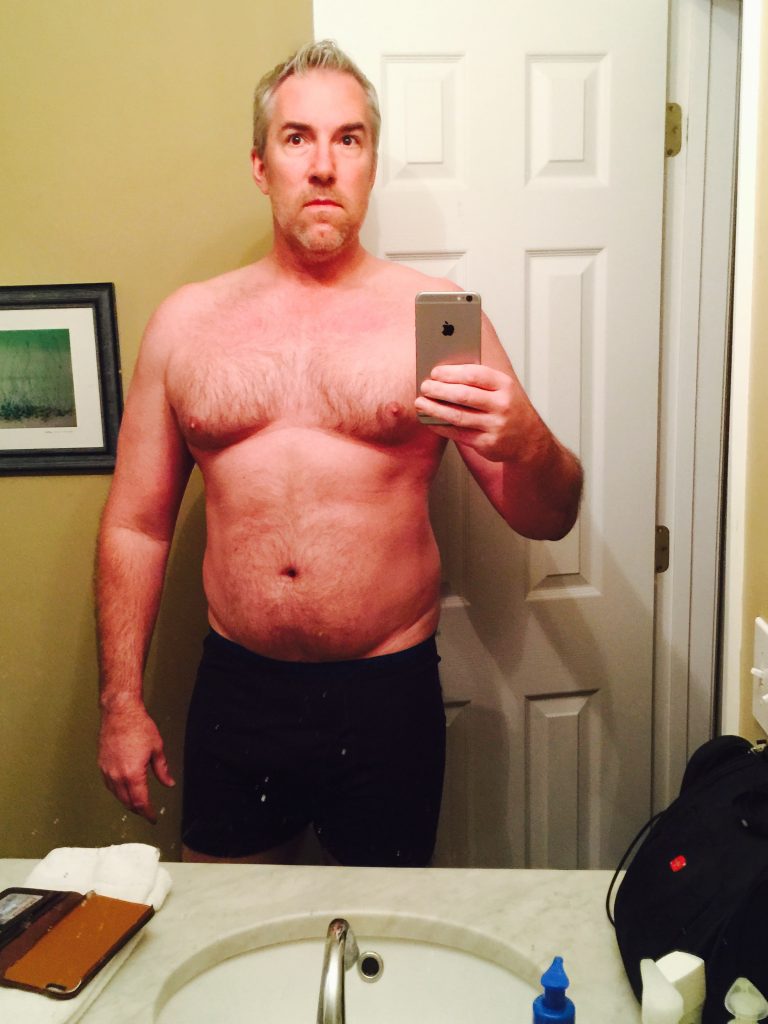 Before TCD.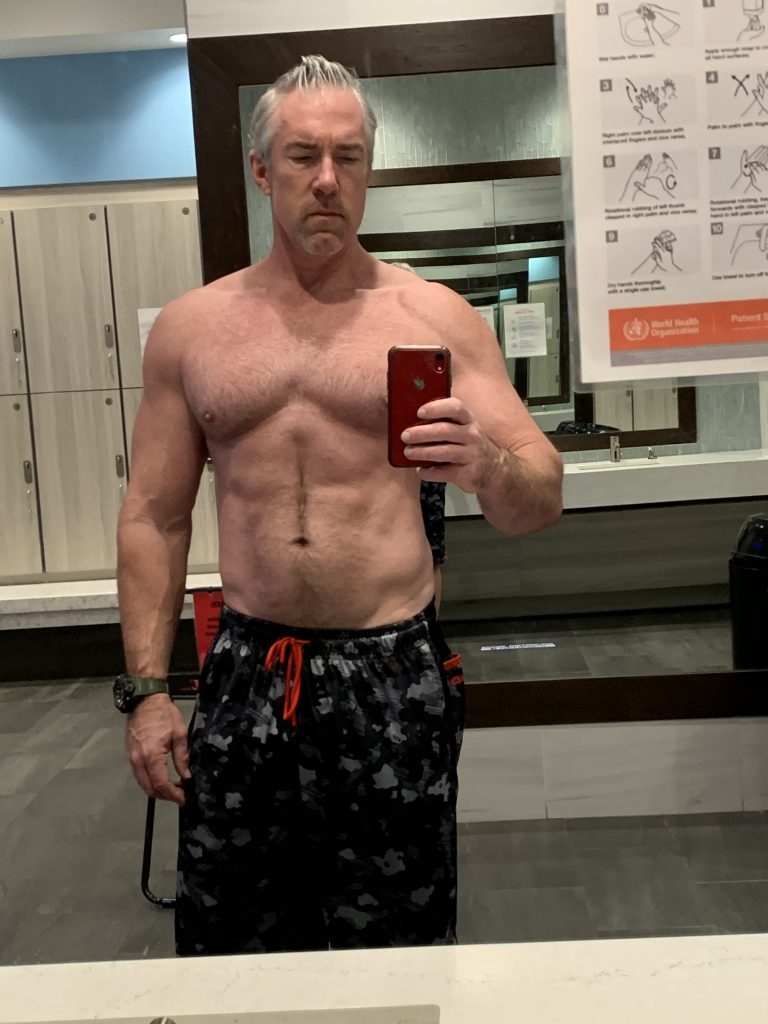 After TCD!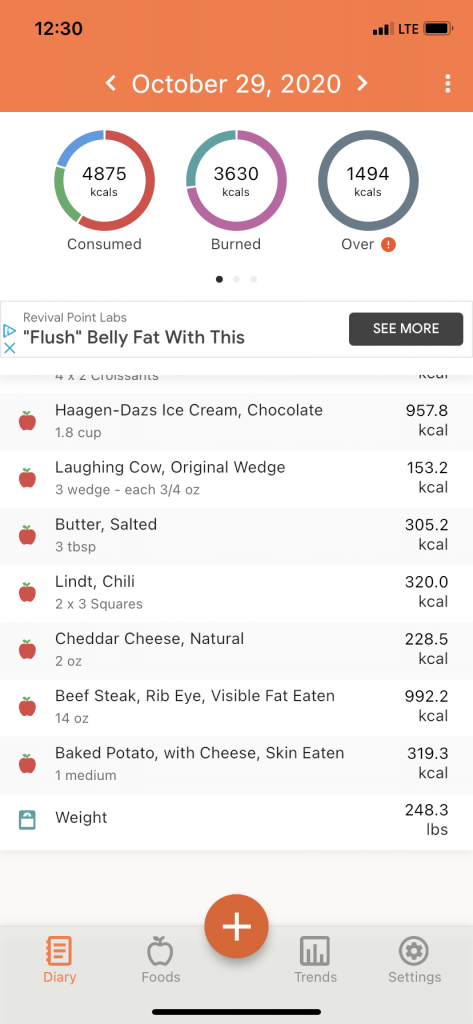 He was really having fun with this! 4875 calories during a weight loss journey.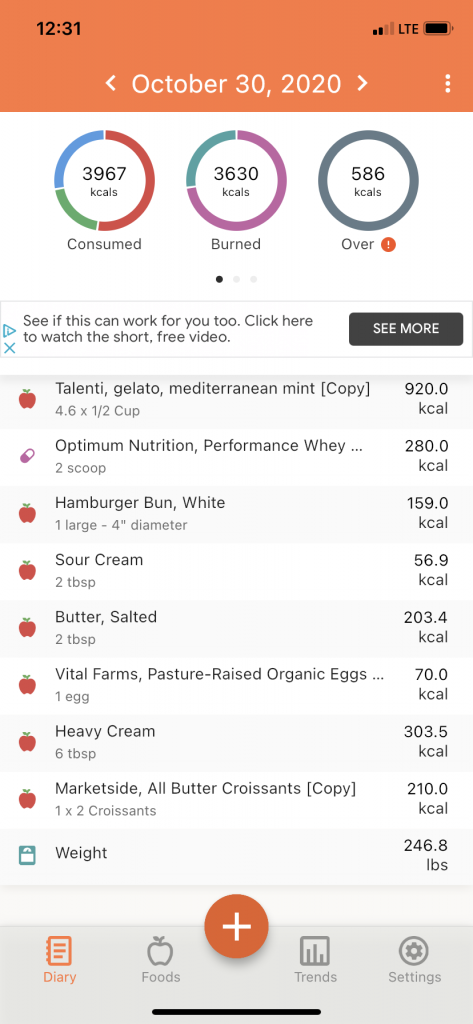 And 3967 the next day! This was during the period of most rapid weight loss.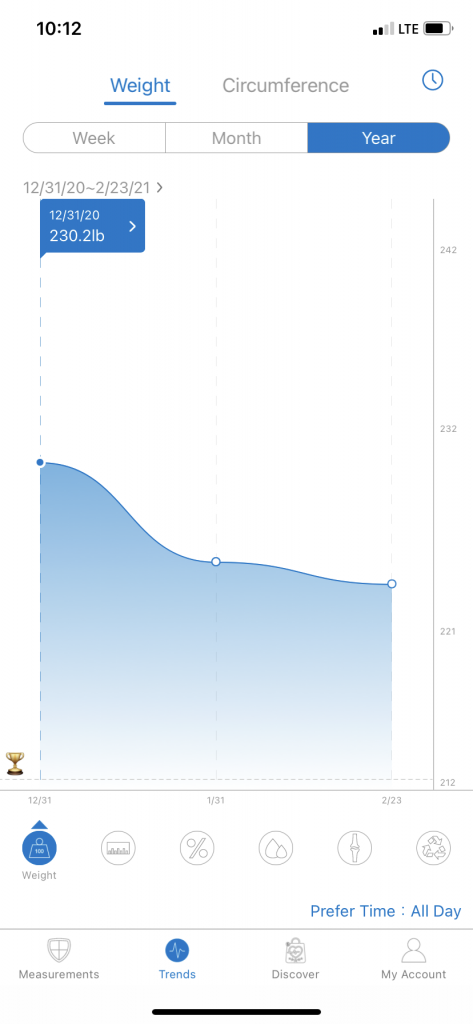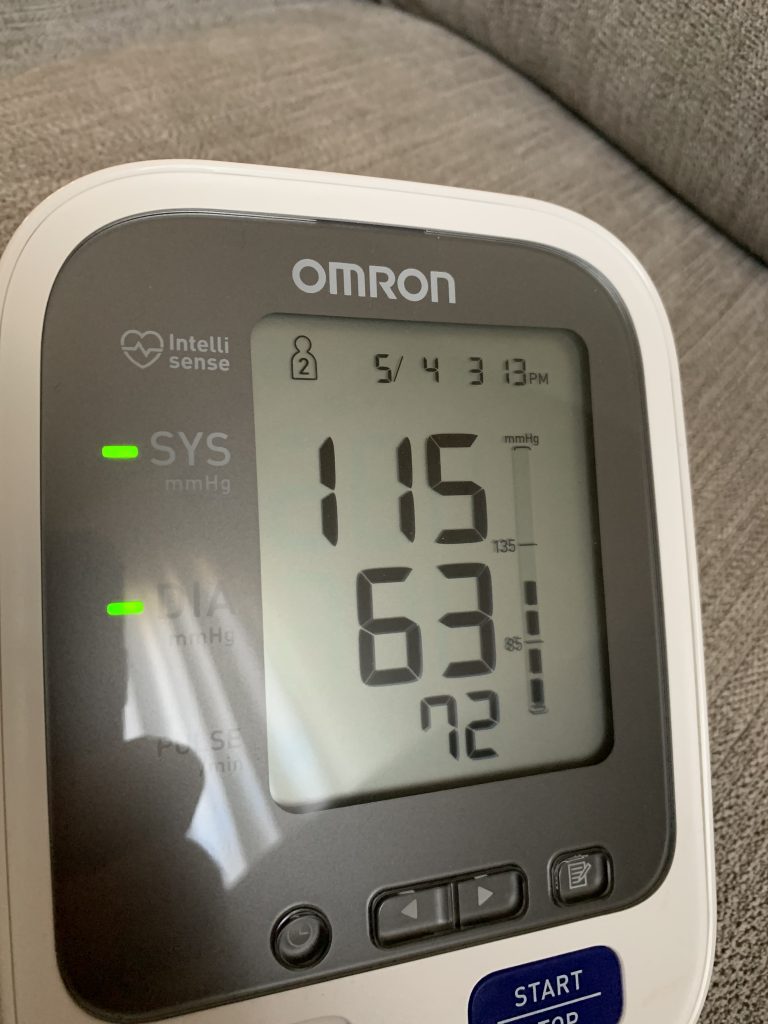 Not bad for 53!
Brad,
I've gotten into a routine that works for me. M-F I normally eat the same breakfast and lunch that I really enjoy. 
I meal prep croissant sandwiches, ground beef, and a big batch of mashed potatoes on Sunday.

Daily breakfast:1 cup of bone broth, mainly for gut lining, and gut health. I heat this in the microwave for about a minute 
I eat a (Wallmart brand) all butter croissant, with 2 slices of Swiss cheese, 2 oz roast beef, and a ranch spread I make from sour cream, ranch seasoning, and heavy whipping cream.

I make a baby spinach smoothie, with 2-3 oz of frozen fresh baby spinach, 3 oz of orange juice, 2 oz of unsweetened not from concentrate cranberry juice. I add 1.5 tbsp metabolic flexibility oil to this. This gives me 100% of Vit K, 100% Vit A, and a good dose of potassium and most of my iodine(from cranberry's) with the stearic acid of course. 

My lunch normally consists of: 1/3 lb ground beef lots of b vitamins and potassium, of course protein and fat. 
a large baked potato (mashed) with 1 tbsp butter and 1 tbsp steric acid enhanced butter oil. 2 tbsp cream cheese. 1/2 tsp pink Himalayan salt and pepper. The potato gives me chromium, Vit c, another good dose of potassium and of course all the glorious saturated fat. 

Another spinach smoothie. (I make double for breakfast and save half for lunch.)

Dinner varies and is usually some protein mainly beef, sometimes chicken breasts, and a starch, potato, sweet potato, or white rice. Always with butter and usually stearic acid butter oil. 

At night I eat Haagen Daz ice cream a few nights a week. I make a really good cheesecake sweetened with erythritol. I have this on nights I'm not having Haagen Daz. You have to read the labels on Haagen Daz, some flavors have veg oil. I stick with chocolate, vanilla, strawberry, and rum raisin, these all are without added PUFA. 

I recently started sipping on iced Pu-erh tea during the day. I really like the faint forest floor taste. 
On the weekends I usually fast until dinner at least one of the days sometimes both. Then I eat a prime steak a little over a pound, with butter, and usually mashed potatoes with more butter and cream cheese, then I'll have a pint of Haagen Daz before bed. I sometimes drink a 30 gram whey protein shake. 

Or I'll have a cheeseburger with a buttered bun, fries cooked in beef talo. I generally throw an egg in with this. Later I'll have Haagen Daz or cheesecake. 

A favorite dinner my wife cooks me usually once a week is Loco Moco, basically 2 ground beef patties, a couple over medium eggs, on top of rice, with a mushroom gravy made with the beef fat, heavy cream, mushrooms and onions, and a pinch or two of flour. 

This is where I wound up after many months of this and losing over 34 lbs. Now I'm normally at 2800-3200 calories, some days I only hit 2400 maybe once or twice a week. My Diets calories are roughly 25% protein, 25% carbs and 50% fat. 

My target for saturated fat is 87 grams. Total fat roughly 150, with less than 10 grams of Polyunsaturated fat a day. I usually end up around 7-9 grams PUFA a day. I get a couple grams from 2 fish oil caps I take, and a little from all the other sources of my food, if I eat eggs I'll hit my max of 10 grams of PUFA. 

I work out 3x a week with weights, for around 45 min. 

Very little cardio to speak of. I do take a 10 min walk once a day at some point most days. I'd like to do this more but just haven't had the time. 

Supplements I take:
Morning:
5000 iu Vit D daily; Vit K-2 daily; Coq10 daily; 100 iu Vit E daily. 
2 1250 mg fish oil

Eve:2 aged garlic; Ashwaganda Magnesium Theionate 

I usually hit 100% for all the rest of my Vit and minerals from the food I eat. 
---
Brad
Yes BP has gone from above 120 sometimes low 130's /high 80's. 

Now I'm usually always below 120 top number and below 80 low number. 

A 3 weeks ago I had a mild cold over 5 days and it was hit 140's/90 for a couple days, kind of freaked me out but as soon as the cold was gone BP was back down. FYI It wasn't Covid, I got tested. 

Sure you can use the before and after. If it helps spread the word I'm all for it. I just started 2 more people on TCD. 

Best Regards, 
David Tillman ⚓