In my last post I recommended a strategy of combining lipoic acid – a natural, mitochondrially produced substance which oxidizes NADH to NAD+ – and succinate, which drives mitochondrial ROS production and oxidation of NADH to NAD+ via the activity of the enzyme NNT. Both of these are designed to shift the redox pool of NADH to a more oxidized state as defined by a high NAD+/NADH ratio. High levels of mitochondrial NAD+ should activate SIRT3, leading to the deacetylation of our mitochondrial enzymes. NAD+ is also a required co-factor in the citric acid cycle. The more mitochondrial NAD+ you can regenerate, the faster you can run your metabolism.
Since that post I've been lurking over at the Reddit r/SaturatedFat to hear people's experiences. One of the things people have been reporting are symptoms resembling the so-called "keto flu" – headaches, lethargy and sometimes even nausea. With most these symptoms seem to subside within a few days as they adapt. Someone suggested that perhaps the symptoms were due to dropping blood glucose level, although no one was reporting a rapid drop in blood glucose due to either supplement. I suspect the symptoms could be due to rapidly dropping lactate levels.
In theory, succinate and lipoic acid should have the same effect on NADH/NAD+ ratios and lactate levels, but a lot more is known about the effects of lipoic acid than succinate, so I'll focus there. I also like the alliteration.
Lactate as a Circulating Redox Buffer
The traditional view of metabolism is that glucose enters a cell, is broken into two molecules of pyruvate via glycolysis and the two pyruvate molecules are shuttled into the mitochondria to be fully oxidized. This recent review​1​ presents an alternative viewpoint. In most cells glycolysis and mitochondrial respiration are uncoupled. Monocarboxylate transporters (MCTs) are rapidly excreting and re-uptaking lactate and pyruvate.
In the cytoplasm, lactate dehydrogenase catalyzes the reversible reaction of converting lactate to pyruvate while reducing NAD+ to NADH. This reaction is controlled by the relative ratios of NAD+/NADH and lactate/pyruvate. A cell with a high cytoplasmic NADH/NAD+ ratio imports pyruvate, reduces it to lactate – converting an NADH to an NAD+ – then exports it, thus lowering it's NADH/NAD+ ratio.
The authors suggest that glucose serves as a fuel for specific tissue types that require it but that lactate is the true universal carbohydrate fuel.
in mammals, lactate also serves as a major circulating carbohydrate fuel. By providing mammalian cells with both a convenient source and sink for three-carbon compounds, circulating lactate enables the uncoupling of carbohydrate-driven mitochondrial energy generation from glycolysis. Lactate and pyruvate together serve as a circulating redox buffer that equilibrates the NADH/NAD ratio across cells and tissues. This reconceptualization of lactate as a fuel—analogous to how Hans Christian Andersen's ugly duckling is actually a beautiful swan—has the potential to reshape the field of energy metabolism.

Joshua D. Rabinowitz  and Sven Enerbäck. "Lactate: the ugly duckling of energy metabolism"
The authors go on to suggest that overall levels of lactate are largely affected by the activity level of pyruvate dehydrogenase (PDH) – the mitochondrial enzyme that converts pyruvate to acetyl-CoA, initiating mitochondrial respiration. To say this simply, when pyruvate is oxidized in the citric acid cycle, circulating levels of lactate drop. PDH controls the rate at which pyruvate can be oxidized.
I previously wrote that PDH activity is low in both torpid animals and obese humans due to its inhibition by PDK4, which phosphorylates it and turns it off. In turn, PDK4 is activated by NADH and Acetyl-CoA.​2​ In obesity, buildup of mitochondrial NADH leads to fewer turns of the citric acid cycle, which allows acetyl-CoA to build up. The acetyl-CoA and NADH activate PDK4 which phosphorylates PDH and turns it off.
Lactate In Obesity and Diabetes
Fasting lactate and pyruvate levels are increased in obese and obese diabetic humans:​3​
| | | | |
| --- | --- | --- | --- |
| | Lean | Obese | Obese Diabetic |
| Blood Lactate (mmol/l) | 1.78 | 2.26 | 2.76 |
| Blood Pyruvate (mmol/l) | 0.06 | 0.09 | 0.13 |
| Blood Glucose (mmol/l) | 4.5 | 4.8 | 11.7 |
Lipoic Acid Reduces Circulating Lactate
Obese, diabetic patients who took 1200mg (600mg twice a day) of lipoic acid for 4 weeks saw a significant drop in circulating lactate both in the fasted state and in response to an oral glucose tolerance test.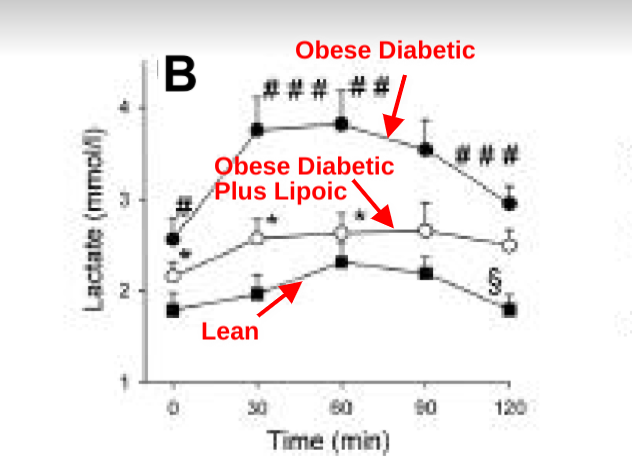 R-Lipoic acid allows the direct oxidation of mitochondrial NADH to NAD+. NAD+ allows the citric acid cycle to cycle, reducing acetyl-CoA. Lowered NADH and acetyl-CoA increase PDH activity. Increased PDH activity allows more lactate to be fully oxidized (as pyruvate). When lactate is being burned in any tissues, systemic lactate and pyruvate levels drop due to the rapid flux in and out of cells.
Lactate, Nausea and Headaches
According to Wikipedia, Ringer's lactate solution (RL), also known as sodium lactate solution and Hartmann's solution, is a mixture of sodium chloride, sodium lactate, potassium chloride and calcium chloride in water. It has been in use since 1930 and is on the Wold Health Organization's list of essential medicines. Ringer's lactate is the standard of care for preventing post-operative nausea.​4​ It is also sometimes used for headaches.​5​
An n=1
All of this gives me an idea for an n=1 to wedge between Thanksgiving and Christmas. I bought a blood lactate tester over a year ago and have barely used it. I've been going through a washout period (no supplements) to establish a baseline to do a better n=1 with lipoic acid and Succinade. I'm going to collect baseline levels of lactate throughout the day for three days, followed by escalating lipoic acid. When I've hit 2400mg, I will plateau and escalate Succinade. I'm still thinking through details, but I like the idea of lactate as an indicator of PDH activity.
Conclusions
I suspect that a rapid drop in lactate levels could causes symptoms such as headache, nausea and lethargy. I also suspect that dropping lactate levels are an indirect indicator of increased pyruvate dehydrogenase levels: moving away from torpor. We know that lipoic acid drops lactate levels in the medium term, but I'm going to see how it behaves in the short term – minutes to hours – and if succinate will have a similar effect on lactate.
1.

Rabinowitz JD, Enerbäck S. Lactate: the ugly duckling of energy metabolism.

Nat Metab

. Published online July 2020:566-571. doi:

10.1038/s42255-020-0243-4

2.

Pettit FH, Pelley JW, Reed LJ. Regulation of pyruvate dehydrogenase kinase and phosphatase by acetyl-CoA/CoA and NADH/NAD ratios.

Biochemical and Biophysical Research Communications

. Published online July 1975:575-582. doi:

10.1016/s0006-291x(75)80185-9

3.

Konrad T, Vicini P, Kusterer K, et al. alpha-Lipoic acid treatment decreases serum lactate and pyruvate concentrations and improves glucose effectiveness in lean and obese patients with type 2 diabetes.

Diabetes Care

. Published online February 1, 1999:280-287. doi:

10.2337/diacare.22.2.280

4.

Salman N, Aykut A, Sabuncu Ü, Şaylan A, Yağar S, Şekerci S. Dextrose administration may reduce the incidence of postoperative nausea and vomiting after laparoscopic cholecystectomy: a double blind randomized controlled trial.

Minerva Anestesiol

. Published online April 2020. doi:

10.23736/S0375-9393.20.13484-9

5.

Carter BL, Pasupuleti R. Use of Intravenous Cosyntropin in the Treatment of Postdural Puncture Headache.

Anesthesiology

. Published online January 1, 2000:272-272. doi:

10.1097/00000542-200001000-00043