I'm using the word global to mean "in all tissues of the body" but I'd forgive you if you thought that I meant "in all countries where they eat vegetable oil". Either way, really.
As I explained in part 1, the production of mitochondrial ROS is a thermogenic loop that wastes calories as heat. If you are a hibernating animal trying to sleep through winter, you lower your metabolic rate and body temperature to preserve fat mass. The last thing you want to do is waste calories as heat.
ROS are produced in the mitochondria when energy levels are sufficient and you have lots of electrons entering the electron transport chain through complex I and complex II at the same time. Both I and II have to hand electrons to coenzyme Q, creating a bottleneck. When the bottleneck is overwhelmed, electrons flow backwards, back into the mitochondria, creating superoxide. This wastes energy and creates heat.
Complex II is also known as succinate dehydrogenase (SDH).  The electron transport chain is fed largely by the citric acid cycle, which burns acetyl-CoA – derived from both carbohydrate and fat – as fuel.  Acetyl-CoA combines with oxaloacetate to form citrate.  Citrate is converted to succinate, converting two molecules of (soluble) NAD+ to NADH in the process.  Succinate then hands its electrons directly to succinate dehydrogenase (SDH AKA complex II), which converts it to fumarate.  Fumarate converts one more NAD+ to NADH to become oxaloacetate again, restarting the cycle.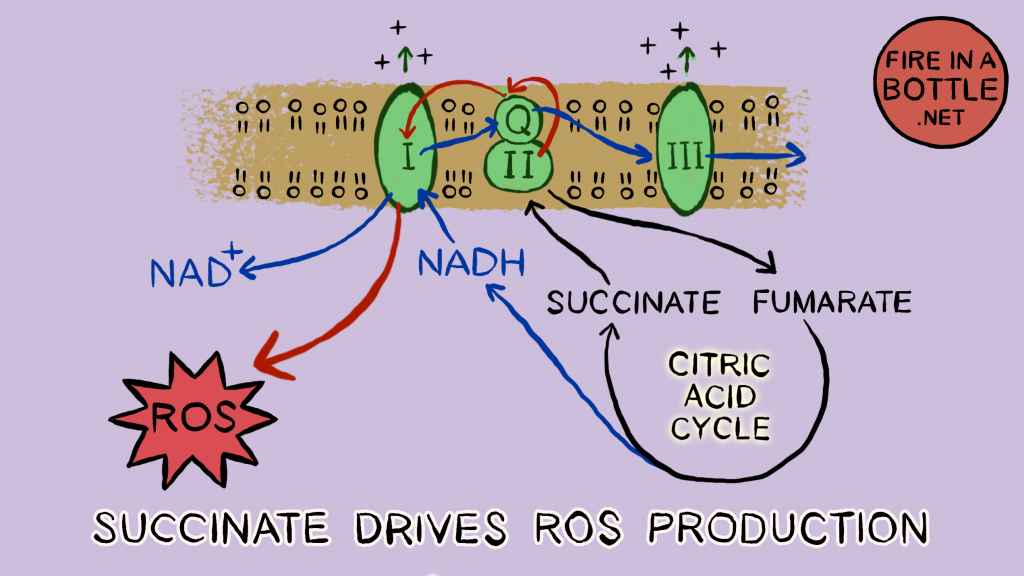 When saturated fat is metabolized, every time an acetyl-CoA is produced electrons are passed directly to coenzyme Q through acyl-CoA dehydrogenase, which behaves much like succinate dehydrogenase in producing ROS. They are both FADH2 inputs. The effects of acyl-CoA dehydrogenase and succinate dehydrogenase are additive and so burning saturated fat drives a lot of ROS, which generates heat and provides NAD+ to keep metabolism humming. For this article I am going to refer to the collective activities of succinate dehydrogenase and acyl-CoA dehydrogenase as "SDH activity".
Linoleic acid reduces SDH activity
When a ground squirrel wants to hibernate, it eats acorns. Acorns are loaded with highly unsaturated fat – most of it is monounsaturated and 20% or so is polyunsaturated (PUFA). Squirrels who don't eat enough PUFA fail to enter torpor. Each unsaturated bond is one less FADH2 input and lowers SDH activity. Low SDH activity means minimal ROS generation.
When lots of energy is available – the animal is gorging on acorns and has plentiful bodyfat – ROS generation is necessary to regenerate NAD+ via NNT to continue running the citric acid cycle. If ROS cannot be generated, NAD+ pools are depleted. This is reductive stress: all NAD+ – the oxidized form – have been converted to NADH, the reduced form. There are no oxidants to give NAD+ back.
When NAD+ is low SIRT3 is deactivated and SDH is turned OFF. Low SDH activity begets low SDH activity.
When SIRT3 is low, SCD1 levels ALSO rise, creating more unsaturated fat which lowers SDH activity. Look at how the SCD1 levels EXPLODE in a SIRT3 knockout mouse (they don't have ANY SIRT3) on a high fat diet​1​. Also, SCD1 levels rise as a squirrel approaches torpor.​2​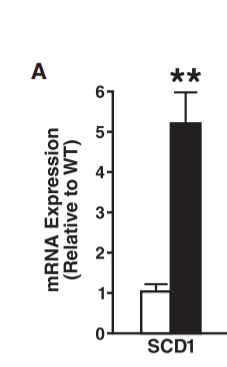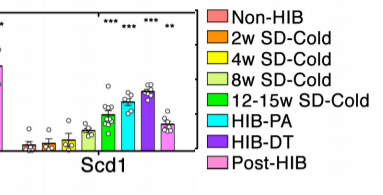 Low SDH activity begets low SDH activity.
Succinate Dehydrogenase is turned off to enter torpor
Hibernating animals cycle between bouts of torpor lasting 7-14 days and much shorter times of arousal, when they rapidly increase their metabolic rate and body temperature.
SDH activity is typically 50% lower upon entry into torpor compared to when the squirrels are aroused.​3​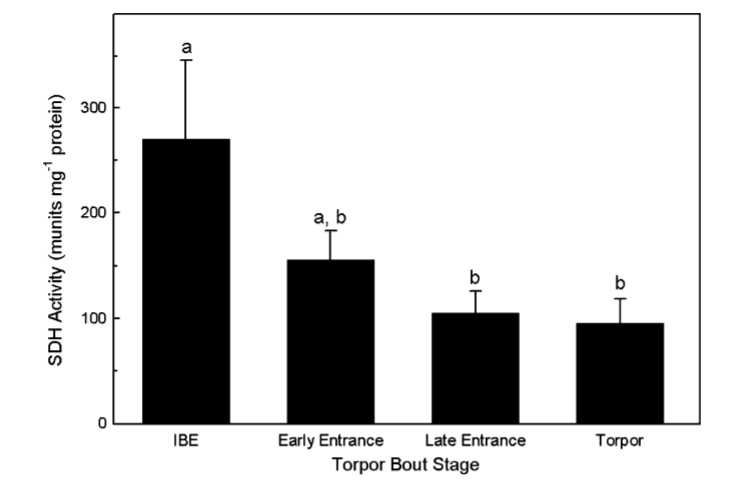 In late torpor – in the days immediately preceding arousal – when the squirrels are getting ready to rapidly increase their metabolic rate, they massively increase the activity levels of their SIRT enzymes, deacetylating SDH, allowing them to increase their metabolic rate.​4​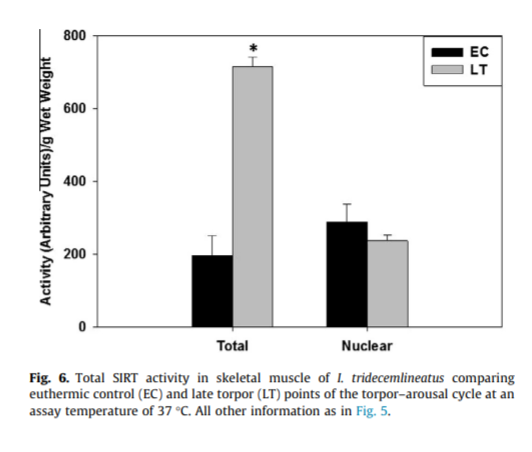 Upon arousal, SIRT levels return to normal. With highly unsaturated body fat and high SCD1 levels, NAD+ levels are quickly reduced, SIRT3 activity level drops, SDH activity plunges, metabolic rates drop and the squirrels re-enter torpor.
Obese humans have low SDH activity
I've only found one paper that looks at SDH (Complex II) activity in obese versus lean actual walking-around humans. This study of pregnant women showed that obese mothers – whether or not they had gestational diabetes – were specifically low in SDH actvivty. They weren't low in complex I activity or citrate synthase activity (which initiates the TCA by incorporating a new acetyl group from acetyl-CoA).
They were specifically low in SDH activity, which was reduced by about half. Just like in the getting-torpid squirrels. And obese humans have low metabolic rates in muscle and adipose tissue​5​.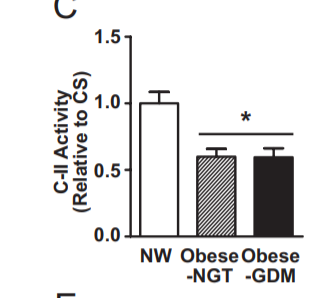 The third paper
This brings me to the third paper​6​ that I referenced in part 1, which complements the first paper very well. The first paper showed that mice lacking SCD1 have ratios of NAD+/NADH and AMP/ATP. When those things happen together, both AMPK and the sirtuins SIRT1 and SIRT3 become activated. This activates PGC1a which leads to thermogenesis, which is marked by increased expression of the mitochondrial uncoupling protein UCP1. This paper shows that the reason things lacking SCD1 are hypermetabolic (high metabolic rate) is due to high SDH activity and high ROS production.
The authors did staining for the thermogenic uncoupling protein 1 (UCP1) in the white adipose tissue of mice lacking SCD1. At one point it was thought that UCP1 was specific to brown adipose tissue – the thermogenic type of fat tissue that mice have lots of and humans have a little of. These days it is known that white adipose tissue can undergo a process known as "beige-ing" where some of the white adipose cells will become more like brown adipose tissue – they will have hugely increased density of mitochondria and will express large amounts of uncoupling protein. These fat cells are there to burn energy and create heat, not to store fat.
As you can see from the UCP1 staining, mice lacking SCD1 have massively enhanced numbers of beige adipocytes within their white adipose tissue. The reason they are hypermetabolic is that they are doing thermogenesis!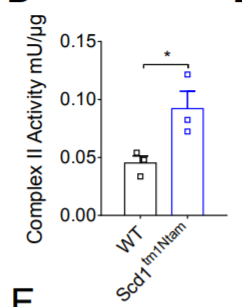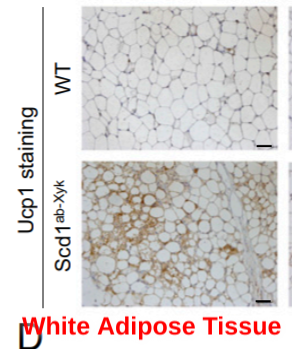 The paper shows that fat cells lacking SCD1, burning highly saturated fat, generate much more ROS than normal cells.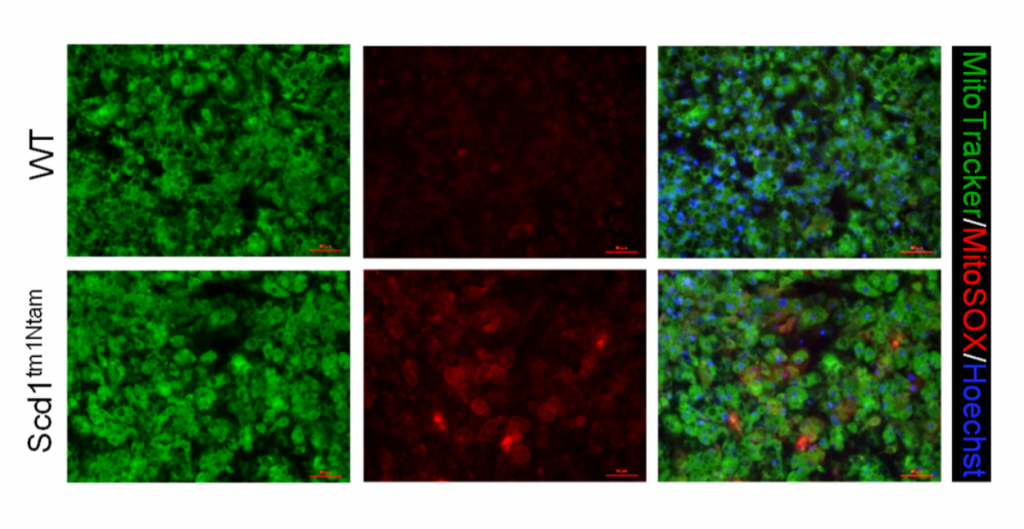 The relative levels of succinate, SDH activity and thermogenic genes in cells lacking SCD1 can all be decreased by feeding the cells oleic acid – a monounsaturated fat which reduces SDH activity.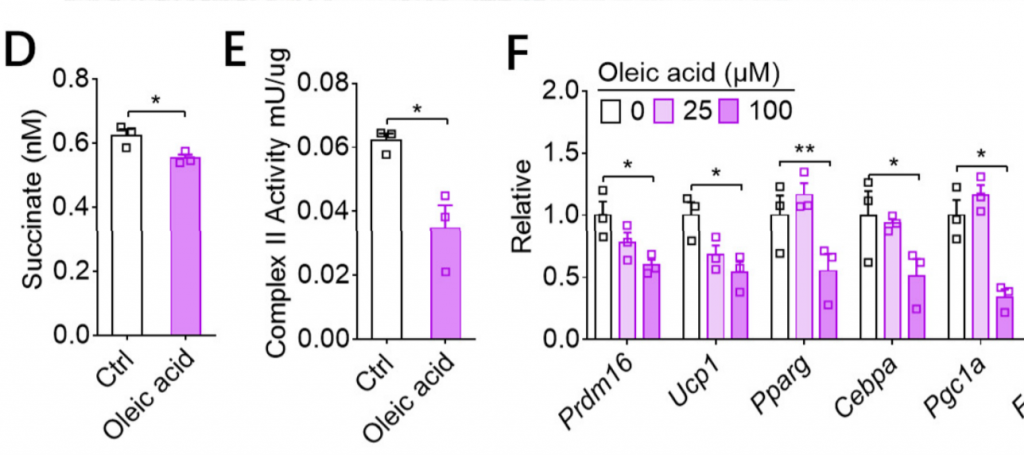 Mitoquinone – a mitochondrial antioxidant – significantly reduced the expression of thermogenic genes. ROS causes white fat cell beige-ing and thermogenesis.
The paper shows that the reason mice lacking SCD1 are hypermetabolic is that they have high SDH activity leading to high ROS formation.  Paydirt for The ROS Theory of Obesity.  Oleic acid and antioxidants reduce thermogenic gene expression.  It is no wonder that squirrels increase SCD1 and acetylate SDH to lower their metabolic rate.
Increasing SDH activity
I was explaining the SDH activity issue to my friend Alan and I said maybe we should just eat succinate?  And he said, "That's the answer an eighth grader would come up with."   Simple.  Exactly.
Succinate actually works like stearic acid, by increasing the FADH2:NADH ratio. Every time an Acetyl-CoA goes around the citric acid cycle, two NAD+ are converted to NADH as citric acid is converted to succinate. Succinate then hands electrons directly to SDH to become fumarate and one more NAD+ is converted to NADH before succinate becomes oxaloacetate, the end product of the citric acid cycle.
That is a long winded way of saying that the FADH2:NADH ratio of succinate is 1.0. Remember that stearic acid has a FADH2:NADH ratio of 0.49. Here is the list of FADH2:NADH ratios of known macronutrients.
| | |
| --- | --- |
| | FADH2/NADH Ratio |
| Succinate | 1.0 |
| Glucose | Up to 0.5 |
| Stearic Acid | 0.49 |
| Oleic Acid | 0.46 |
| Linoleic Acid | 0.43 |
Feeding studies
The authors actually fed regular mice a little succinate (10 mM) in their drinking water. This led to a massive 40-fold increase in UCP1 in the white adipose tissue of the mice! In addition, whole body energy expenditure increased.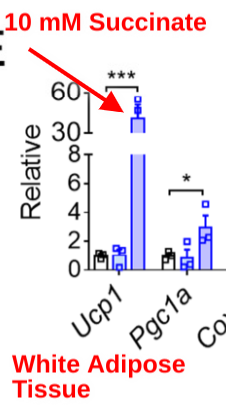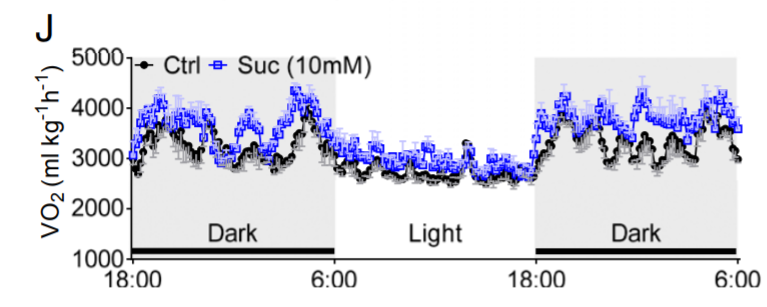 I had a lot of questions about the behavior of succinate. How quickly is it taken up from blood? Which tissues take it up? Does it make it into the mitochondria? This paper​7​ used radiolabelled, injected succinate shows that an increase in succinate was cleared from the bloodstream within an hour. Succinate is HIGHLY preferentially taken up by brown adipose tissue, but other tissues also take it up. My assumption is that in a human – with a lower proportion of brown adipose tissue, more succinate is taken up by other tissues.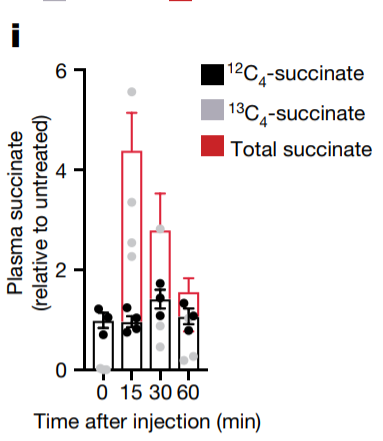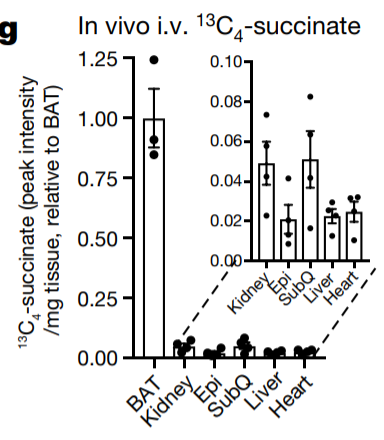 Succinate accumulates in both brown and white adipose tissue. The metabolic rate (OCR Oxygen Consumption Rate) of brown fat cells increases if you feed them succinate.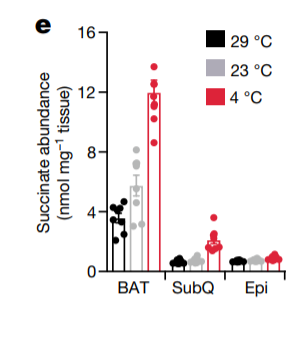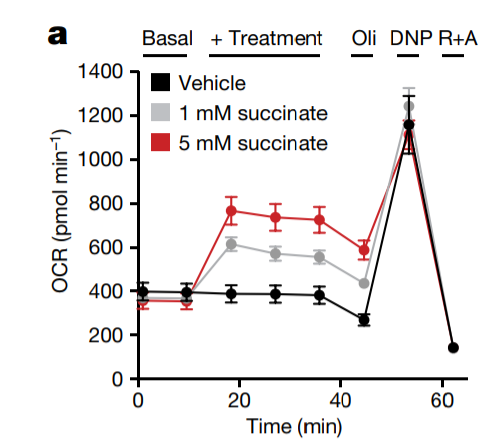 If you take the brown adipose fat cells that are cultured with succinate and you add antioxidants – either MitoQ or NAC – their metabolic rate drops in a dose dependent fashion. This is because metabolic rate is controlled by ROS generation via SDH activity which regenerates NAD+. Antioxidants reduce ROS. The black bars are not given succinate.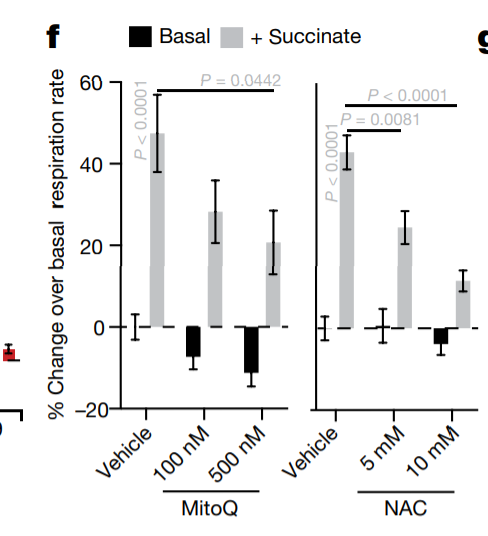 The authors ran two different experiments looking at weight gain on a "high fat" diet using dietary succinate in normal mice. The first trial used 1% and 1.5% succinate (purple and blue) and the second experiment used 2% (red). In humans, 2% would be 10g out of a 2000 calorie diet. 1.5% succinate prevented weight gain on the high fat diet and 2% produced weight loss while on the high fat diet. Mice fed succinate had higher lean mass and lower body fat. The light grey line in the second experiment are "pair fed" mice. This means that their calories were matched to the mice who received 2% succinate. The weight loss is not because of caloric restriction.

Another study​8​ looked at the effects of dietary succinate on muscle fiber types. Obese humans have a low percentage of oxidative type I and type IIa muscle fibers and higher amounts of the glycolytic type IIb fibers​9​. Mice fed 0.5% (pink) or 1% (red) succinate showed large increases in the percentage of type I and type IIa and a decrease in type IIb fibers. The succinate induced a change in muscle fiber types to one resembling a lean person.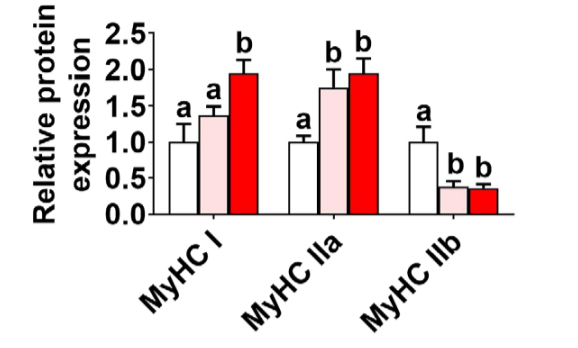 The succinate also increased grip strength and endurance in the mice.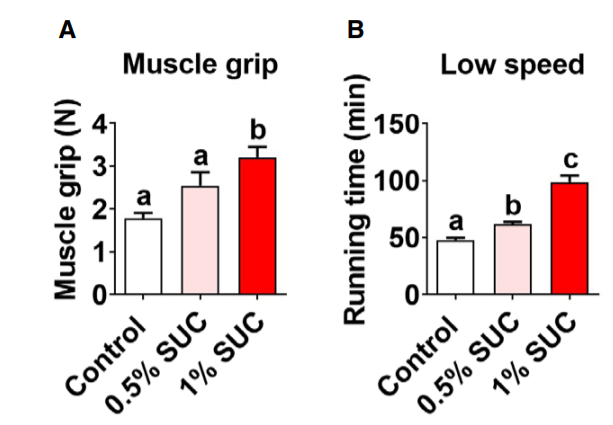 The succinate also increased SDH activity and metabolic rate.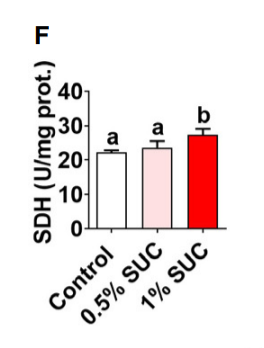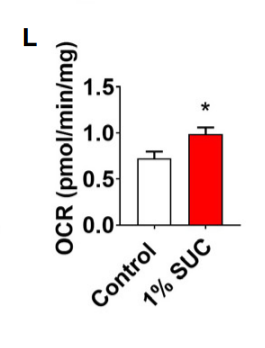 Summary of succinate benefits
OK, so let's add it up. In rodent models, succinate is absorbed very preferentially by brown adipose tissue where it induces thermogenesis. It also induces stem cells in white adipocytes to become beige adipocytes, again leading to thermogenesis. IIt directly increases metabolic rate. It increases lean mass, reduces fat mass and causes weight loss. It also causes fiber type conversion of skeletal muscle from the glycolytic type seen in obesity to the oxidative type leading to increased strength and stamina.
Anything else? It increases blood glucose control in mice fed a high-fat, high-sugar diet​10​ and it increases tight junction protein in pigs​11​, creating better intestinal barrier function. Also, gut bacteria generate a lot of succinate from fiber​10​ So it may mimic the beneficial effects of dietary fiber.
Many of these benefits are caused directly by succinates ability to drive ROS production via SDH. We know this since decreasing ROS production – either by using an antioxidant or by supplementing with unsaturated fat – reduces the thermogenic conversion of white adipocytes and reduces the increase in metabolic rate due to succinate supplementation.
Are there downsides?
YES! It can be quite laxative. I suspect this is due to ROS production in the intestinal cells, but that's just me guessing. If you choose to supplement with it, take it easy at first, see how it goes.
There is also the fact that circulating succinate levels are actually increased in obesity and diabetes. I attribute this to the fact that obese people and diabetics have low succinate dehydrogenase activity, so succinate builds up in cells and is exported, leading to an increase in blood levels. Presumably it is ultimately taken up by brown or beige adipose tissue when blood levels get high enough.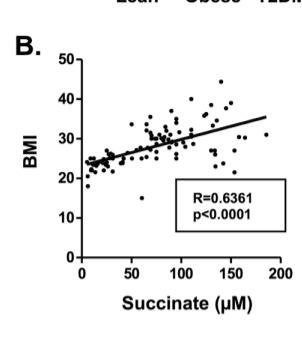 Lastly, succinate has been shown to be associated with inflammation in some cases. It's not always clear whether this is cause or effect, and results have been contradictory. This paper​12​ showed that succinate triggers macrophage activation through the succinate receptor SUCNR1. This paper​13​ showed that succinate suppresses immune response via a SUCNR1 independent pathway. This is definitely not a settled matter. My thoughts are to take it slow and see what happens. If you have inflammatory bowel disease or Chrons, succinate may not be the right choice for you.
A-lipoic acid, succinate's little buddy
You've probably had the thought, "What is the point of eating succinate if my succinate dehydrogenase is acetylated anyway?" That is where a-lipoic acid comes in. In the past I've recommended resveratrol for activating SIRT1 to get things de-acetylated and moving. There is another polyphenol that is very good for SIRT1 activation called myricetin (spelled like 'my rice tin', thank you auto-correct for the tip). But the best thing for this IMO is a-lipoic acid ("alpha lipoic").
A-lipoic acid is made by mammals and found in relatively high amounts in the liver, so it is a natural substance of humans. It seems to be relatively absorbed on an empty stomach and is taken up in cells within an hour or so​14​, where it is reduced to dihydrolipoic acid in a reaction that converts NADH to NAD+, after which the dihydrolipoic acid is transported out of cells and eliminated in urine. Which is to say that if you take a-lipoic acid as a supplement you can directly unload reductive stress, regenerate NAD+ and activate SIRT3!
A-lipoic acid is sold as an "anti-oxidant", but you actually take it in the oxidized form. When you reduce it to dihydrolipoic acid, you oxidize NADH to NAD+. So a-lipoic acid allows things to be oxidized. It is a source of oxidant power. It eliminates reductive stress. Here's the great part, though… Once you've reduced it, it actually DOES function as an antioxidant, eliminating a superoxide molecule, which then allows another molecule of NADH to become NAD+ again. A-lipoic acid and dihydrolipoic acid act as an NAD+ regenerating redox couple.
It is also incredibly safe​15​, showing no side effects in rats of a dose that would be equivalent to 6000mg in adult humans. Lastly, a-lipoic acid supplements are cheap and readily available. The R-alpha-lipoic acid is the one preferred in the mitochondria.
In fact, the story of a-lipoic acid is so interesting that it will get its own article. Next year, if I have time…
Succin-ade
So I got some succinate to try it. WOW! It's VERY sour!!! Punishingly sour. It IS part of the citric acid cycle, after all. Have you ever tried to eat just straight citric acid? Citric acid is what they mix with sugar to provide the sour flavor in Sour Patch Kids. It's also has an odd bitter flavor. I thought about getting capsules made, but the amounts shown to produce weight loss in studies – 1-2% of diet – suggested using something like 5-15g of succinate per day. At 800mg that's a lot of pills to swallow!
There is also a di-sodium succinate. The sodium removes the sour flavor (but not the bitter flavor) and makes it much more water soluble! Unfortunately it's quite expensive. On the other hand you don't need THAT much.
I found that by tinkering with the proportion of di-sodium and regular succinate, adding a little monkfruit extract and natural lemon-lime flavor, I was able to come up with a powdered mix that tastes something like lemonade. Sour from the succinate and a bit salty like a margarita. The sweetness of the monkfruit mostly hides the bitterness and a scoop (5g of succinate) costs about a buck. It's not great but neither is it horrible. My friend said it tastes like "lemonade for astronauts". That's about right. You could add it to a stearic acid smoothie if you were inclined.
For non-US customers, I am offering free international shipping with the purchase of four items selected from Succin-ade, sterculia oil and stearic acid (limited to two stearic acid which is in short supply at the moment).
A human n=1 trial of Succin-ade
A friend approached me who was interested in losing weight. Other approaches she tried had failed. We met for coffee and gave her a container of Succin-ade. She was already gluten free and avoided most carbohydrates. She got a high percentage of calories from ethanol (she's a friend of mine, like I was saying…).
I told her to avoid sources of vegetable oil, olive oil, nuts and peanut butter and to take a scoop or two of the Succin-ade every day. I told her not to worry about calories. I told her to get a scale, a sewing tape measure and a digital thermometer that takes 60 seconds to record your body temperature. The quick read ones are inaccurate. I told her to take the three measurements each day and she said she loved spreadsheets. Perfect.
She told me over the course of the experiment that she woke up, peed and then took all three measurements every day. In one month she lost 12 lbs, four inches from her waistline and her body temperature jumped from 97.1 to an average of around 98.6 (sometimes higher). She's doing thermogenesis!
She did lose 5 lbs the first day, which is probably just random fluctuation, but she continued to lose pounds and inches. I had told her to try resveratrol and myricetin because I hadn't realized the full potential of a-lipoic acid at the beginning of the trial. If the trial started today I would have told her to take a high dose of a-lipoic acid in the morning while fasted. Perhaps in the range of 1200-2400mg.
Then I would've told her to drink the succin-ade 30-60 minutes before meals, with the idea that cells will preload with succinate will essentially up-saturate the food. By my math 5g of succinate is the equivalent of swapping 12.4 of oleic acid out with stearic acid.
These are the complete results of her trial.
| | | | | |
| --- | --- | --- | --- | --- |
| Day | Weight Change | Waist Change | Body Temp | |
| 0 | 0 | 0 | 97.1 | |
| 1 | -5 | 0 | 97.1 | |
| 2 | -5 | 0 | 97.1 | |
| 3 | -6 | 0 | 96.9 | |
| 4 | -8 | -0.5 | 96.9 | |
| 5 | -6 | 0 | 97.1 | Added Vit D & K2 |
| 6 | -6 | -0.5 | 97.1 | |
| 7 | -9 | -1 | 97.1 | |
| 8 | -9 | -0.5 | 97.1 | |
| 9 | -8 | 0 | 97.6 | |
| 10 | -10 | -0.5 | 97.9 | |
| 11 | -10 | -1 | 99.1 | |
| 12 | -8 | 0 | 97.9 | |
| 13 | -6 | 0 | 97.9 | Added Resveratorl + Myricetin |
| 14 | -8 | -0.5 | 98.1 | |
| 15 | -8 | -1 | 97.9 | |
| 16 | -8 | -1 | 98.1 | |
| 17 | -10 | -1.5 | 98.1 | |
| 18 | -11 | -2 | 98.4 | Took a break |
| 19 | -11 | -2 | 98.6 | Took a break |
| 20 | -15 | -2 | 98.6 | Restarted Succin-ade |
| 21 | -13 | -3 | 99.1 | |
| 22 | -13 | -3 | 99.1 | |
| 23 | -13 | -2 | 99.1 | |
| 24 | -12 | -3 | 99.6 | |
| 25 | -12 | -3 | 99.6 | |
| 26 | -13 | -4 | 98.6 | |
| 27 | -13 | -4 | 99.1 | |
| 28 | -12 | -4 | 98.4 | |
| 29 | -12 | -4 | 99.1 | |
Conclusions
Mitochondrial ROS production eliminates the reductive stress brought about by consuming unsaturated fats and overexpressing SCD1. Mitochondrial ROS is primarily driven by succinate dehydrogenase (SDH) activity. Obese humans and torpid mammals have very low SDH activity due to both highly unsaturated body fat and due to the fact that SDH is acetylated and turned OFF.
We can activate SIRT3 to deacetylate SDH with a-lipoic acid.  This opens the door to supplementary succinate, which really ramps up ROS production to eliminate reductive stress and increase metabolic rate.
---