In this series, I have argued that consuming seed oils causes reductive stress in the mitochondria as defined by high levels of acetyl-CoA and NADH. You could also call this "too much fuel" in the mitochondira, AKA a flooded engine. If I am correct, it should be easy to demonstrate in the short term that consuming a large quantity of seed oils causes acute reductive stress.
Pyruvate Dehydrogense
A hallmark of human obesity is the lack of ability to efficiently burn glucose​1​. The enzyme that is the gating factor for how quickly glucose can be burned is pyruvate dehydrogenase (PDH). PDH converts pyruvate – the end product of glycolysis – to acetyl-CoA to be burned in the TCA cycle.
Way back in 1975, it was already known that PDH activity was inhibited by high levels of acetyl-CoA and NADH​2​ – reductive stress. If you are in reductive stress, PDH is inhibited and you become inefficient at burning glucose: like a fat person. Additionally, Cody Smith recently showed that overexpressing PPAR alpha – an enzyme that is activated by the linoleic acid and a-linolenic acid in seed oils – floods the mitochondria leading to whole body reductive stress and glucose intolerance.​3​ Things that overstimulate PPAR alpha cause reductive stress and glucose intolerance.
Let's consider for a moment what should happen when a healthy person eats a mixed meal of fat and carbohydrate. Insulin is released, which cuts off lipolysis (fat being released by fat cells to feed the body) and increases glucose uptake and oxidation rates. After a mixed meal, you are supposed to burn the glucose first to prevent high post-prandial blood glucose. Lean people are better at this than fat people.​4​ The lean children in this study had a post-prandial RER of 0.92 indicating they were mostly burning carbs after a mixed meal. The obese children had an RER of 0.87, meaning they were burning way less carbs in response to a mixed meal.
In 1988 – a mere 13 years after it was reported that NADH and acetyl-CoA block PDH activity – this study was published showing that eating a mixed meal with PUFA, as opposed to with saturated fat, caused lower rates of carbohydrate oxidation after the meal. Just like in the fat kids!!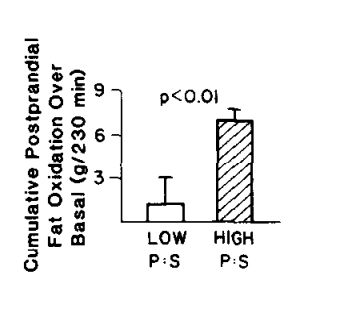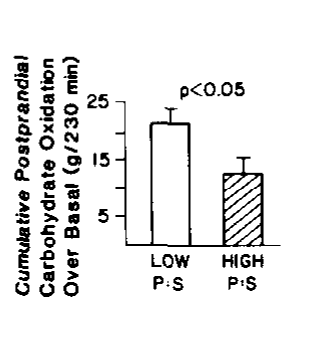 Promoters of seed oil point to studies like this and say, "See, PUFA increase fat burning rates! And total calories burned!"
Which is true, but you could also say, "See, PUFA increase fat burning rates! Just like fat people! And total calories burned! Just like fat people!"
It looks to me like PUFA, by stimulating PPAR alpha, are driving an inappropriate amount of fuel into the mitochondria and creating reductive stress compared to saturated fat. The buildup of acetyl-CoA and NADH are inhibiting PDH and therefore the lean people given PUFA are behaving like fat people, who are also in reductive stress.
Sunflower Oil Inhibits PDH
An experiment tested the effect of fat loading on exercise-stimulated PDH activity​5​. The subjects are all young men who are very physically active. We are not told their BMI, but the suggestion is that they are lean. Each subject repeated the trial, once by fat loading with cream and once by fat loading with sunflower oil. Muscle biopsies were taken before fat loading, after fat loading and after a minute of exercise.
PDH activity was unchanged during fat loading but after exercise PDH activity surged in the group given heavy cream. This group appropriately increased blood glucose burning in response to exercise. The sunflower oil group failed to increase glucose burning in response to exercise.
Just like old, obese, insulin-resistant humans.​6​
Conclusion
Obese humans are characterized by a lack of metabolic flexibility. They have low pyruvate dehydrogenase activity and therefore fail to switch over to efficiently burning blood glucose after exercise or a mixed meal. Lean adults can mimic the lack of metabolic flexibility shown by obese adults simply by consuming enough PUFA, which forces them into reductive stress.
Check back in soon, article VI of the "Seed oils cause reductive stress" series will be the last one.  It is about PUFA acting as an obesogen.  I'm excited for it and then we will get to the hard work of using all of this knowledge to fix reductive stress in ourselves.
1.

Istfan N, Hasson B, Apovian C, et al. Acute carbohydrate overfeeding: a redox model of insulin action and its impact on metabolic dysfunction in humans.

American Journal of Physiology-Endocrinology and Metabolism

. Published online November 1, 2021:E636-E651. doi:

10.1152/ajpendo.00094.2021

2.

Pettit FH, Pelley JW, Reed LJ. Regulation of pyruvate dehydrogenase kinase and phosphatase by acetyl-CoA/CoA and NADH/NAD ratios.

Biochemical and Biophysical Research Communications

. Published online July 1975:575-582. doi:

10.1016/s0006-291x(75)80185-9

3.

Smith CD, Lin CT, McMillin SL, et al. Genetically increasing flux through β-oxidation in skeletal muscle increases mitochondrial reductive stress and glucose intolerance.

American Journal of Physiology-Endocrinology and Metabolism

. Published online May 1, 2021:E938-E950. doi:

10.1152/ajpendo.00010.2021

4.

Aucouturier J, Isacco L, Thivel D, et al. Effect of time interval between food intake and exercise on substrate oxidation during exercise in obese and lean children.

Clinical Nutrition

. Published online December 2011:780-785. doi:

10.1016/j.clnu.2011.03.011

5.

Bradley NS, Heigenhauser GJF, Roy BD, et al. The acute effects of differential dietary fatty acids on human skeletal muscle pyruvate dehydrogenase activity.

Journal of Applied Physiology

. Published online January 2008:1-9. doi:

10.1152/japplphysiol.00636.2007

6.

Prior SJ, Ryan AS, Stevenson TG, Goldberg AP. Metabolic inflexibility during submaximal aerobic exercise is associated with glucose intolerance in obese older adults.

Obesity

. Published online October 16, 2013:451-457. doi:

10.1002/oby.20609