There are many believers in a reductionist calories in, calories out (CICO) view of the world. People in this tribe often say things like, "to lose weight, you just have to eat less and move more." I want to be clear, I believe in calories in, calories out from a strict thermodynamic perspective. Calories you ingest don't just disappear, you have to burn, store or excrete them.
If you are a strict CICO believer – if you think all that needs to be done to achieve lasting weight loss is to move more, eat less – then what conclusion can be drawn other than that people who are overweight are slothful and gluttonous? Alternatively, you can believe that we live in an obesogenic environment where modern food is so palatable that it simply overwhelms our power to resist it and we're no longer laboring on the farm.
But as I pointed out in Americans Ate a LOT in 1939, caloric intake was VERY high in the thirties among city dwellers – after the subway was built, buildings had elevators and there was a fleet of cabs. An interesting quirk is that the richest, who would have had sedentary jobs and been most able to afford cars or take taxis, also ate the most. Each wealthy adult male (back then they converted everything into units of per adult male ) in a Northeast city in the thirties went through 4500 calories a day (some of it would have been wasted). Jogging wasn't a thing yet. Obesity was rare.

Certainly the cultural expectation back then was that mom would make from scratch 3 square meals per day for herself, hubby and the kids. Eggs, sausage and toast. Pancakes with butter and syrup. Porkchops, mashed potatoes and apple pie. Whole milk. Meatloaf sandwiches. Creamed veggies. Cookies, jello molds.
But that wasn't an obesogenic environment, I guess.
The problem with a strict view of CICO is that all evidence suggests that "eating less and moving more" is not how our ancestors remained lean.
Eating Less And Moving More Both Reduce Your Metabolic Rate
In the last post I showed that people who reduced their body weight by 10% using an all-liquid, 800 calorie-per-day diet had a 22% drop in their Total Energy Expenditure. Losing weight by caloric restriction is a surefire way to tank your metabolic rate.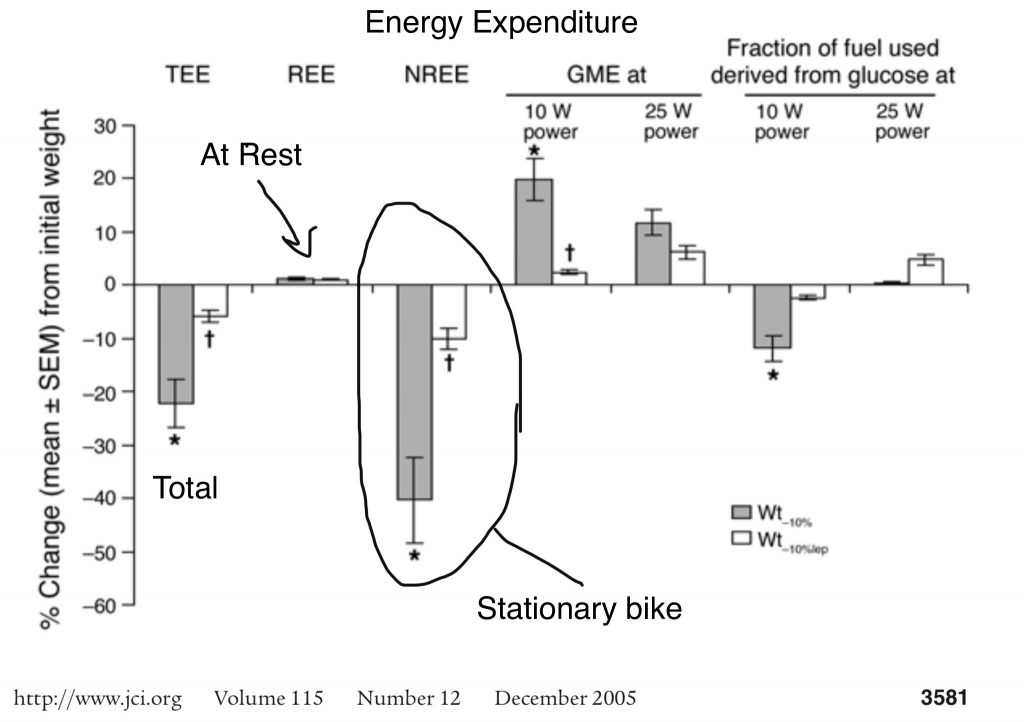 The lowered metabolic rate of someone in a lowered weight state achieved by caloric restriction lasts for at least a year.​1​
This drop in energy expenditure was caused by lower circulating leptin levels and happened as a result of increased mechanical efficiency of skeletal muscle. Simply put, subjects with higher leptin – before weight loss – wasted more energy as heat when doing simple things like walking around. The reason for this is most likely to be that leptin causes an increase in a protein called UCP3, which is expressed in muscle tissues and is correlated with reduced mechanical efficiency. UCP3 allows you to do thermogensis (making heat) in your muscles. Mice who over-express UCP3 are protected from obesity!​2​
Ready for more bad news? The second best way to lower your metabolic rate is by exercising. That's right! Trained athletes have lowered UCP3 and higher mechanical efficiency (less thermogenesis).​3​ Those three 30 minute bouts of cardio make it so that the whole rest of the week you are burning less calories walking around.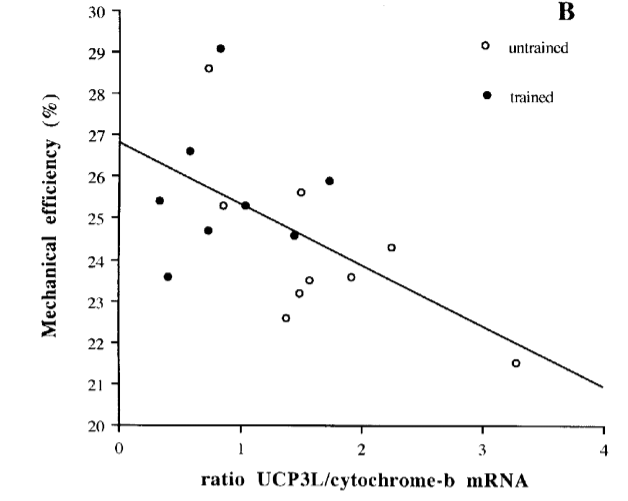 Eating less and moving more is a sure fire way to decrease total energy expenditure.
Leptin Again
In the previous, previous article I argued that not only is there a strong correlation between expression level of the enzyme SCD1 and obesity, in fact over-expression of SCD1 in muscle tissues actually CAUSES fat storage.
Guess what another job of leptin is? It suppresses SCD1.​4​
Furthermore, humans who lack a functional leptin gene are obese but if you inject them with leptin they rapidly lose weight.​5​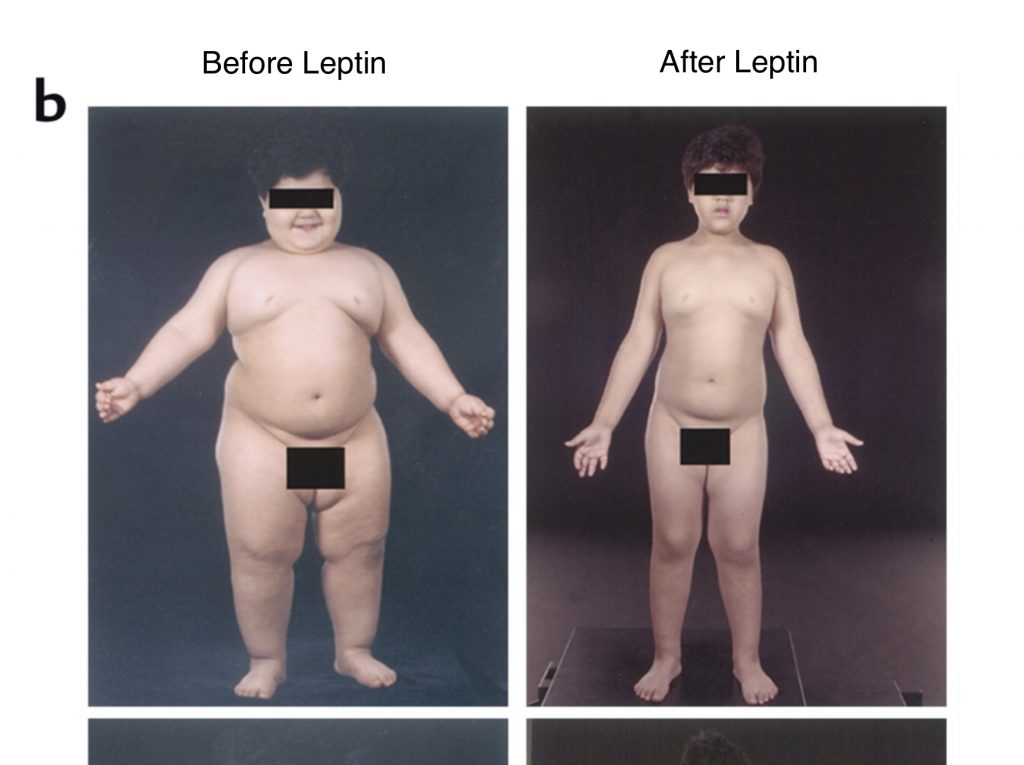 It looks to me like humans can use specific biological responses to control energy expenditure and fat storage: increasing UCP3 or decreasing SCD1, for instance. Leptin controls a lot of these decisions.
Conclusion
The concept of eat less, move more is that through willpower we can overcome our biological urges. Ignore that hunger! Huff it on that trampoline! We can get lean through a lifetime of deprivation.
I think a better approach is to work WITH our biology. Let's focus on the enzyme systems that are making the day to day decisions about whether or not to burn that calorie. Next up: bio-hacking leptin.
---
---
1.

Rosenbaum M, Hirsch J, Gallagher DA, Leibel RL. Long-term persistence of adaptive thermogenesis in subjects who have maintained a reduced body weight.

The American Journal of Clinical Nutrition

. Published online October 1, 2008:906-912. doi:

10.1093/ajcn/88.4.906

2.

Son C, Hosoda K, Ishihara K, et al. Reduction of diet-induced obesity in transgenic mice overexpressing uncoupling protein 3 in skeletal muscle.

Diabetologia

. Published online January 1, 2004:47-54. doi:

10.1007/s00125-003-1272-8

3.

Schrauwen P, Troost F, Xia J, Ravussin E, Saris W. Skeletal muscle UCP2 and UCP3 expression in trained and untrained male subjects.

Int J Obes

. Published online September 1999:966-972. doi:

10.1038/sj.ijo.0801026

4.

Biddinger SB, Miyazaki M, Boucher J, Ntambi JM, Kahn CR. Leptin Suppresses Stearoyl-CoA Desaturase 1 by Mechanisms Independent of Insulin and Sterol Regulatory Element-Binding Protein-1c.

Diabetes

. Published online June 27, 2006:2032-2041. doi:

10.2337/db05-0742

5.

Farooqi IS, Matarese G, Lord GM, et al. Beneficial effects of leptin on obesity, T cell hyporesponsiveness, and neuroendocrine/metabolic dysfunction of human congenital leptin deficiency.

J Clin Invest

. Published online October 15, 2002:1093-1103. doi:

10.1172/jci0215693