Introduction
My thesis in this series is that humans get fat NOT from sloth and gluttony, human characteristics wrapped in morality and asceticism. They in fact get fat from torpor, an underlying metabolic change triggered by consuming linoleic acid. In my previous article I introduced the concepts of this series as well as the idea that sedentary Americans ate more in the 1930s than they do now. Yet obesity wasn't a problem then and it is now.
The authors of the paper I will focus on in this post show that much like in hibernating animals humans store fat BECAUSE OF increased amounts of an enzyme called SCD1. SCD1 causes torpor in mammals, a metabolic state that is a pre-requisite for hibernation and which favors fat storing over fat burning.
The authors of this paper culture muscle tissue from obese and lean Americans. They show that muscle tissue from lean Americans burns more fat and stores less fat compared to the muscle tissue from obese Americans. They further show that increasing SCD1 in the muscle tissue from lean Americans causes that muscle tissue to burn less fat and store more fat.
Thought question: Does increasing the level of SCD1 in isolated muscle cells of lean Americans cause those muscle cells to become lazy? Are the muscle cells overeating because of their obesogenic food environment? OR is it more likely that metabolic changes are the cause of obesity? Is it more likely that cells can CHOOSE whether to burn or store fat? As the authors of this paper write, could it be that obesity is not a moral failing but a disease of "abnormal fatty acid partitioning"?
Hibernating hamsters increase SCD1 to store fat for winter
As a Syrian hamster gets ready to hibernate, it switches into an alternate metabolic state called torpor. It does this in large part by increasing the expression of a gene called SCD1,​1​ whose function is to unsaturate the hamster's body fat.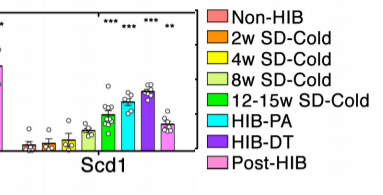 When fat is very unsaturated, animals can resist the process of thermogenesis (heat making) which is driven by a hormone called leptin which is produced by fat cells. Leptin sensitivity leads to fat burning and the goal of torpor is to not burn fat.
Modern humans increase SCD1 to store fat for nothing
This is the paper​2​ proving that SCD1 isn't just correlated with torpor and fat storage, it actually CAUSES it.
The authors show there is a very tight correlation between the amount of SCD1 activity in human muscle tissue and BMI. Very obese humans make a lot of SCD1. The more obese you are, the more SCD1 you make. Just like in torpid animals there is a high correlation between SCD1 levels and body fat levels.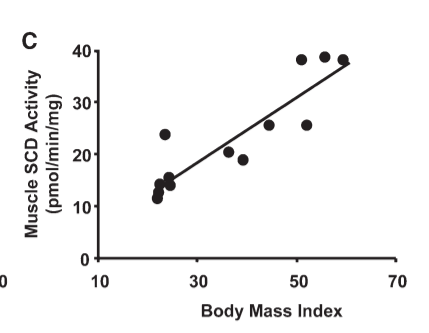 They also looked at which genes are increased in the muscle tissues of obese humans. It turns out the answer is "mostly SCD1".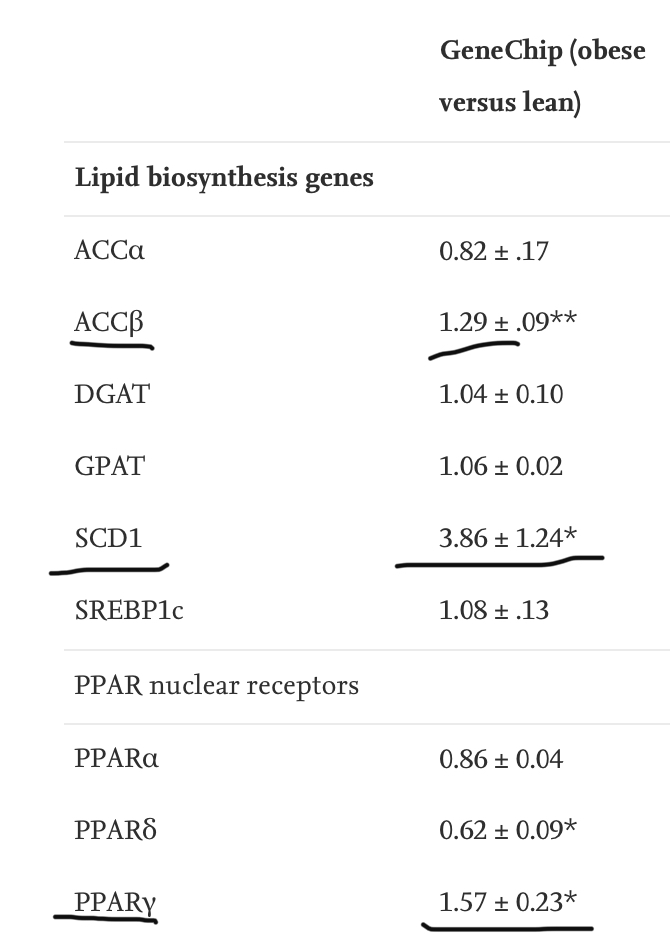 Of all the genes involved in fat synthesis and storage, SCD1 was the single gene that was the most increased in obese humans – by a factor of 4. SCD1's co-conspirators PPAR gamma and ACC beta were also increased in the obese, but that's a story for another day.
What the authors show across the board is a correlation between SCD1, desaturase index and obesity. Of course, correlation isn't causation. Happily, this research group is very clever. They took tissue cultures from the muscles of lean and obese people. It turns out that the muscle cells of obese people compared to those of lean people:
Burned less fat
Made more fat
Stored more fat
Had 6 times as much SCD1 protein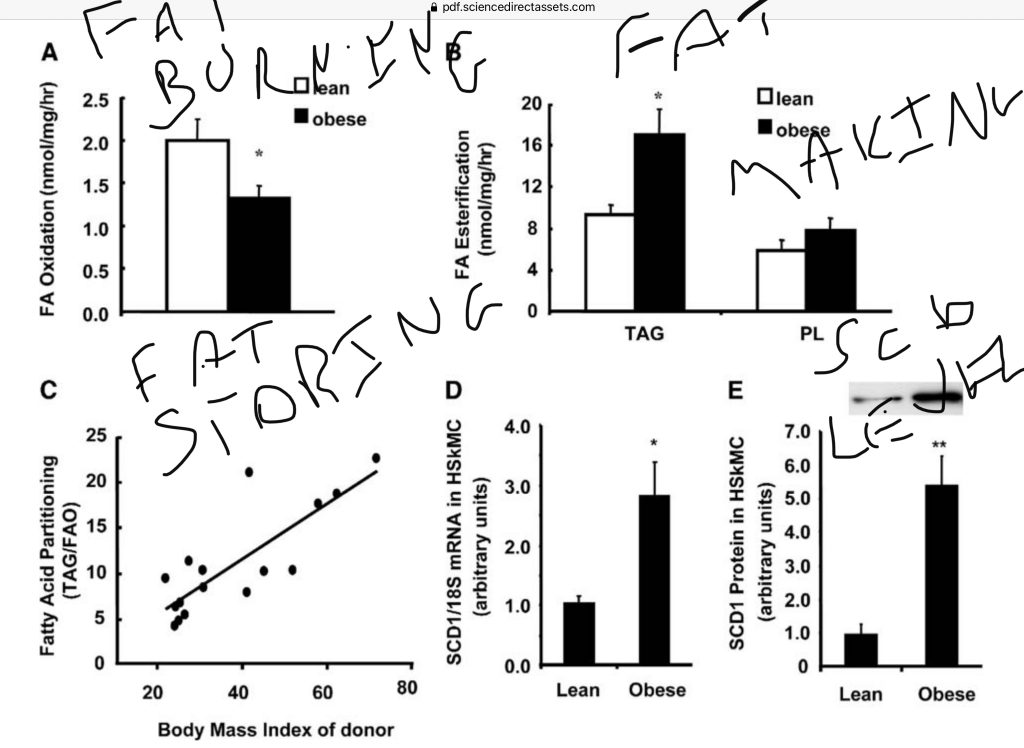 So we can say that there is a strong correlation between SCD1 levels in skeletal muscle, the rate at which skeletal muscle makes and stores fat and an inverse correlation between skeletal muscle SCD1 levels and fat burning. Correlation still doesn't imply causation. To test whether SCD1 CAUSED these metabolic differences, the authors overexpressed the SCD1 protein in the muscle tissues of lean humans. Guess what happened?
Muscle cells of lean humans whose SCD1 levels were doubled burned less fat, made more fat and stored more fat.
SCD1 was sufficient to make the muscle cells of lean people behave just like those of obese people!!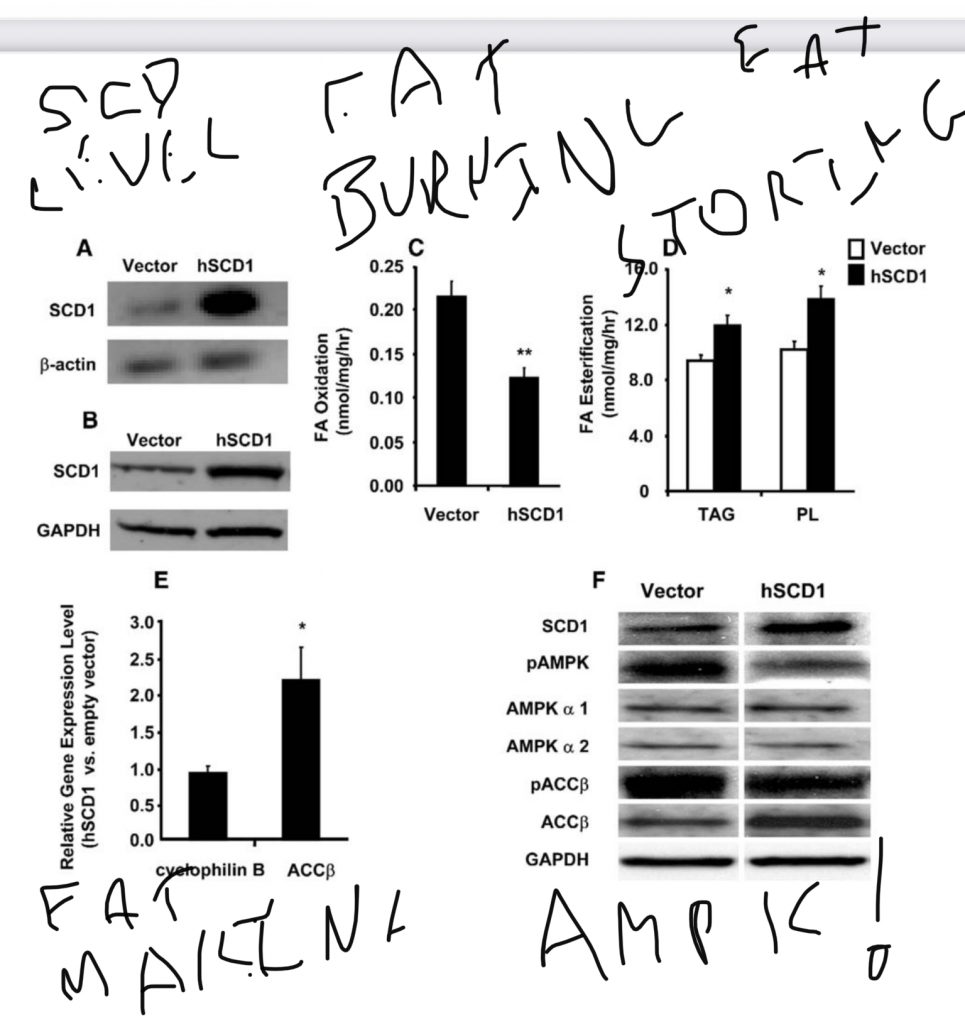 This allows us to say that SCD1 isn't just correlated with low levels of fat burning and high levels of fat storing, we can say that it CAUSES them. We can say that it causes them in the muscle cells of actual live normal American humans.
A possible mechanism by which SCD1 exerts its effects is by decreasing the levels of phosphorylated AMP Kinase (pAMPK), an enzyme which is a "Master regulator of metabolism". Guess one of the ways leptin exerts its fat burning effects? By increasing phosphorylated AMPK.​3​ Leptin and SCD1 are eternally at odds.
How to Lower SCD1
If you follow this blog, you'll know that I am collecting a list of things that lower the level of or block the activity of SCD1. SO far, to date, we have these things which lower the expression levels:
There is also an oil that blocks the activity of the enzyme that I sell. You can find my recipe for escaping torpor. Come back, the recipe will be evolving as we learn more!
---
1.

Chayama Y, Ando L, Sato Y, et al. Molecular Basis of White Adipose Tissue Remodeling That Precedes and Coincides With Hibernation in the Syrian Hamster, a Food-Storing Hibernator.

Front Physiol

. Published online January 28, 2019. doi:

10.3389/fphys.2018.01973

2.

Hulver MW, Berggren JR, Carper MJ, et al. Elevated stearoyl-CoA desaturase-1 expression in skeletal muscle contributes to abnormal fatty acid partitioning in obese humans.

Cell Metabolism

. Published online October 2005:251-261. doi:

10.1016/j.cmet.2005.09.002

3.

Minokoshi Y, Kim Y-B, Peroni OD, et al. Leptin stimulates fatty-acid oxidation by activating AMP-activated protein kinase.

Nature

. Published online January 2002:339-343. doi:

10.1038/415339a