Introduction
This is a followup to my post Native Americans Removed Acorn Oil and Replaced It With Bear Fat. It also carries on the theme of adaptive thermogensis, which I introduced in This is Your Body Temperature on Vegetable Oil and continued in The Body Fat Saturation Of Starch Eaters; Linoleic Acid Dysregulates SCD1.
In this article I argue that Native Americans sacrificed fat yield to harvest bear grease in a season where the polyunsaturated fat(PUFA) content of the fat would have been the lowest. This had some practical advantages, such as sleepy bears, less tendency towards rancidity and better storagibility, but I believe the example of removing acorn oil and replacing it with lowish-PUFA bear fat suggests that they understood the metabolic advantages of avoiding PUFA in a cold region.
Bear Grease Was A Dietary Staple
Bears were the pigs of North America – omnivores who fattened on berries, fish, honey, ants and mast (acorns and nuts). Native Americans would even sometimes capture baby cubs and fatten them on cornmeal for as long as two years in wooden pens!​1​ Since they are hibernators, bears can store a tremendous amount of body fat and bear fat was the chief fat used in many Native American diets. Consider this passage from James Smith, an Englishman who was taken hostage by Native Americans and lived with them for five years.​2​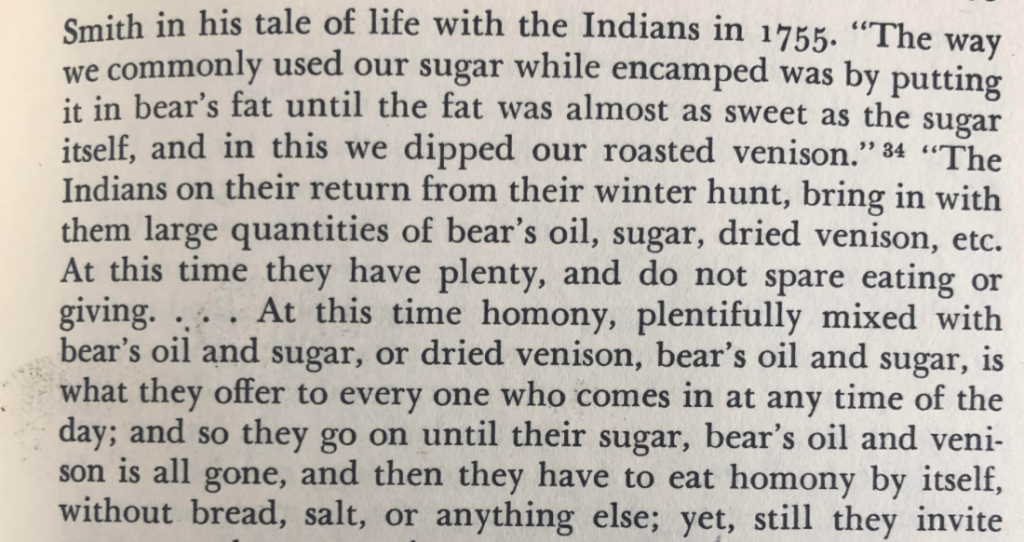 And Native Americans were sophisticated in their understanding and use of bear grease. They would add antioxidants to the fat to prevent rancidity.​3​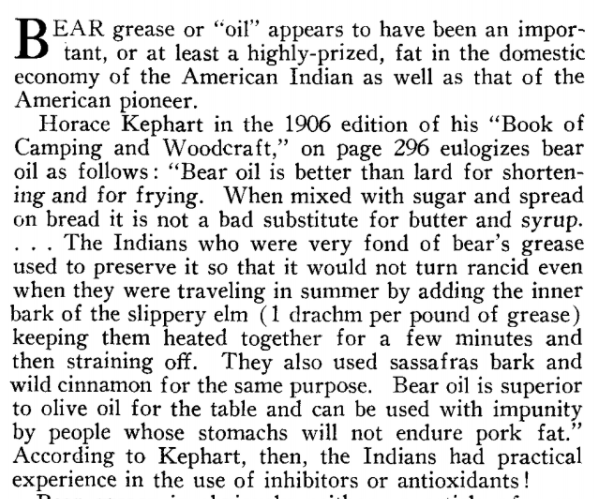 Of course the bears are the fattest in September and October, when mast crops are plentiful. They have the least fat in late winter through summer.​4​ So they hunted them in the fall, right?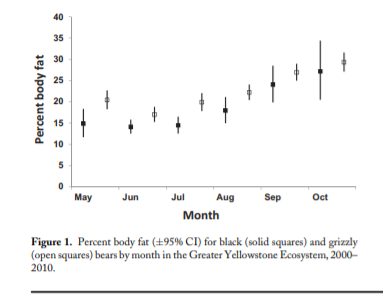 Bear was mostly Hunted Late Winter Through July
Harriet V. Kuhnlein and Murray M. Humphries have done a great job of collecting references having to do with Native American bear hunting at Traditional Animal Foods of Indigenous Peoples of Northern America.​1​ Although bears were hunted year around, it seems they were overwhelmingly hunted in late winter or spring – when they were leanest, especially in the frigid North!
Although it certainly would have been a luxury to hunt sleepy and confused bear just emerging from their winter slumber, Native Americans were ingenious hunters and had many ways of killing bear, so they certainly could have hunted bear in October at the peak of their fatness. Consider these techniques​1​:
So then why late winter? "Some cultures sought out hibernating bears in their dens because bear flesh was often considered best during winter or at the end of hibernation.​1​"
PUFA Content of Bear Meat Peaks in the Fall And Is Least In The Spring
If you've been following this blog, you will be familiar with the concept that having saturated body fat leads you to produce a lot of mitochondrial Reactive Oxygen Species (ROS), which forces you to do mitochondrial uncoupling which increases your metabolic rate and keeps your body temperature high. Your metabolism becomes "inefficient" since you are simply burning off calories as heat rather than storing the energy for later use.
If you're a bear you want the exact opposite of that scenario. You need to store enough fat to get through a 5 month hibernation. While hibernating, you need to drop your body temperature and lower your metabolic rate to conserve energy. You certainly don't want an inefficient metabolism.
Therefore you would expect a bear to have highly unsaturated fat going into hibernation and you might even expect the bear to preferentially burn the unsaturated fats during hibernation to help suppress ROS generation, body temperature and metabolic rate. Bears graze on "mast" in the fall – acorns and other nuts that fall to the forest floor. So they have a ready source of PUFA in their diet in the fall. So you might expect a bear to accumulate PUFA in the fall to help it gain weight then burn that PUFA over the course of winter. This might even lead to "better meat quality".
There is frustratingly little data about the American black bear body fat composition or how it changes seasonally, but I suspect this data from a Croatian bear would be mirrored in the US.​5​ Croation bears also fatten on acorns. I've underlined in red the line that represents the polyunsaturated fat linoleic acid in bear tissue. It decreases by 50% over the winter!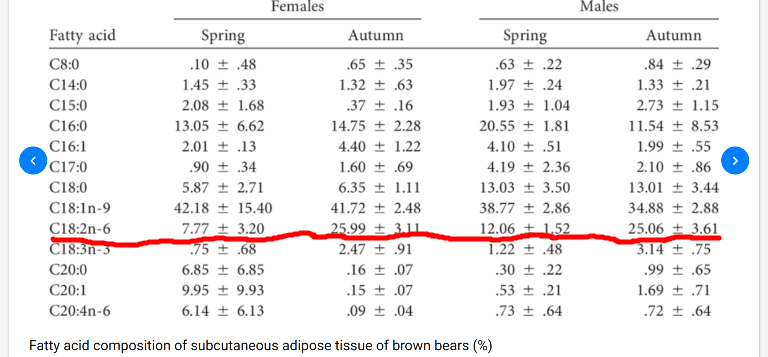 And consider this description of bear oil collected in the Adirondacks of upstate New York in October of 1932.​3​

The bear oil was a liquid and slightly rancid. Native Americans stored their bear grease in bark or deerskin containers. Consider this description, "Bark trays were strategically positioned to catch the rendered fat, which was stored in deerskin bags. Fort Nelson Slave stored the fat in bark containers to solidify and consumed it with 'great relish'".​1​ The phrase "to solidify" suggests that the fat collected was not the oily fat described above. Also, solidified fat would have been much easier to store and transport in deerskin or birch-bark containers!
Conclusion
Let's add it all up. Native Americans frequently waited to hunt bear – their main source of fat – until the animals had lost a significant amount of body fat. The reason given was that "bear flesh was often considered best during winter or at the end of hibernation". The liquid fat collected from fat bear in the fall would have been difficult to store and prone to rancidity. So they accepted a lower yield for a fat that was presumably lower in polyunsaturated fats.
Did the Native Americans in the North who would have put a high premium on the ability to do adaptive thermogenesis while riding out a frigid winter feasting on maple sugar, venison jerky and bear grease also know that bear grease that was too high in polyunsaturates would effect their ability to stay warm?  I suspect they did.  Why else would they have replaced acorn oil with bear grease? Is it it interesting how similar the linoleic acid content of acorn oil and fall bear grease is?​6​

---
2.

Smith J. An Account of Remarkable Occurences During Captivity With The Indians. Grigg; 1831.

4.

Schwartz CC, Fortin JK, Teisberg JE, et al. Body and diet composition of sympatric black and grizzly bears in the Greater Yellowstone Ecosystem.

Jour Wild Mgmt

. Published online November 5, 2013:68-78. doi:

10.1002/jwmg.633

5.

Vranković L, Delaš I, Reljić S, et al. The Lipid Composition of Subcutaneous Adipose Tissue of Brown Bears (Ursus arctos) in Croatia.

Physiological and Biochemical Zoology

. Published online May 2017:399-406. doi:

10.1086/690913

6.

Kaplan M, Kokten K, Bengu AS, Kardes YM, Das A, Sekerci AD. Fatty Acid Composition of Different Quercus Species.

Chem Nat Compd

. Published online March 2019:313-315. doi:

10.1007/s10600-019-02675-x