Since I published The Croissant Diet there has been much interest in the scientific article I call "The banana milkshake study"​1​. The study showed that ingestion of 24g of stearic acid in a banana shake after a two day low fat diet caused mitochondrial fusion and a drop in circulating acylcarnitines.

We are very interested in this since mice fed stearic acid have shredded abs.​2​

The authors of the banana milkshake study argue that the mitochondrial fusion is due to stearoylation of an enzyme – TfR1 – that is involved in signalling pathways that effect mitochondrial fusion. I suspect that this is true, but I also suspect that the mitochondrial fusion is happening due to stearic acid's effect on reductive stress – freeing up NAD+. As I like to say, these things are typically regulated by multiple reinforcing feedback loops. Turtles all the way down.
In recent posts I have argued that obesity is caused by reductive stress. One way to cause reductive stress is by shuttling fat, especially unsaturated ones, into the mitochondria more quickly than NAD+ can be regenerated, leading to a high ratio of NADH to NAD+ (NADH is the REDUCED form, NAD+ is oxidized). NAD+ is the limiting factor in fat burning and when you are short on it, you get a buildup of NADH, acetyl-CoA and circulating acylcarnitines. Not good!
How does stearic acid battle reductive stress?
The vast majority of dietary fats we consume are composed of just four fatty acids: the saturated stearic and palmitic acids, the monounsaturated oleic acid and the polyunsaturated linoleic acid. Three of these – stearic, oleic and linoleic – are 18-carbon fats that vary only in degree of unsaturation. Of these three, stearic acid is by far the most slowly absorbed and oxidized. Consider the percentage of the three fats that is burned over the first 9 hours after ingestion​3​: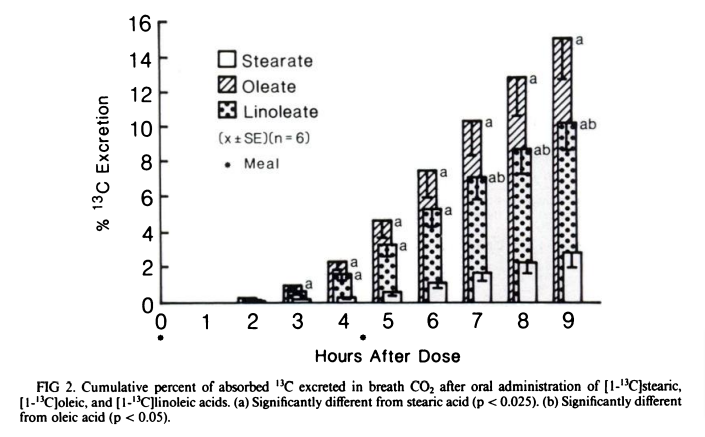 Dietary stearic acid is bareley even oxidized (burned in the mitochondria). In fact, stearic acid is the slowest to be burned at every level. When you eat fat, it is packed into chylomicrons by the intestine, from which it s released as free fatty acids which are taken up by cells through the transporter CD36 and ultimately transferred into the mitochondria by an enzyme called CPT1a, whose expression is controlled by PPAR alpha.
Step 1, absorption: Stearic acid leads to low rates of chylomicron formation after a meal.​4​ The stearic acid rich blend is the line with the x and S in the chart. The other letters in the chart are blends high in linoleic acid, myristic acid, oleic acid, palmitic acid and transfat.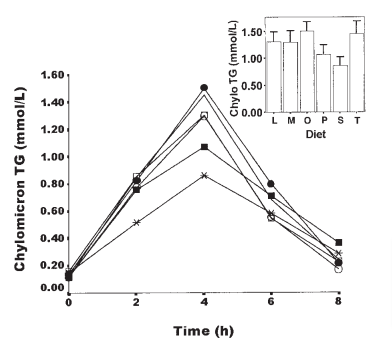 Step 2, release from chylomicrons as free fatty acids (FFA) : Chylomicrons "park" at tissues where the fats inside are released into the bloodstream as FFA. The enzyme that releases them is called lipoprotein lipase. LPL has low activity on stearic acid compared to other fats.​4​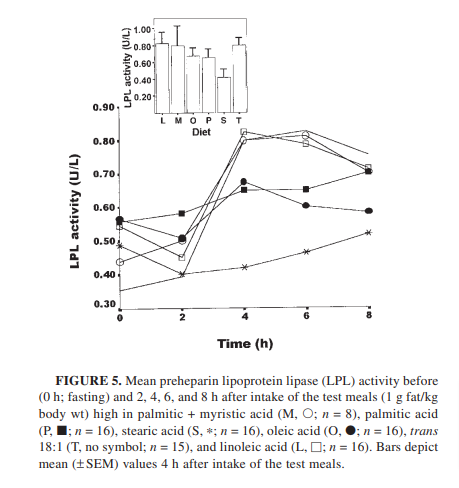 Step 3, uptake into cells: The enzyme CD36 is involved in free fatty acid uptake into cells. Its expression is under the control of PPAR gamma, which is activated by oleic and linoleic acid but NOT by stearic acid. Stearic acid leads to low levels of CD36.​5​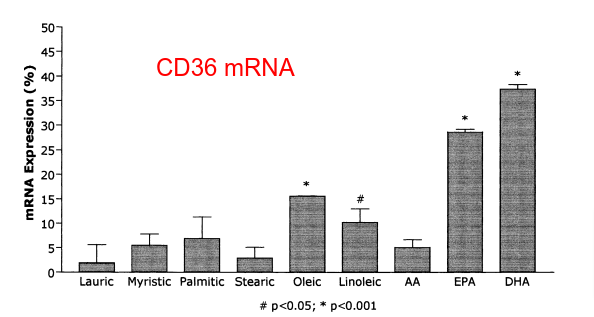 Step 4, entry into the mitochondria: The enzyme that controla the rate that fat enters the mitochondria is called CPT1, whose expression is controlled by PPAR alpha. PPAR alpha is stimuluted by oleic acid (C18:1) but not stearic (C18:0).​6​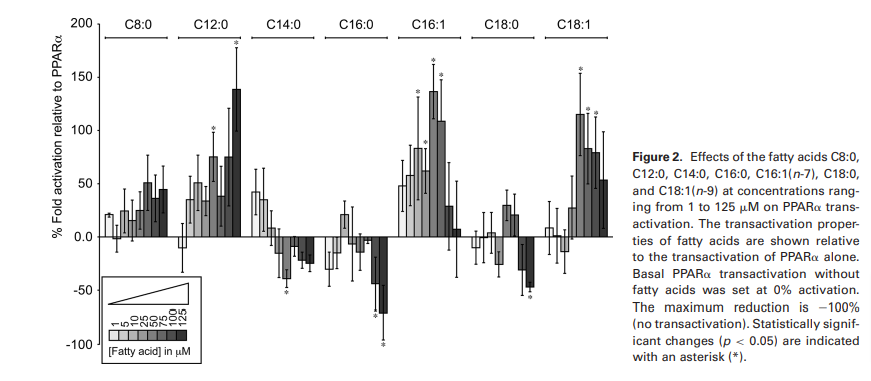 Step 4a, entry into the mitochondria: PPAR alpha controls the AMOUNT of CPT1, but the enzyme itself also has different preferences for which fats it prefers to shuttle into the mitochondria. Stearic acid is dramatically dis-preferred by CPT1.​7​

Step 5, re-release: FFA that are not absorbed by tissues are taken up by the liver, made back into triglycerides and released as VLDL, which behaves much like chylomicrons. Stearic acid is poorly incorporated into VLDL.​8​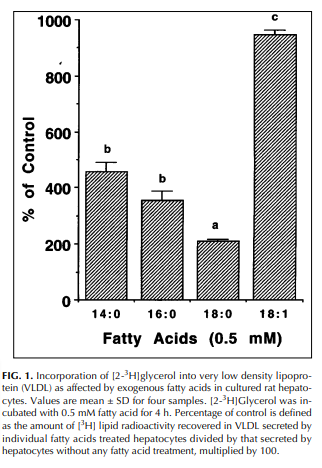 At literally every step in the pathway of fat oxidation, stearic acid is the slowpoke. Stearic acid is putting the brakes on the flood of fat into mitochondria to allow them to keep up. In contrast, oleic acid – which stearic acid is rapidly converted to by the enzyme SCD1 – is a racehorse. Is it any wonder that hibernating animals ramp up SCD1 expression to help them get torpid?​9​ Or that there is a direct correlation in humans between SCD1 expression in adipose tissue and fat mass?​10​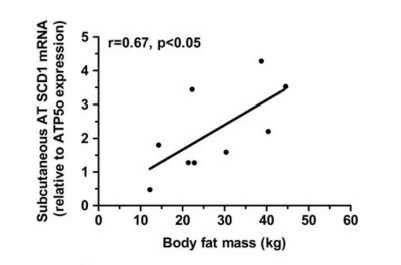 I recently wrote about how large doses of linoleic acid – another racehorse – leads to increased fat oxidation in the short term, which limits your ability to burn glucose, just like in human obesity. A metabolic hallmark of type II diabetes is actually the inability to lower FFAs (aka NEFA:non-esterified fatty acids) following a mixed meal of carbohydrate and fat coupled with high postprandial fat oxidation and low glucose oxidation.​11​
And consider these facts: the natural SCD1 inhibittor sterculia oil​12​, which blocks conversion of stearic acid to oleic acid, improves glycemic control in a spontaneously obese strain of rats. Mice given a pharmeceutical that lowers lipase activity​13​ and therefore levels of FFAs, have excellent glycemic control.
What does all of this slowing down of fat flow by stearic acid add up to? A 2021 paper showed the effects of stearic acid on postprandial FFA levels.​14​ One of the main jobs of insulin is to suppress lipolysis to lower postprandial FFA levels. This prioritizes the burning of glucose to prevent blood glucose spikes. If you are eating a mixed diet, you WANT to suppress FFA after a meal. Compared to palmitic acid, stearic acid dramatically lowers postprandial FFA, especially after consecutive meals.
I've already mentioned that vegetable acutely lowers glucose oxidation, just like in diabetics. Stearic acid appears to be singularly good at allowing for post-prandial glucose oxidation. Stearic acid causes you to behave like a lean person.
Eliminating reductive stress causes mitochondrial fusion.
OK, but so then why does stearic acid cause mitochondrial fusion, decreased circulating acylcarnitines and "fat burning mode" if it actually SLOWS DOWN the rate of fat oxidation? Is this a paradox?
Do you want to be the tortoise or do you want to be the hare?
Here's my take on the banana milkshake study. Since most Americans have high levels of stored oleic and linoleic acids, when they went on a low fat vegan diet for two days, the participants probably experienced reductive stress. Low NAD+ levels are associated with mitochondrial fragmentation.​15​ When they consumed the banana shake, it led to a slowdown in fat processing, allowing for the mitochondrial recovery of NAD+ levels, which caused the fusion. In addition, SOME of the stearic acid was burned and saturated fat produce more NAD+ via the ROS/GR/NNT pathway. Mitochondria that are fused have larger volume and surface area, their mitochondrial enzymes are not acetylated and they are able to process fat more efficiently, leading ultimately to the reduction of circulating acylcarnitines. Slwoing down the rate at which fat enetered the mitochondria after a mixed meal restored NAD+ levels of the participants, putting them into fat burning mode.

Conclusion
There are a lot of lines of evidence suggesting that stearic acid's effects on mitochondrial fusion and fighting abdominal fat have as much to do with the dynamics of how it gets into the mitochondria as anything else. Stearic acid is the tortoise of fats. Slow and steady wins the race.
Reducing postprandial FFAs can play a huge role in restoring glycemic control since fat oxidation blocks glucose oxidation via the randle cycle. You wouldn't be too wrong to think of stearic acid as "the fiber of fat".
1.

Senyilmaz-Tiebe D, Pfaff DH, Virtue S, et al. Dietary stearic acid regulates mitochondria in vivo in humans.

Nat Commun

. Published online August 7, 2018. doi:

10.1038/s41467-018-05614-6

2.

Shen MC, Zhao X, Siegal GP, Desmond R, Hardy RW. Dietary Stearic Acid Leads to a Reduction of Visceral Adipose Tissue in Athymic Nude Mice. Weiss SFT, ed.

PLoS ONE

. Published online September 15, 2014:e104083. doi:

10.1371/journal.pone.0104083

3.

Jones PJH, Pencharz PB, Clandinin MT. Whole body oxidation of dietary fatty acids: implications for energy utilization.

The American Journal of Clinical Nutrition

. Published online November 1, 1985:769-777. doi:

10.1093/ajcn/42.5.769

4.

Tholstrup T, Sandström B, Bysted A, Hølmer G. Effect of 6 dietary fatty acids on the postprandial lipid profile, plasma fatty acids, lipoprotein lipase, and cholesterol ester transfer activities in healthy young men.

The American Journal of Clinical Nutrition

. Published online February 1, 2001:198-208. doi:

10.1093/ajcn/73.2.198

5.

Vallvé JC, Uliaque K, Girona J, et al. Unsaturated fatty acids and their oxidation products stimulate CD36 gene expression in human macrophages.

Atherosclerosis

. Published online September 2002:45-56. doi:

10.1016/s0021-9150(02)00046-1

6.

Popeijus HE, van Otterdijk SD, van der Krieken SE, et al. Fatty acid chain length and saturation influences PPARα transcriptional activation and repression in HepG2 cells.

Mol Nutr Food Res

. Published online October 27, 2014:2342-2349. doi:

10.1002/mnfr.201400314

7.

Gavino VC, Cordeau S, Gavino G. Kinetic analysis of the selectivity of acylcarnitine synthesis in rat mitochondria.

Lipids

. Published online April 2003:485-490. doi:

10.1007/s11745-003-1088-7

8.

Pai T, Yeh YY. Stearic acid modifies very low density lipoprotein lipid composition and particle size differently from shorter-chain saturated fatty acids in cultured rat hepatocytes.

Lipids

. Published online February 1997:143-149. doi:

10.1007/s11745-997-0018-z

9.

Chayama Y, Ando L, Sato Y, et al. Molecular Basis of White Adipose Tissue Remodeling That Precedes and Coincides With Hibernation in the Syrian Hamster, a Food-Storing Hibernator.

Front Physiol

. Published online January 28, 2019. doi:

10.3389/fphys.2018.01973

10.

Caron-Jobin M, Mauvoisin D, Michaud A, et al. Stearic acid content of abdominal adipose tissues in obese women.

Nutr & Diabetes

. Published online January 2012:e23-e23. doi:

10.1038/nutd.2011.19

11.

Normand-Lauzière F, Frisch F, Labbé SM, et al. Increased Postprandial Nonesterified Fatty Acid Appearance and Oxidation in Type 2 Diabetes Is Not Fully Established in Offspring of Diabetic Subjects. Vella A, ed.

PLoS ONE

. Published online June 4, 2010:e10956. doi:

10.1371/journal.pone.0010956

12.

Ortinau LC, Nickelson KJ, Stromsdorfer KL, et al. Sterculic Oil, a natural inhibitor of SCD1, improves the metabolic state of obese OLETF rats.

Obesity

. Published online February 2013:344-352. doi:

10.1002/oby.20040

13.

Schweiger M, Romauch M, Schreiber R, et al. Pharmacological inhibition of adipose triglyceride lipase corrects high-fat diet-induced insulin resistance and hepatosteatosis in mice.

Nat Commun

. Published online March 22, 2017. doi:

10.1038/ncomms14859

14.

van Rooijen MA, Plat J, Zock PL, Blom WAM, Mensink RP. Effects of two consecutive mixed meals high in palmitic acid or stearic acid on 8-h postprandial lipemia and glycemia in healthy-weight and overweight men and postmenopausal women: a randomized controlled trial.

Eur J Nutr

. Published online March 17, 2021:3659-3667. doi:

10.1007/s00394-021-02530-2

15.

Klimova N, Fearnow A, Long A, Kristian T. NAD+ precursor modulates post-ischemic mitochondrial fragmentation and reactive oxygen species generation via SIRT3 dependent mechanisms.

Experimental Neurology

. Published online March 2020:113144. doi:

10.1016/j.expneurol.2019.113144