The WebMD entry on alpha lipoic acid (ALA) begins with, "Alpha-lipoic acid is an antioxidant". ALA can in certain situations act as an antioxidant, but in general it does not act as an antioxidant. If you read my article about antioxidants you'll know that in a redox reaction, when one thing in a reaction is oxidized the other thing is reduced. Here is the reaction of ALA with NADH​1​.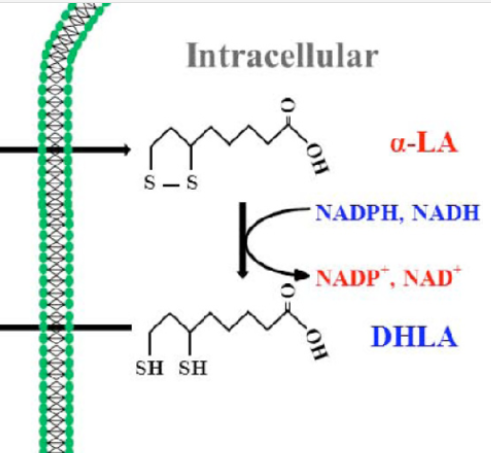 NADH is the reduced form of NAD and it gets oxidized by ALA to NAD+. ALA gets reduced in the process. ALA acts as an oxidant. It is an electron taker.
In case I stuttered: Alpha Lipoic Acid oxidizes NADH.
According to Webster's dictionary, an antioxdant is, "a substance that inhibits oxidation". ALA causes oxidation. By any definition, whether by the redox definition from chem 101 or by Webster's, ALA is a pro-oxidant.
When given to cells in culture, ALA increases the amount of NAD+​2​, shifting the redox balance of the cell to a more oxidized one.

Just in case you missed it: ALA is a pro-oxidant.
Why do they call it an antioxidant, then?
In my previous articles I have argued that reductive stress (a low NAD+/NADH ratio) is the root cause of BOTH oxidative stress AND obesity. If you eliminate the reductive stress then you should see a reduction in oxidative stress. ALA makes the glutathione pool less oxidized and this is why it's referred to as an antioxidant.​3​ It doesn't do this directly, however, the oxidative stress is a downstream effect of reductive stress. ALA makes the glutathione pool less oxidized by oxidizing the NAD pool.
ALA eliminates reductive stress which reduces both oxidative stress and obesity.
The above study​2​ goes on to run mice through a gauntlet of fattening processes, all of which are reversed by ALA treatment. First they make the mice diabetic using a drug cocktail of Streptozotocin and Nicotinamide. The mice become fat. Unsupplemented mice stay fat. The more ALA the fat mice are given, the leaner they become. The great thing about this experiment is that they also measured the NAD+/NADH ratio of the livers of the mice. ALA was doing its job: shifting the redox balance of the NAD pool to a more oxidized state.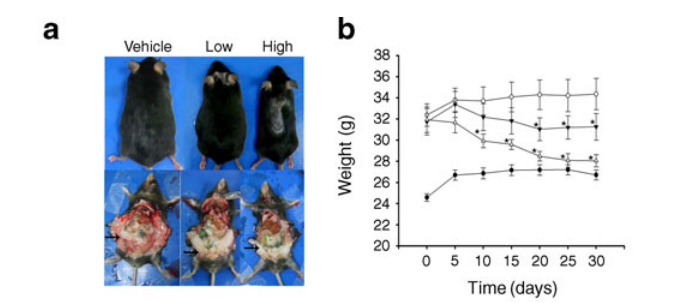 Next they put mice on a high fat diet to induce obesity. No photos this time, but again the high dose ALA nearly completely reversed the obesity.

Finally, they gave ALA to mice lacking leptin: the hormone that causes satiety in the hypothalamus. I've written before that eliminating SCD1 can nearly reverse the effects of leptin deficiency and that eliminating SCD1 increases the NAD+/NADH ratio. Therefore both eliminating SCD1 and supplementing ALA oxidize the NAD pool. Once again, the ALA caused dramatic weight loss in very fat mice. The ALA supplemented mice lacking leptin are still plump but they have zero satiety response! My only complaint about this study is that they didn't track calories of the leptin deficient mice.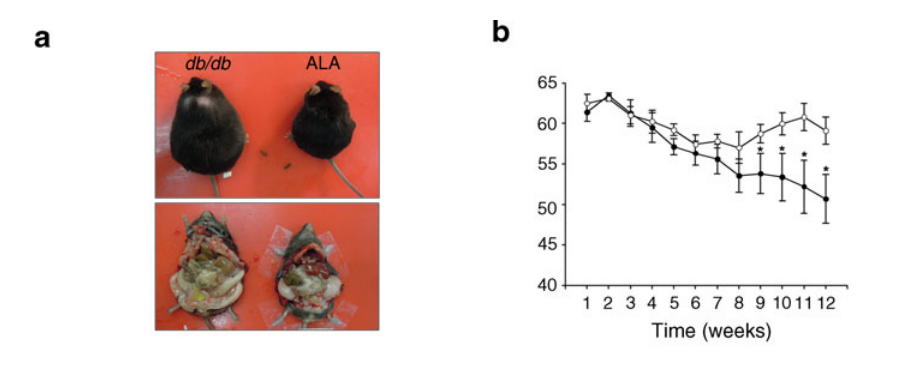 Antioxidants should cause weight gain?
If pro-oxidants cure obesity then it's logical to ask whether antioxidants cause obesity.
There are two possibilities here. Reductive stress in the NAD pool causes oxidative stress in the glutathione pool which exacerbates obesity by causing insulin resistance, etc. In the first case, antioxidants might help resolve some of the issues caused by oxidative stress. They might even help a bit with obesity but will not outright cure obesity.
The second possibility is that, yes, antioxidants will exacerbate the reductive stress and exacerbate the obesity.
The answer seems to be that it depends on the antioxidant. Vitamin E and C are both classic antioxidants, which can give an electron. They both seem to help with the symptoms of oxidative stress. Vitamin C will reduce the weight gained by mice on a high fat diet, but they still get much fatter than control mice.​4​ Vitamin E typically shows no effect in combating weight gain.​5​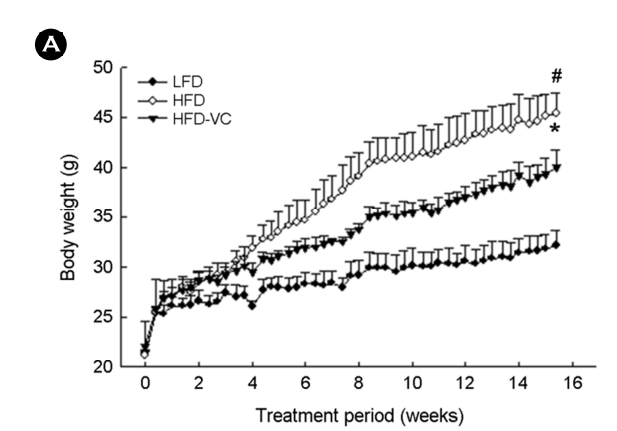 This study​6​ using BHA – a very effective antioxidant used in food preservation – really shows the promise and peril of antioxidants. A little bit of BHA seems to have a very small effect on reducing high fat diet induced obesity. High dose BHA exacerbates it.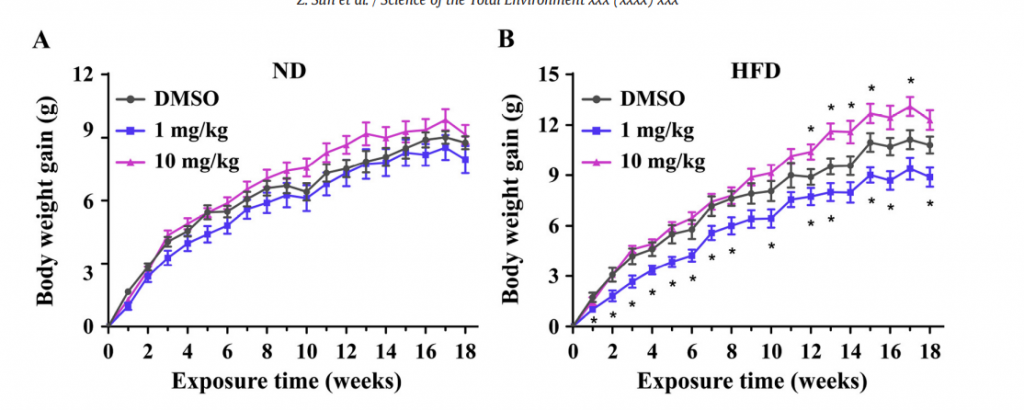 So yes, some antioxidants some of the time exacerbate obesity. Especially in high doses.
Human Trials
Luckily there is a large dataset of human trials on both Vitamin E and ALA and their effect on obesity. There are also systematic meta-analyses of these trials. I'll let the meta-analyses speak for themselves. As to Vitamin E​7​, "There was no significant effect of vitamin E on weight , body mass index (BMI), and waist circumference." As to ALA, "Alpha-lipoic acid treatment coincided with a statistically significant greater mean weight loss compared with the placebo group."​8​
Oxidizing the NAD pool causes weight loss.
Supplementing ALA
I recommended taking ALA along with succinate in Obesity As a Global Succinate Dehydrogenase Activity Deficit.
First off, there are 2 types of ALA. One is R-ALA. R-ALA is specifically targeted to the mitochondria. The normal ALA is 50% R-ALA and the other 50% oxidizes NADH in the cytoplasm. The R-ALA is MUCH more expensive and it's hard for me to justify the extra expense. I just take the regular stuff.
The amount often taken in human trials is 600mg. The "hi-dose" amount in the mouse studies that created real weight loss (200mg/kg) would be about 2,000mg in a 160 lb male after adjusting for body weight and relative metabolic rate. I've been taking 1200mg twice a day with good results so far.
Lipoic acid seems to be quite safe.​9​ It is an endogenous molecule that is taken into the cell and into the mitochondria, where it gets reduced to dihydrolipoic acid before being catabolized and eliminated in the urine. This all happens within a few hours. You can prove it to yourself because the sulfur in the lipoic acid gives you "asparagus pee".
The largest reported side effects with lipoic acid are headaches, nausea and lightheadedness. I wrote about these effects here. I even designed an n=1 which I never did. In short, I think these effects are due to a drop in circulating lactate levels, but check out the article.
Conclusion
Reductive stress in the NAD pool is the root cause of both obesity and oxidative stress. Antioxidants can take the edge off of some of the oxidative stress, but they can't fix the root problem. That is why such dramatic results are seen with ALA in weight loss trials in both humans and rodents and why those results are not replicable with other "antioxidants".
Keep an eye on the blog over the next weeks, I'll be looking at more ways to fight reductive stress! Buy some Succinade!
1.

Park S, Karunakaran U, Jeoung N, Jeon JH, Lee IK. Physiological Effect and Therapeutic Application of Alpha Lipoic Acid.

CMC

. Published online July 6, 2014:3636-3645. doi:

10.2174/0929867321666140706141806

2.

Chen WL, Kang CH, Wang SG, Lee HM. α-Lipoic acid regulates lipid metabolism through induction of sirtuin 1 (SIRT1) and activation of AMP-activated protein kinase.

Diabetologia

. Published online March 30, 2012:1824-1835. doi:

10.1007/s00125-012-2530-4

3.

KUMARAN S. -Carnitine and -?-lipoic acid reverse the age-related deficit in glutathione redox state in skeletal muscle and heart tissues.

Mechanisms of Ageing and Development

. Published online July 2004:507-512. doi:

10.1016/j.mad.2004.05.004

4.

Park Y, Jang J, Lee D, Yoon M. Vitamin C Inhibits Visceral Adipocyte Hypertrophy and Lowers Blood Glucose Levels in High-Fat-Diet-Induced Obese C57BL/6J Mice.

BSL

. Published online December 31, 2018:311-318. doi:

10.15616/bsl.2018.24.4.311

5.

Wong WY, Ward LC, Fong CW, Yap WN, Brown L. Anti-inflammatory γ- and δ-tocotrienols improve cardiovascular, liver and metabolic function in diet-induced obese rats.

Eur J Nutr

. Published online October 8, 2015:133-150. doi:

10.1007/s00394-015-1064-1

6.

Sun Z, Tang Z, Yang X, et al. Perturbation of 3-tert-butyl-4-hydroxyanisole in adipogenesis of male mice with normal and high fat diets.

Science of The Total Environment

. Published online February 2020:135608. doi:

10.1016/j.scitotenv.2019.135608

7.

Emami MR, Jamshidi S, Zarezadeh M, et al. Can vitamin E supplementation affect obesity indices? A systematic review and meta-analysis of twenty-four randomized controlled trials.

Clinical Nutrition

. Published online May 2021:3201-3209. doi:

10.1016/j.clnu.2021.02.002

8.

Kucukgoncu S, Zhou E, Lucas KB, Tek C. Alpha-lipoic acid (ALA) as a supplementation for weight loss: results from a meta-analysis of randomized controlled trials.

Obesity Reviews

. Published online March 13, 2017:594-601. doi:

10.1111/obr.12528

9.

Cremer DR, Rabeler R, Roberts A, Lynch B. Safety evaluation of α-lipoic acid (ALA).

Regulatory Toxicology and Pharmacology

. Published online October 2006:29-41. doi:

10.1016/j.yrtph.2006.06.004