The title of "High resting metabolic rate among Amazonian forager-horticulturalists experiencing high pathogen burden" makes it unambiguous as to the authors feelings about why the Tsimane have high metabolic rates. They include this graph to show just how unique the Tsimane are.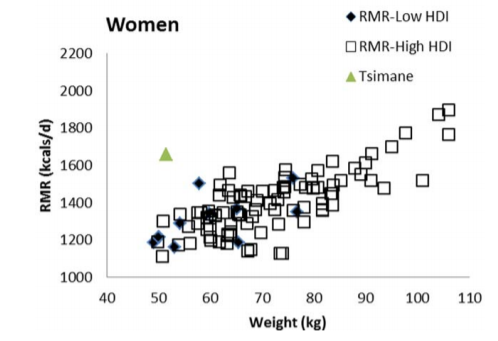 I recently wrote about the plunge in American Metabolic rates in women between 1919 and 1986. (All the same things are true in men, it's just more dramatic in women.) A problem with the older studies is that they don't control for lean body mass. One can easily make the argument that American women in 1919 just had a lower body fat percentage and that was why women of the same weight had a higher resting metabolic rate (RMR) than in 1986.
But many newer studies measure the fat free mass (FFM) and report the metabolic rate as calories per day per kilogram of FFM (RMR/Kg FFM)​1–10​. This eliminates the variable of body composition since fat is less metabolically active than muscle, brain, gut, immune system, etc. Looked at in this way, the Tsimane are not so special and we don't have to go looking for reasons to explain away the anomaly.
Country
Year
Subjects
SSO g/d
Age
BMI
RMR/Kg FFM
WOMEN
USA
1996
Sedentary
54
23
21.6
28.9
USA
2018
Trained Athletes
64
19
22.6
31.4
USA
1996
Endurance Athletes
54
31
19.9
33.2
Korea
2014
Farmers
25
52
25.1
34.1
Italy
2000
Healthy
23
45
24.8
36.1
Mainland China
2016
Healthy
5
37
22.4
36.8
Korea
2009
Students
26
21
21.1
39.1
Bolivia
2016
Forager-Farmer
?
31
25.1
39.7
I included a range of age groups and people of different activity levels so that we can say things like, "19 year old American female trained athletes have a metabolic rate 13% lower than 45 year old Italian women of normal activity level when you adjust for fat free mass." Or you could say, "19 year old American female trained athletes have a metabolic rate 20% lower than 21 year old Korean female college students of normal activity level when you adjust for fat free mass." Or you could say, "Korean college students have metabolic rates 37% higher than American couch potatoes of the same age after you adjust for fat free mass."
I have been making the argument that 1) metabolic rate is closely related to fat saturation rate and 2) starch eating cultures have very saturated fat. Therefore, 3) starch eating cultures should have high metabolic rates after adjusting for lean mass. The column labelled SSO g/d stands for "soybean plus sunflower oil per capita expressed as grams consumed per day"​11​. (This is a national average, not necessarily indicative of the population being studied and the last year of data available is 2013. Still, that is the best data we have.) As you can see, cultures who consume less than around 25g/day or less of these oils have higher metabolic rates than those who eat more than 50g, even after adjusting for fat free mass. There is something fundamentally different about the metabolism of Americans sucking down soybean oil.
These measurements are taken early in the morning with the subject in a supine position in full relaxation. The only way that someone should have a significantly higher metabolic rate than someone else once you adjust for fat free mass is if that someone is doing something like thermogenesis – burning off calories as heat.
This may go a long way to explain the statement made by the main author of "The China Health Study", "In the China Study, the least active Chinese consumed 30% more calories than their American counterparts yet their body weight was 20% lower. The excess calories were lost as heat rather than being stored as fat."
I put a question mark next to the Tsimane consumption of soybean and sunflower oil. This is what we know about their diet: "The Tsimane people live in villages without running water or electricity, and subsist largely on rice, plantains and the starchy root vegetable manioc. Rapid community changes over the last few decades include increased access to store-bought foods and antibiotics." We know that their metabolic rate actually DROPPED to 39.7kcal/Kg FFM/day after they gained access to store-bought foods. This suggests to me that they now eat some vegetable oil, but it's unclear how much and it probably hasn't been long enough to put them into torpor.
Should You Eat All Starch?
That's kind of complicated. If you're reading this, you are likely to have a torpid metabolism that will rapidly convert all of the saturated fat you'd make from the starch into unsaturated fat. You have to get out of torpor first.
---
1.

Urman B, Fluker M, Yuen B, Fleige-Zahradka B, Zouves C, Moon Y. The outcome of in vitro fertilization and embryo transfer in women with polycystic ovary syndrome failing to conceive after ovulation induction with exogenous gonadotropins.

Fertil Steril

. 1992;57(6):1269-1273. doi:

10.1016/s0015-0282(16)55086-9

3.

Lee SH, Kim EK. Accuracy of Predictive Equations for Resting Metabolic Rates and Daily Energy Expenditures of Police Officials Doing Shift Work by Type of Work.

Clin Nutr Res

. Published online 2012:66. doi:

10.7762/cnr.2012.1.1.66

5.

Garrel DR, Jobin N, De Jonge LHM. Should We Still Use the Harris and Benedict Equations?

Nutr Clin Pract

. Published online June 1996:99-103. doi:

10.1177/011542659601100399

6.

De Lorenzo A, Andreoli A, Bertoli S, Testolin G, Oriani G, Deurenberg P. Resting metabolic rate in Italians: relation with body composition and anthropometric parameters.

Acta Diabetologica

. Published online November 1, 2000:77-81. doi:

10.1007/s005920070023

7.

Jagim AR, Camic CL, Kisiolek J, et al. Accuracy of Resting Metabolic Rate Prediction Equations in Athletes.

Journal of Strength and Conditioning Research

. Published online July 2018:1875-1881. doi:

10.1519/jsc.0000000000002111

8.

Gurven MD, Trumble BC, Stieglitz J, et al. High resting metabolic rate among Amazonian forager-horticulturalists experiencing high pathogen burden.

Am J Phys Anthropol

. Published online July 4, 2016:414-425. doi:

10.1002/ajpa.23040

9.

THOMPSON J, MANORE MM. Predicted and Measured Resting Metabolic Rate of Male and Female Endurance Athletes.

Journal of the American Dietetic Association

. Published online January 1996:30-34. doi:

10.1016/s0002-8223(96)00010-7