Introduction
It's time for the season finale! Next week I will pivot to discussing my personal results of using sterculia oil to inhibit SCD1. In this post I will summarize my posts on the topic to date before bringing the thread to a near term conclusion using an example that in retrospect will be so obvious that you'll kick yourself for not having guessed it: the Syrian hamster, a food-storing hibernator.
The story of the Syrian hamster and the way it juggles its metabolism to hibernate is a beautiful narrative example of the topics covered in this thread. The teaser version is that to get into a state of deep torpor – low metabolic rate, lowered body temperature – it elevates SCD1 and PPAR gamma. Does this sound like anyone you know? Once the hamster reaches the state of deep torpor it becomes very good at maintaining its fat mass with very little food.
Deep torpor is a state that many mammals have the ability to go into: dormice, hamsters, bears, bats, woodchucks, chipmunks, lemurs, hedgehogs, skunks, and on and on. This suggests that the basic metabolic tools to get into deep torpor were in place before mammals branched off of the evolutionary tree. If you're reading this you're likely to be a mammal. Are you in deep torpor?
Before we jump into it, let's make sure everyone is up to date.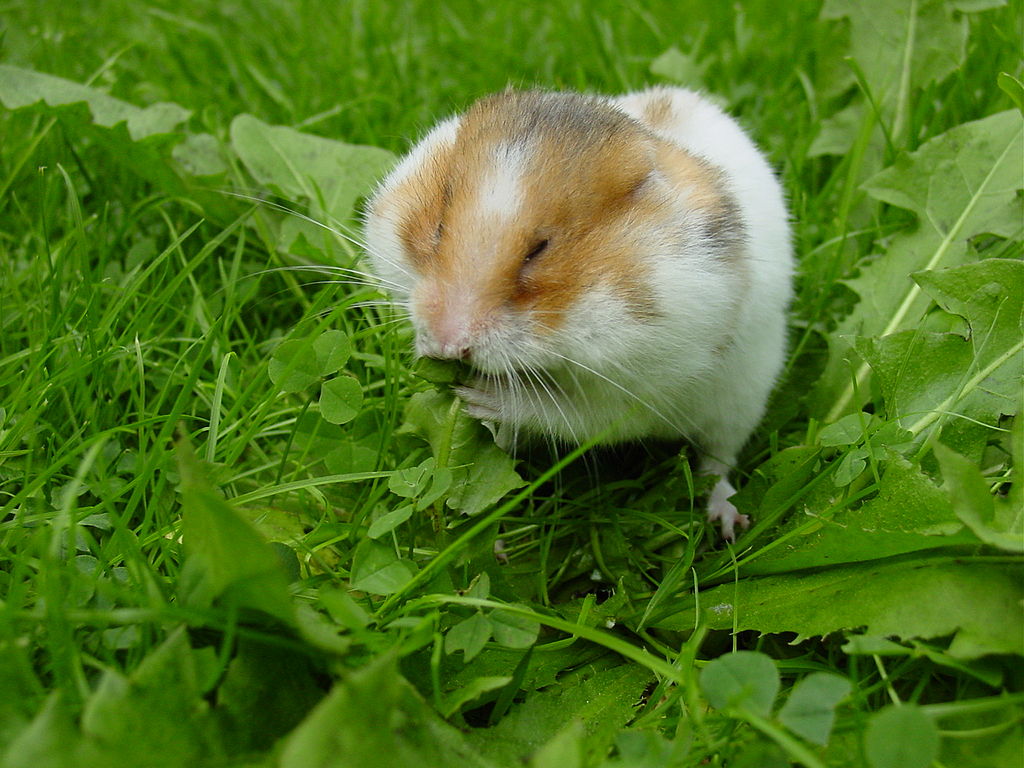 ---
Summary Of The SCD1 Theory Of Obesity To Date
So far, in this season of Fire In A Bottle:
Hibernation
The bear is an interesting model – a large mammal, monogastric omnivore who enjoys salmon and berries. Again, sound like anyone you know?
We've already seen that the PUFA content of bear fat peaks in the fall, before hibernation. Is this coincidental to the availability of acorns – a source of LA – or is it actually functional. This review​1​ on the use of polyunsaturated fat by hibernators is quite clear that polyunsaturated fat enhances torpor:
Heterothermic mammals increase the proportion of polyunsaturated fatty acids (PUFA) in their body fats
prior to entering torpor. … Low-PUFA diets consistently increase the lower setpoint for body temperature and minimum metabolic rate for both hibernators and daily heterotherms. Above the lower setpoint, low-PUFA diets usually increase body
temperature and metabolic rate and decrease the duration of torpor bouts and this effect is similar for hibernators and
daily heterotherms.

Daniel Munro, Donald W. Thomas
In hibernators, just like starch eating Bolivian humans, a low-PUFA diet increases body temperature and metabolic rate.
The other thing that can decrease metabolic rate is the over-expression of SCD1, which turns saturated fat into unsaturated fat. Do hibernators make more SCD1 during torpor? This study​2​ shows that bears have a ratio of monounsaturated fat to saturated fat (a less specific type of DI than comparing oleic acid to stearic acid) of 1.09 in June and 1.55 in February, highly suggestive of an increase in SCD1 during torpor in the hibernator most like us.
To get into torpor, bears increase the amount of PUFA in their stored bodyfat and upregulate SCD1, just like Americans did between 1962 and 1991.
Hamsters!
It may not be shocking that hamsters are easier to study in a lab than bears. This 2019 paper​3​ does a beautiful job of detailing the metabolic changes that take place in the Syrian hamster as it goes through hibernation. The stimulus for the hamster to hibernate is a reduction in temperature. They make it cold. The hamsters go through 12-15 weeks of metabolic changes before going into deep torpor. These hamsters hibernate with food. Every five days or so, they increase their body temperature, wake up and eat a little, then they drop back into deep torpor. This is a graph of their body temperature.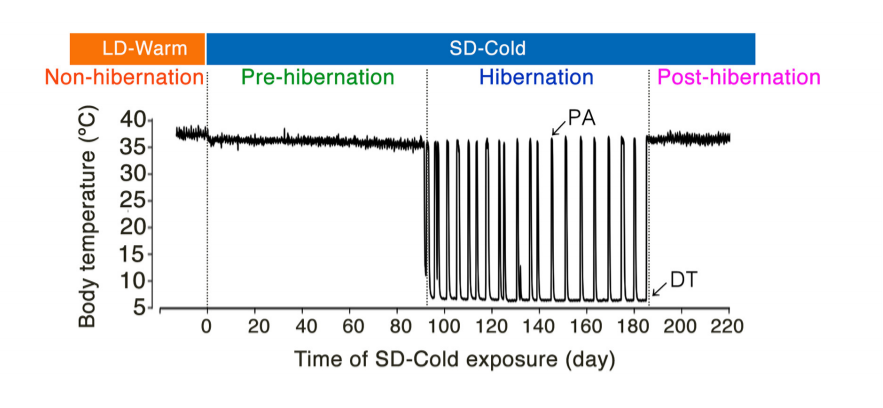 This model is a beautiful narrative framework for most of the topics covered in this thread: PPAR gamma and alpha, SCD1, UCP1 and therefore mitochondrial uncoupling and metabolic rate, and how all of those things relate to body fat levels. I'll explain it in narrative fashion, then I'll show you the graphs, then we'll go through it again.
First some definitions: iWAT is inguinal white adipose tissue, a type of abdominal fat. Ppara is PPAR alpha. Ppargc1a and Ppargc1b are PPAR gamma co-regulators – a rough indicator of overall PPAR signalling. Non-HIB is non hibernating, SD-cold is when the temperature has been lowered and the animals are getting ready to hibernate, HIB-PA is the portion of hibernating while the animals body temperatures are higher and they're awake, HIB-DT is deep torpor – low body temperature hibernation – and Post-HIB is post hibernation.
When the hamster is in non hibernating mode, PPAR alpha is low as well as PPAR activity in general. SCD1 levels are very low, but UCP1 levels are also very low due to lack of PPAR signalling. The hamster has a relatively high amount of bodyfat.
When the temperature drops, PPAR activity increases a little (light blue on the heat map is more activity than dark blue). SCD1 activity is still low, so the increase in PPAR leads to a large rise in UCP-1. The body temperature drops immediately – hamsters have a high surface to volume ratio and are affected dramatically by heat changes – but then stays stable until around the 40 day mark. During this time period – high UCP-1, low SCD1, moderate PPAR, stable body temperature – the hamsters lose significant body fat.
At the 40 day mark, the body temperature of the hamsters starts to drop steadily. SCD1 increases, UCP1 drops to almost zero and the fat mass of the hamsters is totally replenished by the twelth week. So with high SCD1 and low UCP-1 we have fat gain.
The animals go into deep torpor. SCD1 is at its highest point, PPAR alpha is a low percentage of overall PPAR signalling, UCP-1 is low and the body temperature and metabolic rate of the hamsters plummet.
Now it is time to wake up and eat. SCD1 levels drop a little and PPAR alpha levels are raised to the highest. UCP-1 levels go up. Body temperature rises. Remember than when SCD1 levels were very low a small increase in PPAR alpha lead to a large increase in UCP-1? Now that SCD1 levels are quite high, a large increase in PPAR alpha leads to a small increase in UCP-1.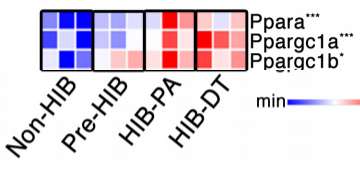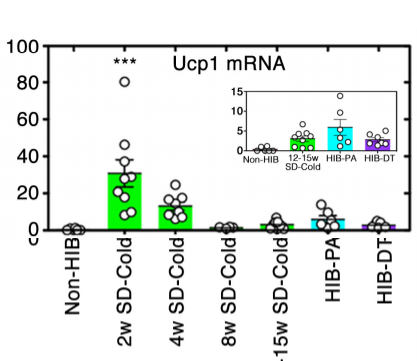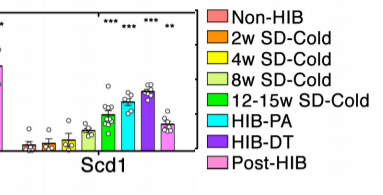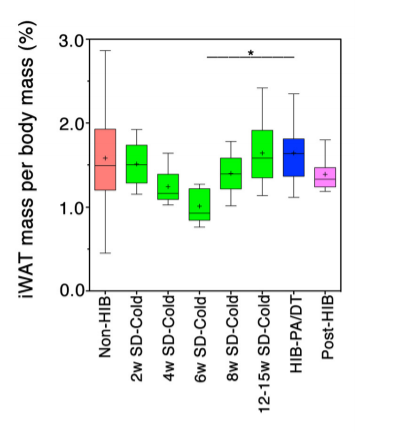 To recap:
When SCD1 is low a small increase in PPAR signaling creates a large rise in UCP-1 and metabolic rate
Body fat decreases when UCP-1 levels are high.
Body fat levels rise in parallel with increasing SCD1
When SCD1 levels are high, a large increase in PPAR alpha only leads to a small increase in UCP-1
SCD1 Is Increased by PPAR Gamma and Delta but not Alpha
Fat cells were removed from the hamsters and cultured with either DMSO – a negative control, fenofibrate – a PPAR specific agonist (it turns it ON), L-165041 – a PPAR delta specific agonist or rosiglitazone – a PPAR gamma specific agonist.  When the hamsters are in non-hibernation, activating PPAR gamma or PPAR delta substantially increase SCD1.  Activating PPAR alpha does not increase SCD1.  When the hamsters are in hibernation mode, SCD1 is high no matter what!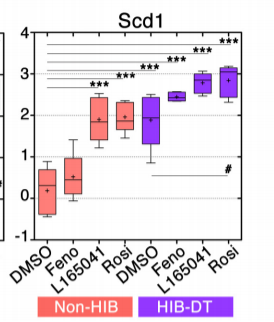 Conclusion
Deep torpor is a metabolic state that is widely distributed through the mammalian family. It is enhanced by the consumption and storage of polyunsaturated fats, in particular linoleic acid. Molecular changes that occur during deep torpor include increased expression of SCD1 and high activity of the PPAR transcription factors with a relatively low contribution from PPAR alpha. Metabolic changes during deep torpor include low body temperature, low metabolic rate and the ability to maintain body fat levels with relatively few calories.
American consumption of linoleic acid increased dramatically between 1962 and 1991.  Our stored levels of linoleic acid increased, as did our desaturase index, indicating up-regulated levels of SCD1.  Recent blood tests from myself and many of you show high levels of very long chain saturated and mono-unsaturated fats, suggesting that we have very high levels of PPAR gamma.  The body temperature of Americans has dropped over the last 150 years.  We have become very good at maintaining our fat mass.
Are you in deep torpor?
---
1.

Munro D, Thomas DW. The role of polyunsaturated fatty acids in the expression of torpor by mammals: a review.

Zoology

. Published online March 2004:29-48. doi:

10.1016/j.zool.2003.12.001

2.

Giroud S, Chery I, Bertile F, et al. Lipidomics Reveals Seasonal Shifts in a Large-Bodied Hibernator, the Brown Bear.

Front Physiol

. Published online April 12, 2019. doi:

10.3389/fphys.2019.00389

3.

Chayama Y, Ando L, Sato Y, et al. Molecular Basis of White Adipose Tissue Remodeling That Precedes and Coincides With Hibernation in the Syrian Hamster, a Food-Storing Hibernator.

Front Physiol

. Published online January 28, 2019. doi:

10.3389/fphys.2018.01973